Micropubs take off in the Midlands
by Peter Bearne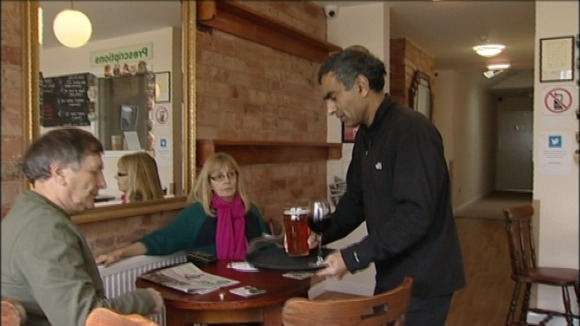 Imagine a pub with one room, a handful of beers, no food, no music and no gaming machines. It sounds rather basic but "micropubs" are taking off in a big way in the Midlands at a time when eighteen pubs a week are closing in the UK.
The latest to open in the region is Doctor's Orders in Nottingham, which is housed in an old pharmacy. It has a selection of real ales served to customers' tables, and is already proving a big hit with customers.
Owners Prakash Ross, Rich Burns and Rob Arthur say it provides an alternative to larger pubs which try to be all things to all people. Mr Ross said the micropub ambience is a return to the old days, "where you can come down, sit down and have a conversation and drink a nice pint of beer".
Mr Burns said the pub was drawing a wide range of customers after just four weeks in business.
We've got folks in their mid-twenties upwards and lots of women as well, so it's worked out ideally and we're really happy with the start.
– Rich Burns, micropub owner

Micropubs are a relatively new concept. There are only 15 in the UK, four of them in the Midlands. The first was Just Beer which opened in 2010 in an old art studio in Newark. After that came The Marlpool Brewing Company in a former butcher's shop in Heanor, Derbyshire.

Walter Scott opened Little Chester Ale House in a former dry-cleaning shop in Derby. When he applied for the license, he found many local people hostile to the prospect of another pub in the area. But he says he has now converted them and the new watering-hole is even bringing residents together.
A young couple who've been living in the area for eight years say that they've actually started talking to their neighbours because they come in here,
– Walter Scott, pub landlord