Rainbow flags fly in Leicester as LGBT History Month begins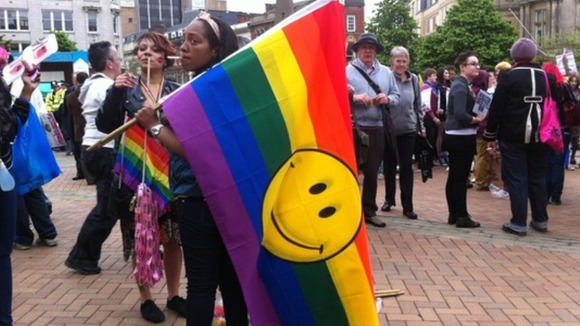 Leicestershire Police, Leicester City Council and Leicestershire County Council are today flying rainbow flags to mark the first day of Lesbian Gay Bisexual and Transgender History Month, the national event which celebrates the lives and achievements of LGBT people.
The flags are being flown at the Leicestershire Police Force Headquarters site at St Johns, Enderby; County Hall headquarters in Glenfield; and also in Town Hall Square
As national LGBT strategic policing lead, I was pleased to see ten police forces, including Leicestershire Police, featured in the Stonewall 100 Index of gay-friendly employers in January 2013.

LGBT History Month is a great opportunity to become aware of the challenges LGBT people face everyday, and to recognise their valuable contribution to wider society.
– Steph Morgan, Assistant Chief Constable and lead for LGBT issues

LGBT parades are held all over the Midlands, with Leicester, Birmingham and Nottingham all receiving large turnouts.
The city council is committed to celebrating Leicester's diversity, and flying the rainbow flags is a very visual way of acknowledging LGBT history month and the contribution made by the LGBT community to our city.
– Manjula Sood, Asst city mayor Cllr