Young designer sees plans for her eco-home built for real
by Chris Halpin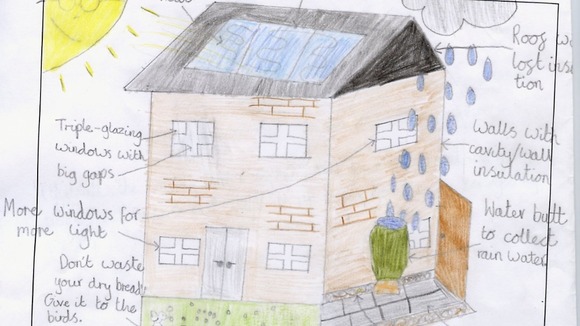 A teenager from Warwickshire who won a competition to design an eco-home is seeing her work become reality.
Jennifer Brook, from Rugby, was just ten when she entered her plans into the region wide competition.
She beat 69 other entrants which were sifted through by environmental campaigner and botanist David Bellamy, who described her work as showing 'passion and knowledge'.
It's taken four years to turn her concept sketches into two houses, which she is getting a tour around today.
Two homes based on her design are part of an £8million development of 79 timber framed dwellings being built by Redditch Co-operative Homes.
Her two houses include solar panels, light sensors in every room to save electricity and a wildlife garden with edible plants.
Unfortunately her idea to include an exercise bike to power the television has been left on the drawing board!
It seems such a while ago that I sat at the dining room table and designed my house, it really is exciting to see the 2D drawing come to life, so people can actually live in the house I designed.
– Jennifer Brook, 15, from Rugby
It is a great opportunity to bring Jennifer's designs to life and we are delighted that she is able to visit the site to see these two eco-homes being erected.
– Simon Liversage, Housing Manager

Although Jennifer was keen on environmental design when she was at primary school - she says she now prefers languages - particularly Spanish.

So despite seeing her forward thinking design for the future built for real, she's not keen to pursue a career in Architecture.