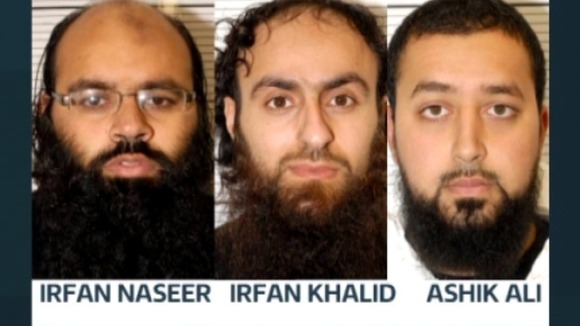 When he was questioned by police Ashik Ali said that they planned to kill British soldiers, a claim he later said he had made up.
Detectives believe no specific target, or timescale had yet been decided. References were recorded ranging from five months, one year to two years.
The conversations recorded during the police surveillance operation do however offer a chilling glimpse into the men's mindset.
Both Irfan Naseer and Irfan Khalid had made martyrdom videos.
Although these were never found, then men had talked about what they had said.
Naseer said in his video he had described:
"Suicide bombers on your streets spilling so much blood that you will have nightmares for the rest of your miserable lives"
– Irfan Naseer

Transcription below of the men discussing being buried

The following is a transcript read out in court of a conversation between the three men, during which Irfan Khalid questions where he might be buried "if there's a body left".

It was recorded on September 11th 2011.

IRFAN KHALID: "Is there any graveyards apart from Handsworth round here? Just like… Birmingham?"

IRFAN NASEER: "Nah, there's umm…"

IRFAN KHALID: _"For Muslims?"

ASHIK ALI: "Not hardly enough"

IRFAN NASEER: _"Isn't there one at Solihull?"

ASHIK ALI: _"There might be you know"

IRFAN NASEER: _"I don't Muslim [Indistinct]…Why? You wanna go there?"

IRFAN KHALID: _"Nah, I'm just thinking… most likely it'll be Handsworth, if there's a body left. The erm…(Laughter) it's funny innit?"

IRFAN NASEER: _"One thing, one thing, remember, once that once you done, it doesn't matter where you get buried innit"

IRFAN KHALID: _"Yeh obviously, you are [Indistinct], obviously but I'm just saying"