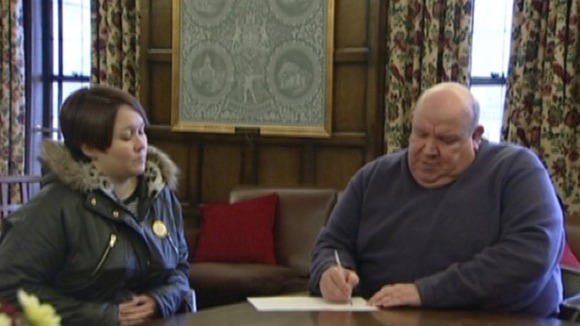 Protests will take place across cities in the Midlands against the government's "bedroom tax" which it is claimed will affect thousands of households.
Labour's so called 'bedroom tax' will cut the amount of benefit people can get if they are considered to have a spare bedroom.
According to the Housing Federation, around 50,000 households could be affected in the East Midlands.
In Stoke-on-Trent and Newcastle alone over 4500 households will be affected.
Trade union, Unite, which is leading the protests, says the tax is 'another unjust attack on vast numbers of the working class.'
The union also claims that ministers are playing politics with the homes of young service personnel. Their leader, Len McCluskey, says many people serving overseas will not have a bedroom to come home to.
He has cruelly misled armed forces parents. What thanks is this for the service their children have given this country?

The government's decision this week to exempt some foster carers and military families from the Bedroom Tax is a cynical ploy. This exemption would help just 5,000 people, while 650,000 face upheaval or poverty as they struggle to meet increased housing costs.
– Len McCluskey, Leader of Unite

The average cut will be £14 per week (£728 per year).

Households will see a cut in housing benefit by 14% for 1 unoccupied bedroom and 25% for 2 unoccupied bedrooms.

In response the Department for Work and Pensions says an extra £155 million is being given to local authorities this year to help vulnerable tenants. They also say the social housing waiting list is becoming increasingly too long.
It's not fair for people to continue to live in homes that are too large for their needs when in England alone there are around five million on the social housing waiting list and over a quarter of a million tenants are living in overcrowded conditions.
– Department for Work and Pensions

Who will be affected?

Claimants who are deemed to have at least one spare bedroom will be affected, including:
Separated parents who share the care of their children and who may have been allocated an extra bedroom to reflect this. Only the 'main carer' for children receives the extra benefit
Couples who use their 'spare' bedroom when recovering from an illness or operation
Parents whose children visit but are not part of the household
Foster carers because foster children are not counted as part of the household for benefit purposes
Disabled people including people living in adapted or specially designed properties.