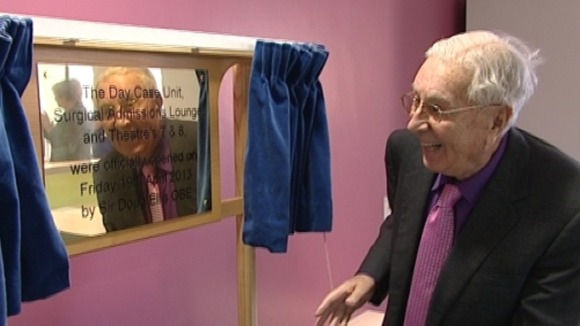 Former Aston Villa chairman Sir Doug Ellis has opened new operating theatres at the Good Hope Hospital in Sutton Coldfield.
It's part of a £5.5 million pound investment into the hospital's keyhole surgery unit, which includes new wards and two state-of-the-art laparoscopic theatres, which are the first of their kind in the West Midlands.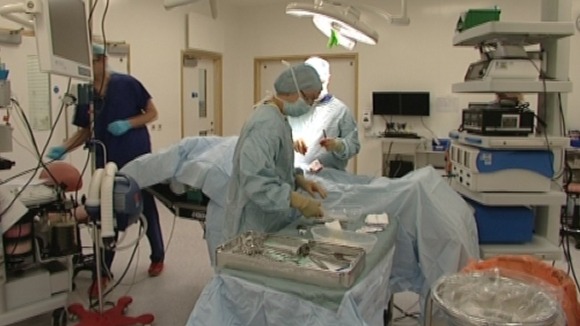 Laparoscopic surgery, also known as minimally invasive surgery, uses high definition cameras which allows surgeons to carry out complex operations, without the need to cut a patient open.
Instead small incisions are made which the tiny camera is passed through, which transmits an image of the organs inside the abdomen onto a high definition television monitor.
This means the patient is able to recover far faster than with previous operating techniques.
There may also be less internal scarring when the procedures are performed in a minimally invasive fashion compared to standard open surgery.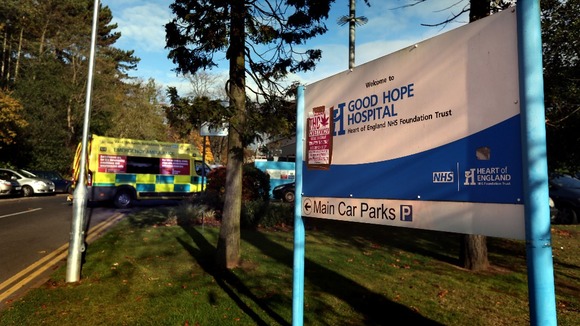 It's hoped the new theatres will not only benefit people in the local area but will become a specialist centre for this type of operating technique.
"We're looking at centre of excellence status and what I suspect is going to happen is more and more of our services will become specialised and we'll be taking referrals from all over the country"
– NEIL BAMSEY Theatre manager

Sir Doug Ellis has had strong ties with the hospital since his spells at Aston Villa.

He was the first chairman of Good Hope Hospital for six years during the 1980s.

Something he remembered with pride and honour when he was asked to open the new unit.
"Well I'm thrilled at the progress of Good Hope from the days when I took it on - they did say I did a good job for 6 years as chairman and I gave a lot of time to it because I loved being in the theatres in particular"
– Sir Doug Ellis

The managing director of the Good Hope Hospital praised the surgeons, saying they deserve the best facilities to work in.
"The theatre team are the unsung heroes of the hospital, they work behind closed doors, it's often shrouded in mystery the type of work that they do, they save live everyday, they care for patients when they're most vulnerable, so for them this is recognition of the hard work that they do"
– Sue Moore, Managing Director, Good Hope Hospital

Doctors at the hospital say they'll be able to offer around 2,400 patients the surgery annually, and the opening of the theatres and wards are the next step in the continuing investment by the Heart of England NHS Trust.