Helicopter crash survivor opens air ambulance education centre
by Chris Halpin
A multi-millionaire businessman who was saved by the Midlands Air Ambulance when his helicopter crashed in Shropshire, has opened an education centre in Worcestershire.
Andy Ruhan's helicopter fell 200ft from the sky in 2002 after he suddenly lost power.
He crashed in rural Shropshire and despite having more than 100 fractures in nearly every bone of his body, he crawled through several fields to get help.
The Midlands Air Ambulance then airlifted the businessman, who has made his fortune in property and telecommunications, to hospital where he had to undergo extensive surgery.
"I was unconscious by the the time air ambulance did arrive which was probably a good thing - I probably didn't want to get back into one"
– Andy Ruhan, Crash survivor

Now, 10 years on, Mr Ruhan has donated a five figure sum so the Midlands Air Ambulance service can build an education centre for schoolchildren and the public.

It has been built at the charity's airbase next to Strensham Services on the M5 northbound in Worcestershire.

Crews and paramedics will be able to use teaching aids, dummies and videos to explain how they treat casualties at the scene of an emergency.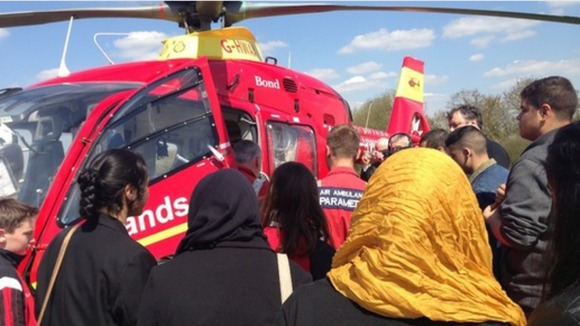 Some of the first to try out the centre were sixth form students from Small Heath School in Birmingham.
The charity hopes the new facility will let younger people get more involved with the service, and also encourage people to fundraise.
Approximately £6 million is needed each year to keep the helicopter in the sky, with much of the money coming from donations.
"Without the public support there would be no Midlands Air Ambulance and hopefully this will generate more money to ensure the future of the aircraft"
– Tom Waters, Helicopter paramedic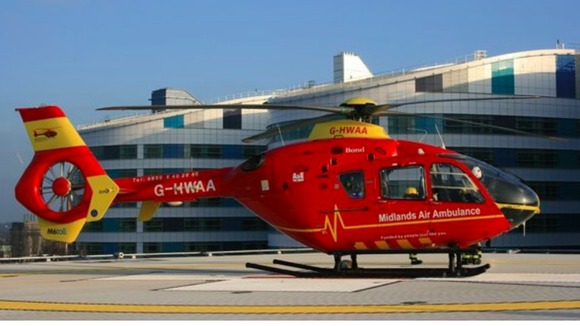 The irony isn't lost on Andy Ruhan that the machine which almost cost him his life then went on to save it.
That's why he says he's dedicated his time and money to the rescuers which gave him a second chance at life.