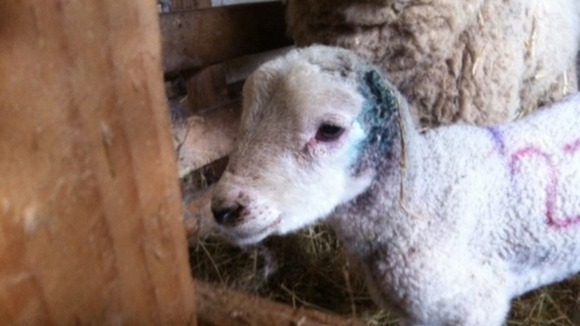 The RSPCA has launched an investigation after a three week old lamb had its ears cut off.
The lamb, which has been named Nelson, was attacked in a field at Highthorn Farm near Gotham in Nottinghamshire. It's thought either a knife or a pair of scissors was used to inflict the wounds.
As a result of its injuries, the lamb had been abandoned by his mother. Luckily, Nelson has been accepted by a surrogate ewe, and is also being bottle fed.
"We've had alot of trouble with dogs, they go for the back of the neck or they rip their insides out. But this little fella has not got a mark on his body. He's just lost his ears and they're sliced off so clean."
– Valerie Gunn, Nelson's Owner
"There are two theories at the moment. Is this, the wrong words perhaps, a schoolboy prank? Although awful and evil, maybe they didn't realise what they were doing? Maybe they did. Or it is an older person who deliberately set out and targeted a defenceless animal?"
– Simon Parker, RSPCA

The trauma and injuries Nelson sustained in the attack mean his future is still uncertain.

Watch Phil Brewster's full report here...