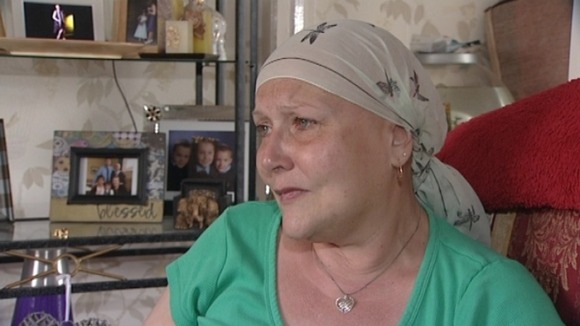 A woman who claims she was denied a scan, has been given just weeks to live after being diagnosed with four brain tumours. Lindsey Scrimshire developed violent headaches after being treated for breast cancer in 2011.
She claims that she repeatedly asked doctors at Leicester Royal Infirmary for a scan but was told it was not needed.
After being diagnosed with breast cancer two years ago Lindsey Scrimshire has got used to a life on medication. Her initial treatment at Leicester Royal Infirmary was good, but then further complications arose.
"Shortly after I finished my radiotherapy in August 2011, I started getting these pains in the back of my head and my left shoulder. Because my breast cancer had been on my left you automatically assume, is it related?"
– Lindsey Scrimshire

Mrs Scrimshire asked doctors if she could have a scan, but was told it was not needed. It was the same story at Glenfield hospital 12 months later when a nurse told her the violent headaches she was experiencing were not related to her breast cancer.

Finally last month when the pain was unbearable Mrs Scrimshire had a scan which revealed four large tumours in her brain. The cancer has also spread to her lungs and liver. She has been given just weeks to live.
"My grandchildren aren't going to have a granny, you know and it's them I feel for more than anything."
Her husband Mark is now considering suing Leicester Hospital's NHS Trust as he believes the real reason his wife was not offered a brain scan earlier is down to money.
"Everything's down to cost and it shouldn't be. In my opinion any cancer patient that's gone through what Lindsey's journey did who has had the chemotherapy, radiotherapy and gone through all of that should have automatically been scanned."
– Lindsey's husband, Mark

In a statement Leicester Hospital's NHS Trust told ITV News Central:
We are sorry Lindsey did not receive a scan at her follow up appointment. But it was felt at the time the symptoms were not related to the breast cancer. Lindsey's treatment for breast cancer back in 2011 was completely appropriate and under national guidance we do not scan patients after treatment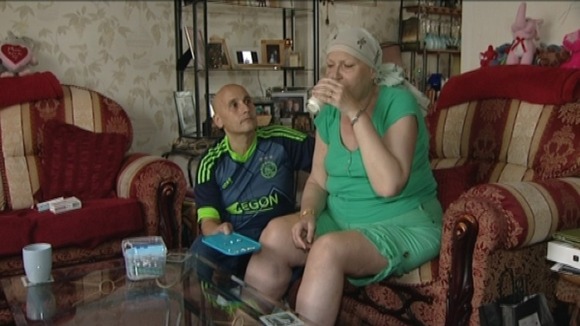 "Yes they're telling me that it wasn't in the procedures and it wasn't in the national guidelines, well let's change the national guidelines, let's make it happen that Lindsey's legacy that every cancer patient gets scanned."
– Lindsey's husband, Mark

Lindsey admits she has no way of knowing whether an earlier brain scan might have prolonged her life. But says the worst thing is now she will never know.
"If I'd have had a scan and it had been alright at least Mark would be burying me thinking we did everything we could, they did everything they could. But they didn't"
She says:
Phil Brewster. ITV News. Leicestershire.