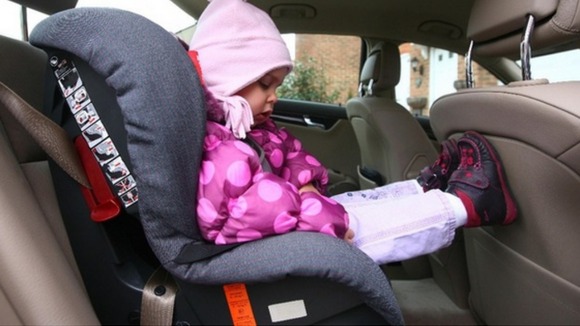 Road safety experts say a recent spot check of child car seats in Leicestershire found problems in nearly half the vehicles they saw.
In October a check by the Leicester, Leicestershire and Rutland Road Safety Partnership found seats were either not fitted correctly, or the wrong seats were being used.
Today experts offered advice to motorists at the Beaumont Leys Shopping Centre.
The number of vehicles not meeting the recommended standards fell to 38%.
Janet Dewsbury from Glenfield was at the shopping centre with her one-year-old granddaughter Eleanor.
She passed the safety checks, and got some advice about how headrests effect fitting a child seat.
"As a grandparent it's nice to know that you're doing the right thing for the safety of the child, for my peace of mind I always want to ensure that Eleanor's in the safest place in the car"
– Janet Dewsbury

The clinics will show drivers how to properly restrain babies and children on a journey and how to properly install in-car child seats.

Three more sessions are taking place across Leicestershire & Rutland this week.
Tuesday 4th June, Asda Barkby Thorpe Lane, Thurmaston 10am-4pm
Wednesday 5th June, Tesco, South Street Oakham, 9:30am-12:00
Wednesday 5th June, Brooke Priory School, Oakham, 2.30pm-3.30pm
One of the organisers says people shouldn't be afraid to get help.
"The main risks of an incorrectly fitted seat is that it could come loose in a collision, and we know everything in a collision will weigh 30 times its actual weight.

Don't be frightened to come and ask for advice, it is your child's life they mean an awful lot to you and if you can do anything you ca to protect them then that's why we're here to try to help"
– Claire Waterhouse, Child Seat Safety Ltd

They also say there's plenty of advice online, to ensure the youngest passengers are safe on the road.