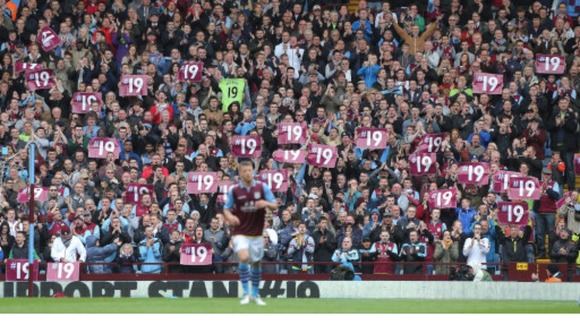 Aston Villa have recorded the highest losses in the Premier League for the 2011/12 season. The club recorded an operating loss of £33m according to the 22nd edition of Deloitte's Annual Review of Football Finance.
Villa did feature in the top ten Premier League clubs for revenue in 2011/12 (£80m, 9th).
Overall, half of the Premier League clubs recorded a profit for the season. These include Wolverhampton Wanderers (£9.4m), West Bromwich Albion (£6.5m) and Stoke City (£5.8m).
Overall, the 15 Premier League and Football League clubs had a combined revenue of more than £400m in 2011/12, around 13% of the total revenue of the £3bn generated by the league clubs.
The revenue of clubs in the Premier League grew by 5% but nearly 75% of the Premier League clubs' revenue increase was spent on wages. Spending increased by £64m to £1.7bn.
Revenue in the Championship increased by £53m (13%) to £476m in 2011/12.
TOP EIGHT MIDLANDS CLUBS BY REVENUE:
Aston Villa - £79.8m (13% increase on previous year)
Stoke City - £70.7m (5% increase)
West Bromwich Albion - £66.7m (2% increase)
Wolverhampton Wanderers - £60.8m (6% increase)
Birmingham City - £39.1m (36% increase)
Leicester City - £21.4m (20% increase)
Derby County - £17.3m (5% increase)
Nottingham Forest - £14.7m (3% increase)
Premier League clubs' revenue is estimated to have grown by a further 5% to £2.5 billion in 2012/13. There will then be a significant increase of around £600m, almost 25%, in 2013/14, with the first season of the Premier League's new broadcast deals, taking the projected revenue of Premier League clubs above £3 billion for the first time.
– Adam Bull, Senior Consultant in the Sports Business Group at Deloitte