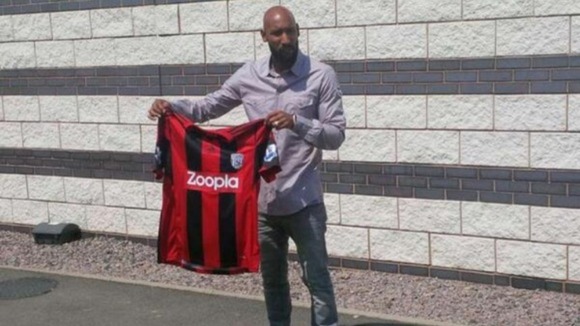 French striker Nicolas Anelka has joined West Brom on a one-year deal with the club holding an option of extending it for a second year.
This will be the sixth Premier League club for Anelka, 34, who spent part of last season at Juventus.
He has won the Premier League with Arsenal and Chelsea as well as the Champions League with Real Madrid.
He has scored more than 100 league goals in England and was the top scorer in the Premier League in 2008-9.
Anelka, who has also won 69 caps for France, is West Brom's first signing of the summer and will wear the number 39.
We are missing a bit of firepower from last year – we're trying to put that right – and to kick off with the signing of Nicolas at the start of the summer is a great boost for everyone at the club.
– Steve Clarke, West Brom head coach

PREMIER LEAGUE HISTORY:
Arsenal (1997-99): 28 goals in 74 games
Liverpool (2001-02) 5 goals in 15 games
Man City (2002-05) 46 goals in 101 games
Bolton (2006-08) 23 goals in 58 games
Chelsea (2008-12) 59 goals in 146 games
West Brom head coach Steve Clarke worked with Anelka at Chelsea in 2008 and says he is delighted at capturing such a big name which, he believes, will go a long way towards replacing Romelu Lukaku's 17 league goals last season.
He's got a great work ethic, looks after himself and is a consummate professional.

If you add that to the obvious talent he's got I think he can prove to be a really top signing for the club.

His experience with some of the top clubs in England and Europe will stand the group in good stead.

Hopefully he will be able to inspire the other players to even greater heights than we managed to achieve last year.
– Steve Clarke, West Brom head coach

Richard Garlick says the signing shows how far West Brom have come in the last few years.
It says a lot about where we are as a club that we are able to attract players of his calibre.
– Richard Garlick, West Brom Sporting & Technical Director