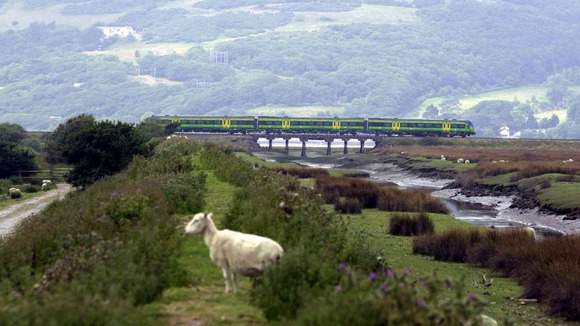 There has been a long running campaign to get an hourly service reinstated on the Cambrian Line from Wales to the Midlands.
It is thought that an increase in the number of trains would to help boost economy of this part of Wales.
Mark Williams MP said:
You hear a lot about electrification in South Wales, quite rightly, and people talk about plans for North Wales too.

My contention is that mid-Wales needs resources as well, we've got a lot of infrastructure in place but we do need extra resources to make this a reality.
And businesses in Aberystwyth say they would welcome any increase in the number of trains going in and out of the town… partly to help improve the image of the place.
Chris Mackenzie-Grieve, Chamber of Trade said:
If you look at our transport system it's either the car of a two-hourly train service, which is virtually non existent except for the local area, so it would give us that almost quasi-city look if you like.
At Aberywstyth university they are getting ready to welcome students back for a new academic year.
Student leaders who have long pushed for an upgraded train service say the current situation has on occasions proved a deterrent.
Ioan Evans from the Students Guild said:
Some do turn off, they look at the rail links, they say it's not good enough.
In a Statement the Welsh Government transport minister Edwina Hart said:
I am committed to improving transport services in mid-Wales.

In terms of the Cambrian Main Line hourly service, the way is clear for an operator to introduce additional services, though it is important to be mindful of the tough financial settlement we are facing.
The minister added she was looking at the possibility of introducing an increased number of trains on a trial basis next summer.