'Stormtrooper' giant moth discovered in Telford factory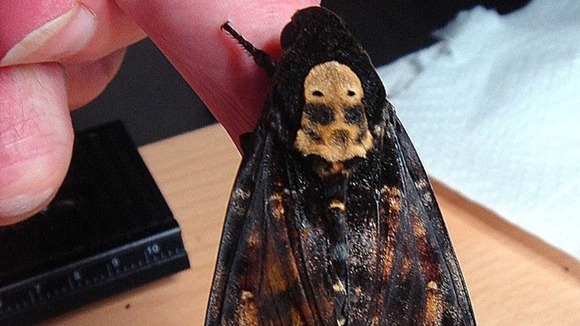 The force seems to be with a Telford factory after a giant moth with markings similar to the "Star Wars" soldiers the Stormtroopers has been discovered at a factory in Telford.
The Death's Head Hawkmoth was spotted by staff at the Ricoh Factory in Shropshire today.
Sometimes they have skull-like markings on their heads but I've never seen them look like a Stormtrooper.

They really are striking creatures, we are seeing them more and more in the UK - but they eat potatoes.

They squeak when you go near them too - so they certainly have a lot going for them in terms of entertainment value.
– Dan Wrench, ecologist

The giant moths arrive on British shores in late summer and autumn from their native southern Europe.

It is the largest species of moth in the UK with a wingspan of up to 13cm (5 inc).Because of its strange, usually skull-like markings, the moth was thought of as an omen of death.

It has previous with films -a stylised version of the moth appeared on the iconic posters for the horror film, "the Silence of the Lambs."

The moth has an unusual habit of entering beehives in search of honey and, if handled, emits a loud squeaking noise.