Nottingham soldier's embark on mission to Uganda
by James Wells
Two soldiers from Nottingham have been helping to train Ugandan troops in the heat and humidity of East Africa.
Captain Christine Ongoma and Captain James Athow-Frost, were part of a team of thirty, led by the Reservist arm of the 4th Battalion The Yorkshire Regiment (4 YORKS).
They spent eleven days, in temperatures of up to thirty-two degrees, training the Ugandan People's Defence Force (UPDF) before it runs peacekeeping operations in Somalia.
Twenty-nine year-old James, is a full-time soldier and planned the Uganda trip. Having served in Afghanistan, The Falkland Islands, Malawi, Kenya, the USA and Canada, the experienced serviceman said:
The Ugandan soldiers we are working with are very keen to learn, but their capability is very different to ours in terms of the equipment and training they receive. But they've had a training package from an American organisation and we are here to confirm that they are capable of deploying to Somalia as part of the African mission there.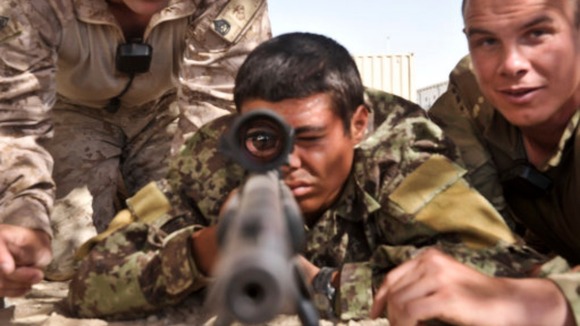 Originally fro Kenya, Captain Ongoma is fluent in Swahili, making her a key part of the 4 YORKS mission. As a nursing officer, she splits her time between working for the Nottinghamshire Healthcare Trust (NHT) and serving with 212 Field Hospital.
As part of her role in Uganda, she has been primarily assessing the UPDF's ability to treat and evacuate injured personnel, but was also part of the team which educated Ugandan soldiers on how to deal respectfully with female civilians and insurgents.
She said they were lovely to work with, adding that:
Everything that is happening in Somalia is very close to home for me. I am very keen to do anything I can to support the effort of the African Union to deal with terrorism. The Ugandan soldiers have a lot of knowledge and skill in different areas, they also have a lot of experience...

...My colleagues at NHT think I'm crazy! But I have had no negative comments about what I do. My employers are very supportive, they understand my passion for being in the Reserve and are happy for me to come to places like Uganda.
Based at UPDF Peace Support Training School at Singo, in the south of the country, the pair from Nottingham were part of a British Army team which helped to school a 1,900 strong Ugandan Battlegroup.
They tested their guests in a range of counter-insurgency techniques before giving them their final exam – an intensive, three day exercise designed to test their new skills to the limit.