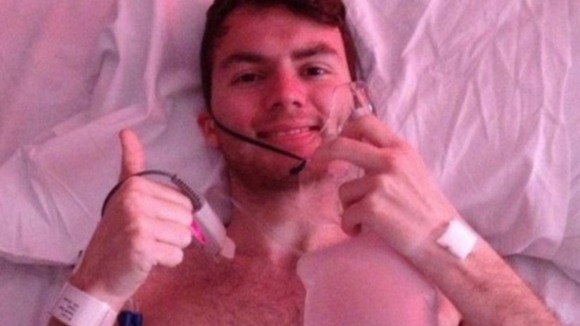 Teenage cancer patient Stephen Sutton is said to be feeling uplifted by news that his fundraising exploits for the Teenage Cancer Trust are hurtling towards the £3 million mark.
Fundraising website JustGiving recently donated £50,000 themselves in recognition of his remarkable exploits.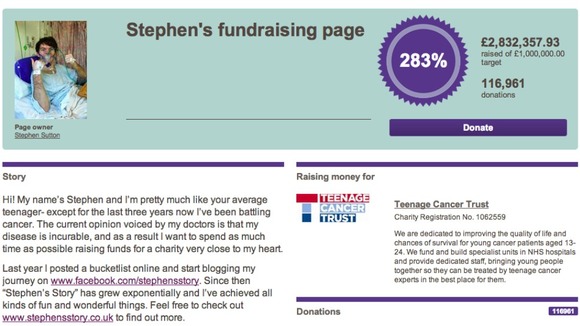 The 19-year-old's older brother, Chris, spoke on Saturday of Stephen's recent determination even in spite of the collapse of his right lung since it was crushed by tumours.
His 21-year-old sibling said:
He is improving all the time. His body seems to have become used to functioning on one lung. On Monday he looked dreadful and there were worries he may not last the night, but he's made a miraculous fightback. I've struggled to get my head round the way people have reacted. When I eventually do, my head will probably explode.
– Chris Sutton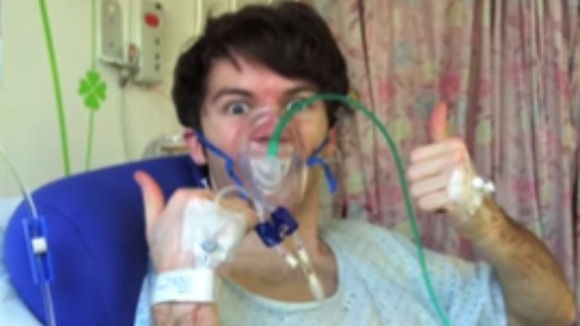 Stephen now has trouble talking and up until recently has been forced to wear an oxygen mask to aid his breathing, whilst his mum Jane remains by his side in the Birmingham Teenage Cancer ward.
Back in February 2013, when coming to terms with the realities of terminal cancer,
Stephen said:
When you look at the positives of life, there is so much to enjoy, there is so much to be excited about. I'll try to live how I would have done and achieve what I would have done in the time I have left. I'm not afraid of dying, I'm afraid of not cramming as much into my life as I should have done."
His well-documented 'bucket-list' - of 46 activities to do and things to achieve before he dies - included hugging an elephant, crowd-surfing in a rubber dinghy, playing the drums at a Wembley cup final, getting a tattoo and appearing on BBC television drama Doctors.
Such is Stephen's unbreakable sense of humour, he opted for a tattoo of a pair of scissors, cheekily positioned over one of his surgical scars.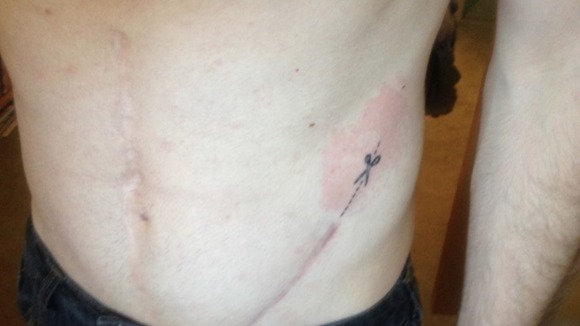 The level of public support to help him achieve his goals has been overwhelming. Little over a fortnight ago, Stephen said:
There might be times when I'm tempted to be bitter, but there is only so long that you can ask 'Why me?'. I have been to a place that makes you realise life might not be fair, but that realisation pushes you to make it a better place. Make every second count, never take anything for granted, don't be afraid to try something new – life is for living. Cancer gave me a huge kick up the backside, basically. From the off, I've been determined to overcome my illness and that attitude has rubbed off on other people. Spread as much positivity as possible – that's my goal. My illness has brought the best out of others, which can only be a good thing.
– Stephen Sutton

The celebs have come out in force to show their support of the brave teenager, from Burntwood in Staffordshire.

Australian comic Tim Minchin this week penned a song for Stephen, whilst fellow comic Jason Manford's charity gig for the teenager - taking place in Birmingham tonight - sold out in four minutes, prompting him to arrange a second date.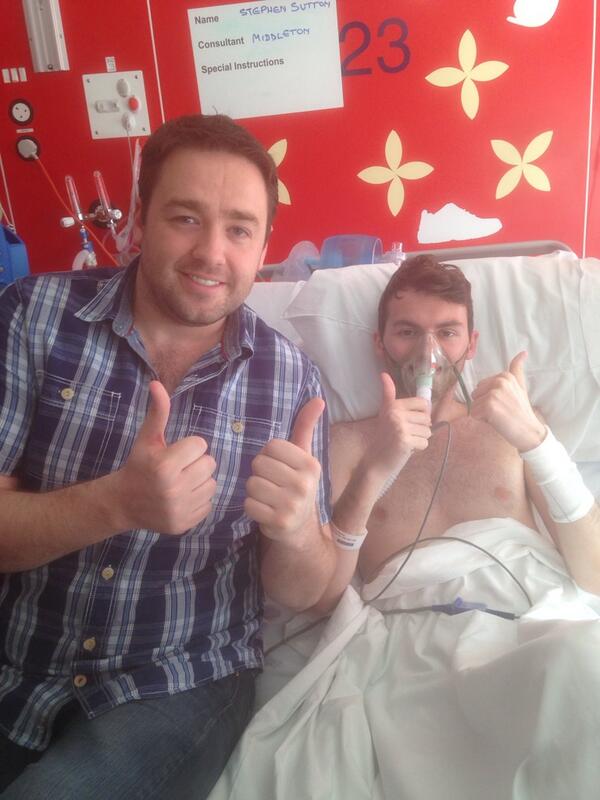 Jimmy Carr and England footballer Frank Lampard are also among those to have offered their support, along with Sarah Millican and Rebecca Adlington.
In a recent message, Stephen thanked his supporters for helping aid his battle with the disease:
Different people will put my recent physical improvement down to different reasons; I don't want to over-dramatise things too much, but I do just want to mention that everyone's positive thoughts and support has been hugely appreciated, so thank you for that. The tumours in my body are still rife and dangerous, but I feel so lucky to just still be here, and in fact I feel completely privileged to be in this position where I can help make such a difference to others people lives. I've always been a firm believer that people are 'good', and to see people come together for the cause recently in the way they have is incredibly touching and heartwarming. Thank you from me, and also thank you from every young cancer patient in the future who will benefit invaluably from the money raised!
Everyone's support is hugely appreciated, thank you all so much :)
Today, Stephen updated the world on his condition via social media network's Twitter (above) and on Facebook, where he described coughing up parts of a tumour that had been putting pressure on his right lung. Nonetheless, his typically uplifting tone continued, writing:
This morning I am relying on NO external oxygen to breath at all and I'm feeling bloody fantastic! I have no immediate problems and in fact feel better than I did when I first came into hospital last Sunday!