Cyclist hit by falling lamppost thought he was going to die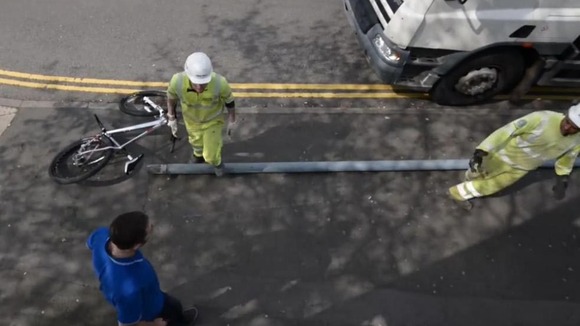 A cyclist who was knocked off his bike after being hit by a falling lamppost has spoken of how he thought he was "going to die."
Mark Graham was hit by the lamppost as it came crashing down when workers were removing it in Leicester Row in the city centre of Coventry on Wednesday afternoon.
The moment the accident happened was captured on video:
Video courtesy of BPM Media (Midlands).
The lamppost narrowly missed Mark's head and smashed against his handlebars. He was left with a broken finger.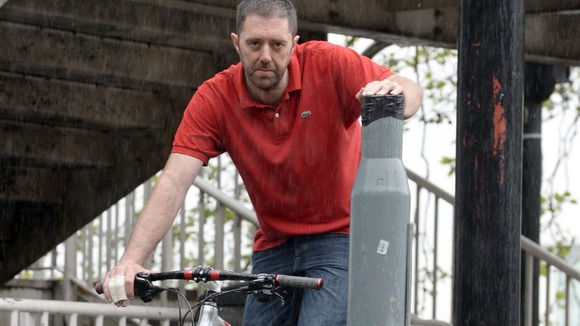 I was coming down the road and I remember looking up at what they were doing with the lamppost.

The pole suddenly started coming towards me. I couldn't really move away because I was on my bike. It was just sheer panic. I thought, 'I'm going to die'.

When I was at the hospital and they were looking at my hand, that was all I could think about – that it could have killed me. It hasn't sunk in, I really think I'm still in shock.
– Mark Graham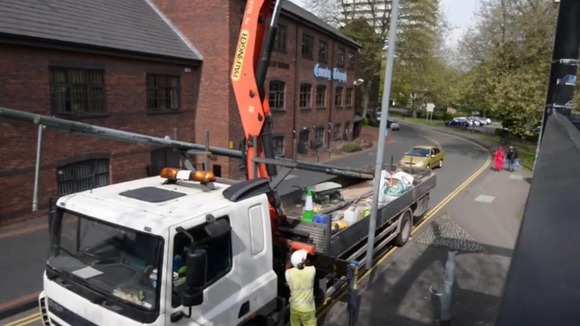 Workers from Lighting Coventry, which is a partnership between the city council and Balfour Beatty, were replacing the lamppost when it came free from a harness which was being used to winch it out of position.
Balfour Beatty can confirm that an incident took place involving a cyclist whilst one of our teams was effecting the emergency replacement of a lamppost that was considered dangerous because of corrosion to its base. We have of course apologised to the cyclist and ensured that he received immediate medical attention.

We take safety extremely seriously and the safety of members of the public and our own people is our top priority.

This is the first incident of this type to occur during the installation of over 17,450 street lights in Coventry.

However, any one incident is of course too many and we will be investigating why in this instance our safety procedures have not prevented a member of the public from being put at risk. We will take all appropriate steps once the full facts of the incident are known.
– Lighting Coventry spokesman