Lego have waded into the white and gold or blue and black dress debate by making their very own versions.
A post on their Instagram page read: "White and gold...black and blue? We found a way around science - you can have both!"
It comes after the dress which sent the internet into a frenzy was finally revealed as being blue and black by its designer.
However, the makers now plan on making a white and gold version after selling out of the dress yesterday morning.
Read more: The dress that demonstrates colour doesn't really exist
The Birmingham-based company behind what has become known as 'the dress' said its viral fame has caused it to sell out.
Ian Johnson, creative manager for Birmingham-based Roman Originals, said the dress sold out from the website within half an hour this morning.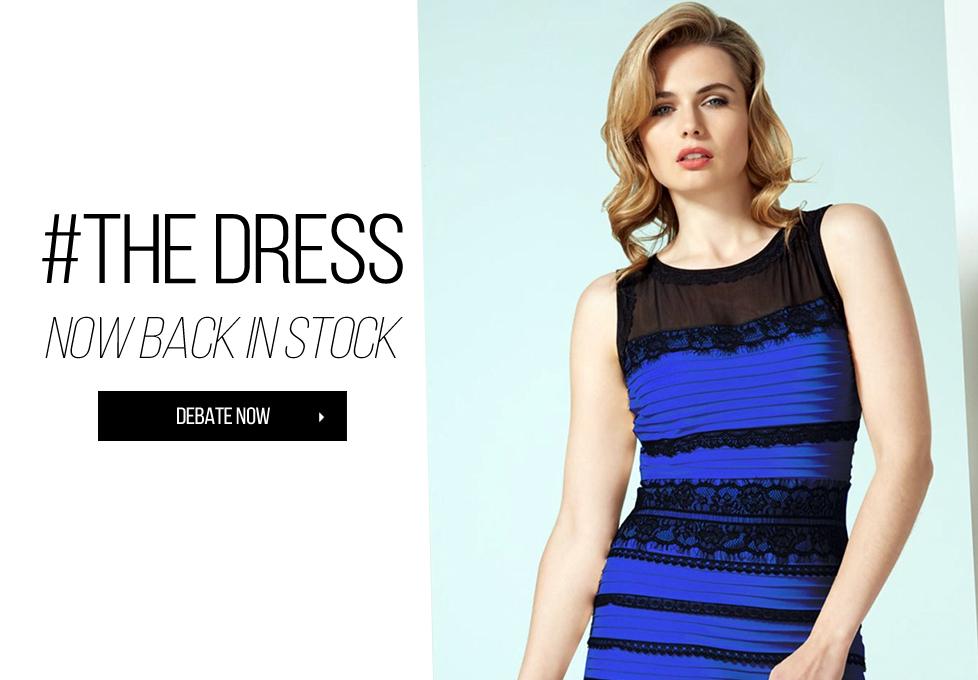 Johnson they have been overwhelmed with demand for the black and blue dress, and have also been inundated with calls from people who want a white and gold version.
We're vastly over where we'd be normally.

Our website's currently at about a million visits to this page alone. It is back in stock now, and we are looking pretty good into the weekend.

Our head designer, Michelle Bastok is discussing the possibility of the white and gold version, and we are hoping to get that made soon.
– Ian Johnson
Advertisement
The dress that has got the world on a tailspin shows us how complicated our colour perception is.
Read the full story ›
The woman who designed the dress which has become an internet sensation has told ITV News Central that the last 24 hours have been "absolutely crazy".
The image below was put on twitter last night and a few hours later it had become the centre of a global argument over its colour.
Celebrities like Taylor Swift, Justin Bieber and Kim Kardashian have all joined the debate, as well as Prime Minister David Cameron and Labour Leader Ed Miliband.
Some see white and gold, others see blue and black.
Michele Bastock from fashion company 'Roman' is based in Erdington in Birmingham.
She was wearing the dress and settled the argument once and for all, by stating it was blue and black!
It's royal blue with a black lace, that is what we photographed in the publicity shots.

That's what the lady (who tweeted the image) purchased.

Everyone just sees it differently I guess!"
– Michele Bastock, designer of #thedress at Roman.
The argument over the colour of this dress has been an internet sensation in the last 24 hours. Scientists explain why no one can agree.
Read the full story ›
The fashion company behind a dress that has sparked a massive internet colour debate is based in Erdington in Birmingham
Read the full story ›
Advertisement
Alex and Emilio Tsouvallaris are brothers who share a bedroom, but not a football team.
Read the full story ›
The owners of seven stolen safes which were found in North Lock in Leicester have been unable to be identified.
Read the full story ›
It is Shrove Tuesday today and events are being held across the Midlands to mark Pancake Day.
Leicester's market square will be transformed into a racetrack from 12:30pm, with participants tossing pancakes in a frying pan as they run around obstacles at breakneck speed.
The pancake tossing will begin at 12:45pm in Coventry's Broadgate. Teams of four can enter the day's races but everyone must bring their own frying pan.
The annual Atherstone Ball Game will be taking place in Warwickshire at 3pm today
This lively tradition has been going for 800 years. Scores of people are expected to gather on Long Street as residents today as residents literally brawl over a large leather ball.
Shops in the town's ancient streets are boarded up, schools are closed and townsfolk vie to win the contest by being the person holding the ball at 5pm.
There'll be scores of other Pancake-themed events taking place across the region today.
Load more updates