Nottingham: Old Market Square, Saturday 11:00 to 16:00
It's still a week to go until the beginning of the Chinese new year, and this year it's the year of the Rooster, but theres plenty to get involved with to get you in the mood ahead of the official celebrations.
With a brand new free event showcasing Chinese culture in Nottingham's Old Market Square this weekend, there's no reason not to get involved.
Visitors can expect food, drink and craft stalls, live singing and dancing and even traditional lion dance performances.
And to compliment the events, a Nottingham-based artist will also be illuminating the University's iconic Trent Building with an array of images to capture contemporary and traditional elements of Chinese art and culture.
Herefordshire Welly-Wanging: Brockhampton Park, Sat & Sun 11:00-15:30
Dig out your wellington boots and enjoy the fresh air of the Herefordshire countryside at the National Trust Brockhampton Estate this weekend.
There are six walking routes on the estate suitable for all ages and abilities and during the winter months when the trees are bare, wildlife is more visible than at any other time of the year.
There will also be a Welly-Wanging competition.
Welly Wanging is a British folk sport requiring competitors to throw their Wellington boots as far as possible and is now a world-wide competitive phenomenon with a set of regulated rules from the World Welly Wanging Association.
You can also pick up a free copy of the '50 things to do before you are 11 ¾' booklet and see what adventures can be had at Brockhampton Estate.
Advertisement
East Kirkby, Lincolnshire: Saturday January 21st - 10.00am-4pm
The Lincolnshire Aviation Heritage Centre is a family run museum set up over 20 years ago.
It is now widely seen as a living memorial to the 55 and a half thousand men of Bomber Command who lost their lives during World War Two and holds one of the rarest aircraft, an Avro Lancaster Bomber, in its collection.
It also features many rare models of wartime vehicles which cannot be found anywhere else in the world.
"If one person goes away with a better knowledge of Bomber Command, their losses and what they gave for our country, we are one step closer to repaying our debt to them."
– Lincs Aviation Heritage Centre.
The sky is the limit for a fun-filled, educational, family day out at the Lincolnshire Aviation Heritage Centre this weekend. Under 5s are free and you can even bring the dog!
Rosalind Brotherton initially started working at a school canteen but after studying part-time is now in charge of a primary school.
Read the full story ›
Penkridge, Staffordshire: Saturday 21st January, 9am to 3.30pm
Penkridge Market in Staffordshire will be holding it's annual Fine Food and Craft Market this weekend.
There'll be a range of regional produce and luxury food on offer plus local crafts on sale in the indoor market place this Saturday.
On display there's likely to be a wide range of goods from local cheeses, breads and olives, to homemade cakes, pies and preserves.
There will also be local farms, selling their meat, poultry, eggs,game, and pies, fresh from the farm.
So why not go and support local small businesses this January. Entry to the market is free!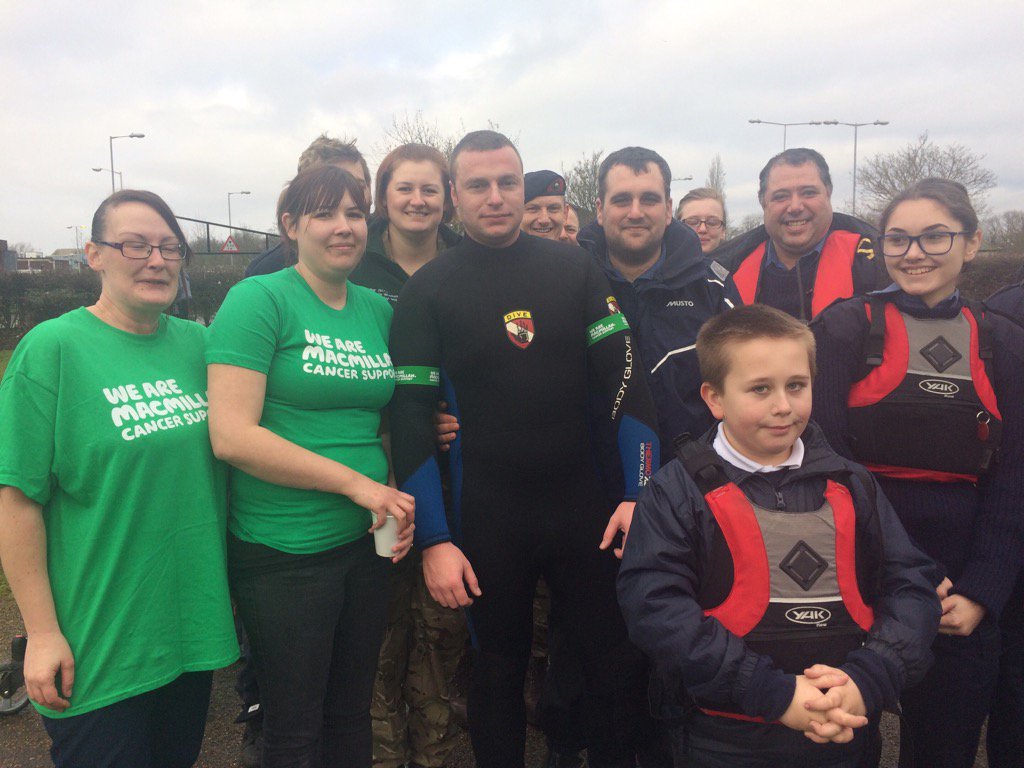 A man from Peterborough has swum eight miles up the River Nene to raise money for charity.
Dan Edgerton braved near freezing temperatures to complete the swim from Wansford in Cambridgeshire to Peterborough.
He has so far raised over a thousand pounds for MacmillanCancer.
Advertisement
Thousands of Elvis fans from across Europe are in Birmingham this weekend to take part in the annual Elvis European Championships.
Read the full story ›
Brindley Place, Birmingham: Saturday afternoon 1pm - 4pm
This weekend the IKON Art Gallery in the heart of Birmingham's City Centre will throw open its doors for a day full of free fun.
The event is open to all ages and visitors can take part in practical and hands on activities inspired by the current exhibition.
Ikon is an internationally acclaimed contemporary art venue featuring temporary exhibitions over two floors, showing the work of artists from around the world and a variety of media is also represented, including sound, film, mixed media, photography, painting, sculpture and installation.
Spend some creative time making and experimenting as a family this January.
Various locations, all weekend, read on for charity collection option.
Christmas may be over and while it may have left a footprint on our waistline, it needn't leave a footprint on the O-Zone, so this weekend why not take some time out to recycle your Christmas tree.
Figures show over 150,000 tonnes of green tree waste will be sent to landfill this winter, the cost to the council to dispose of trees can run in to the millions of pounds, but the cost to the environment is thought to be much more significant.
So, where can you take your tree this weekend?
Coventry recycling centre, Bar Road, Coventry
Burton Farm recycling centre, Bishopton, Stratford-upon-Avon
Woodgate Valley Country Park, Birmingham
Whetstone Recycling and Waste Site, Enderby road, Leicester
The waste and recycling centre, Raynesway, Derby
Bourne househeold waste recycling centre, South Fen Road, Lincs
Some local charities also offer a pick-up recycling service for a small donation, so your tree could keep on giving a gift to others, well in to the new year.
Town Gate, Sutton Park - Sunday 10am-3pm
Reindeers are so last month, so this weekend why not pay the Donkeys a visit instead.
Birmingham's Donkey Sanctuary offer 'donkey assisted interaction' to children who may have additional needs as well as rides and a free day out to anyone else.
The animals love to meet new people and you can discover their unique characters and stories, theres also a gift shop if you do feel like taking a souvenir home.
Parking and entry is free, for more information visit the website.
Load more updates