The three moggies have been named Aye-Aye, Kane and Plankton after being rescued by carers at Cramar Cat Sanctuary.
Read the full story ›
The RSPCA is appealing for information after a member of the public saw a man aiming at and shooting a swan in Alrewas, Staffordshire.
Read the full story ›
Advertisement
The study will explore which form of heart disease most commonly affects primates and why they develop the illness.
Read the full story ›
From ice lollies to cool flannels and dips in the local pond, your pets have it covered when it comes to keeping cool in the heat.
Read the full story ›
A desperate family has offered a £1,000 reward after their two adorable 12-week-old puppies were snatched from their garden.
Read the full story ›
"The chick seemed a bit hesitant to get his feet wet and the first experience was just a quick paddle."
Read the full story ›
Advertisement
The Labrador was first taken in by Kenilworth Dogs Trust as a puppy in 2006. Since coming into the centre she has been rehomed and returned three times.
Staff at the centre have described Rosie as a "gorgeous lady who has a real zest for life".
Rosie is house trained, good with other dogs and is good to travel in cars. However she will need some time to adjust to living in a house again after spending so long in kennels.
Her carers have said that if she must be alone, then that needs to be built up over time and she needs to be left with some toys to keep her entertained.
Rosie really enjoys life and we are desperate to see her finally be able to do all the things she enjoys in a loving home.

Rosie has been at the rehoming centre so long and her affectionate personality has made a big impression on the staff who are very keen to see her find the love she deserves.

We have our fingers firmly crossed that she will achieve objective one of her list and find a loving new owner.

She can be quite timid when meeting new people so would prefer a quiet adult home with understanding owners who will help her settle into a home after so long in a kennel environment.
– Jane Hirons, Dogs Trust Kenilworth supporter relations officer
Four new police recruits will be working together across four forces, including Lincolnshire.
The East Midlands Operational Support Service has recruited four new trainee police puppies called Riggs, Lionel, Olly and Mac.
Olly, an 11-week-old German Shepherd will be based in Lincolnshire and his brother, Mac, in Northamptonshire. Riggs and Lionel, who are 18 week old Dutch Herders, will be based in Nottinghamshire. They will, however, work across all four forces of the EMOS collaboration during their working career.
They are all general purpose police dogs who will be trained to work in a variety of conditions including searching for suspects or missing people, locating dropped or hidden objects and chasing suspects and detaining them.
A week-old seal pup with a broken lower jaw is recovering after a delicate life-saving operation in Norfolk.
Christened 'Bonnie' by rescuers at Hunstanton Sea Life Sanctuary, the female common seal pup was found –seemingly abandoned – alongside another uninjured pup on Old Hunstanton beach.
It was not until we got her back to the Sanctuary for a detailed examination that we discovered her damaged jaw. She probably got in the way of an unfriendly adult and got bitten on the chin. Hers is a particularly nasty injury, and one we've not come across before in many years of seal rescue, but we are hopeful she will make a full recovery.
– Seal care expert Kieran Copeland
Experienced veterinary surgeon Chris Tansley from the Coastal Veterinary Group in Snettisham performed the delicate procedure to wire the broken pieces of her jaw to help them knit back together.
Bonnie is now under close observation in her own cublicle in the Sanctuary's indoor hospital and being tube fed a special formula fish soup.
Here's a report by Emily Knight:
Firefighters in Gainsborough were called out to deal with a slippery character.... Billy the boa constrictor had got himself into a tight squeeze, and was trapped inside a wall-mounted gas fire. But with a little coaxing and tugging he was eventually freed and reunited with his family.
Not everyday you go to a snake rescue! But Billy the boa constrictor needed some help to get out of this tight spot. https://t.co/ftniKduVCO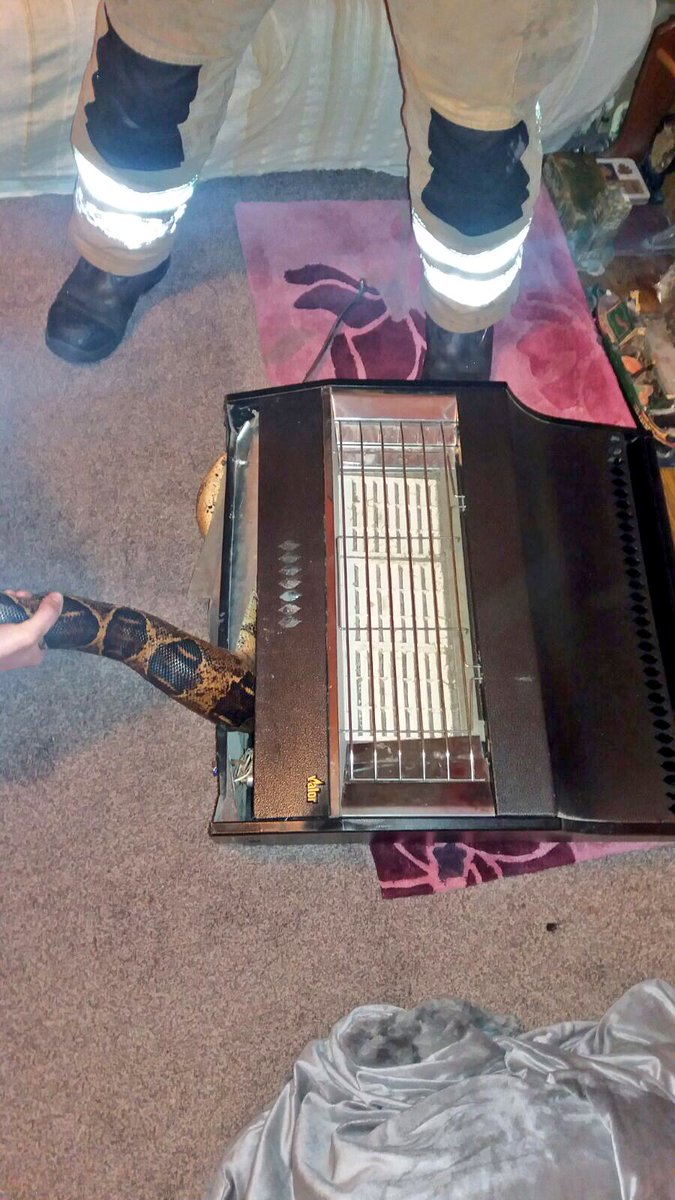 Load more updates