Kasabian have announced they will play a special one-off gig at the Leicester City ground as their team approach potential Premier League glory.
The rockers, who are from the Midlands city, said: "This has been an unbelievable year for the city and it seemed like the perfect thing to do this summer."
The gig will take place at the King Power Stadium on May 28th with tickets going on sale at 10am this Saturday.
... We cannot wait to throw the city the greatest party they have ever seen. Sergio X" Tickets onsale 10AM Saturday! https://t.co/pcw8suyBM3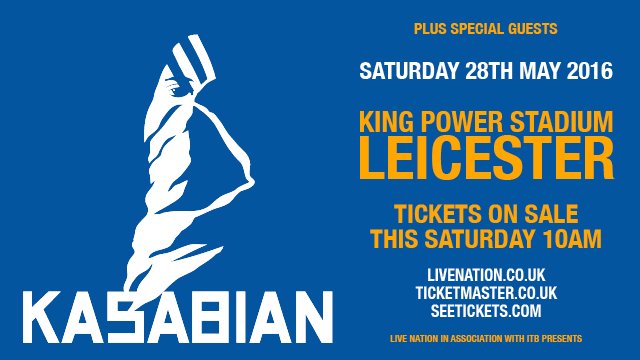 Guitarist Serge tweeted: "We cannot wait to throw the city the greatest party they have ever seen. Sergio X."
Leicester City will play Manchester United at Old Trafford this Sunday May 1 with kick off at 2.05pm.
Hi-de-Hi! star Barry Howard has died aged 78.
The actor, who is originally from Nottingham, was best known for playing Barry Stuart-Hargreaves in the BBC comedy.
Howard had been suffering from blood cancer and had been ill for some time, his agent said.
The actor starred as the camp dance instructor in the summer camp sitcom Hi-de-Hi from 1980 to 1986.
He later had a guest role as Oliver Barnes in the Doctor Who Christmas special in 2009.
A statement from his friend and agent Sharry Clark said:
The much loved actor Barry Howard, best known for his exquisitely supercilious Barry Stuart-Hargreaves, the champion ballroom dancer in BBC's hugely popular Hi-de-Hi, passed away today aged 78.
– Sharry Clark, agent
Advertisement
Mel B is to perform in Birmingham, starring in what is being billed as the world's biggest pantomime production of Snow White.
Read the full story ›
Tributes have been pouring in to Ronnie Corbett, one of Britain's best-loved entertainers who has died aged 85.
Dudley-born comedian Sir Lenny Henry tweeted: "What sad news. Condolences to his family".
Sir Bruce Forsyth told ITV News: "He was a naturally funny man, just the size of him and his little walk."
"He was such a joy to be with, he was funny all the time. Even when he was talking about something serious they'd always be a little look in his eyes, that you'd start to go a bit", he added.
Remember the divisive Dudley Wheel attraction? It has been described as 'the worst tourist attraction in Britain' but now it seems to have found a whole lot of new fans.
More than 3,000 people have now taken to the skies on the 35-metre high wheel, which has been in Dudley since March 12. It will remain in Stone Street Square until April 10, the last day of the Easter holidays.
"Some London-based journalists have knocked Dudley and the Black Country for having a big wheel. I hope the hard facts about how many people have already gone on Free Radio DY Eye in just one week and before the Easter holidays have even started will have them in a spin.

"Both council staff and local business people are conducting surveys to ask people who have gone on the wheel what they think. It is a work in progress, but so far the feedback has been glowing, with people enjoying the views and heritage that we have to offer.

"In fact I would like to thank the naysayers down south for helping us. Thanks to them we have had people coming from far afield, including a number from Somerset and Devon, to see what all the fuss is about. And they have given us nothing but praise."
– Councillor Pete Lowe, Leader of Dudley Metropolitan Borough Council
Advertisement
Sun 20th March (Pride Park, Derby)
Over 100 stalls will be at this weekend's Spring Market in Derby. There'll be food, gifts and accessories for the home and garden, jewellery and handmade products to see and buy.
The event will also offer a pop-up tea room and prosecco bar.
Sat 19th - Sun 20th March (Attenborough Nature Centre, Nottinghamshire)
This weekend Broxtowe Borough Council are putting on a Spring Festival at Attenborough Nature Centre.
Bloom Weekend is a free spring themed event for all the family. Some of the things to expect include 'Make & Take' activities, an art ramble, storytelling and a relaxing walk around the Nature Reserve.
Spring Animals and Pet Show: 20th March (FarGo Village, Coventry)
Allsorts Community Hub in Coventry is hosting it's annual Spring Animals and Small Pet Show this weekend.
Each animal taking part will receive a certificate and then be judged on tameness, cuteness, condition and habitat. The winners will each receive a rosette.
For prices, opening times and more information visit: www.allsortscoventry.org.uk
Sat 19th - Sun 20th March (Wollaton Hall, Nottingham)
Science in the Park is coming to Wollaton Hall this weekend to celebrate science, technology, engineering and maths. There'll be activities and demonstrations celebrating all things science.
Load more updates