Ant and Dec's Takeaway Tour, featuring Irish dancing phenomenon Riverdance, comes to Nottingham tonight.
Peter Andre and Vernon Kay will be special guests on the Nottingham leg of the tour at the Capital FM Arena.
You can find out more about the Takeaway Tour on the ITV website.
Rebecca Adlington has tied the knot with fellow swimmer Harry Needs and said I'm A Celebrity helped her get in shape for the big day.
Read the full story ›
Advertisement
Gok Wan, who has been given an honorary degree in fashion from Birmingham City University, told graduates at the ceremony at the Symphony Hall to follow their dreams.
If there's one piece of advice I could give today, it would be to follow your dreams.
– Gok Wan
Fashion stylist Gok Wan will attend a ceremony in Birmingham today where he will be awarded an honorary doctorate in fashion by Birmingham City University.
Gok, originally from Leicester, shot to fame as a TV stylist in 2006 with his TV series How to Look Good Naked.
He broke the news of his award to his followers on twitter last week and confirmed his attendance at the ceremony, but said he wouldn't become Dr Gok.
Excited to tell you- I've been awarded an Honorary Doctorate from Birmingham Uni. Time to write my acceptance speech! http://t.co/nfi5X2qTyu
It appears I'll have letters after my name! Gok Wan - HonD Don't think I'll go for Dr Gok… I'll sound like a baddy from Star Wars
Thanks Guys… I am attending my graduation on Monday… Momma, Poppa and Sister Wan will be there… kinda nervous! #gokinagown
TV presenter and fashion stylist Gok Wan, from Leicester, will be awarded an honorary doctrate in fashion by Birmingham City University today.
He will attend a ceremony at the Symphony Hall to receive the award alongside graduates from the School of Fashion.
Advertisement
The passing of our much-loved Life President Lord Attenborough has greatly affected everyone, and Chelsea Football Club fully appreciates our supporters' emotions at this time and your wish to pay tribute to the important part he played in our history.

At our next home game, against Swansea City on Saturday 13th September, there will be a minute's appreciation prior to kick-off in honour of a great Chelsea fan who also served as a club director for 13 years. There will be tributes on the big screens and in the matchday programme.

A lasting memorial to Lord Attenborough's support of Chelsea is also appropriate. In consultation with Lord Attenborough's family, the club will carefully consider the possibilities and suggestions for this to ensure the most suitable option is taken.
– Chelsea Football Club
Controversial former Great British Bake Off contestant Diana Beard has revealed she left the show after losing her sense of smell.
Mrs Beard said she had hit her head in a freak fall after fainting, which had severed her olfactory nerve meaning she could no longer detect scents.
She said she had lost some of her sense of taste as well.
The 69-year-old from Shropshire sparked a storm of criticism accusing her of "sabotaging" fellow contestant Ian Watters' Baked Alaska dish in episode four, after appearing to remove his ice cream creation from the freezer so it would melt.
She said the announcement that she would not be returning for episode five had been brought forward by the BBC, following the outcry against her apparent actions - which she said boiled down to no more than editing.
At least people will know I haven't wimped out. It's a relief, as people now know the truth.
– Diana Beard, former Great British Bake Off contestant
Diana Beard has quit the Great British Bake Off following last night's dramatic ''Baked Alaska-gate" episode.
But the BBC insist her departure from the show is due to illness and not linked to what happened in episode four.
Watters was seen throwing the remains of his bake in the bin before storming off set.
Beard fell ill just before the making of the following episode and had to withdraw on medical grounds.
"Diana will not appear in the rest of the series as she fell ill ahead of filming episode 5 earlier this year," a BBC spokesman said.
More than 500 people have complained to the broadcaster over the incident.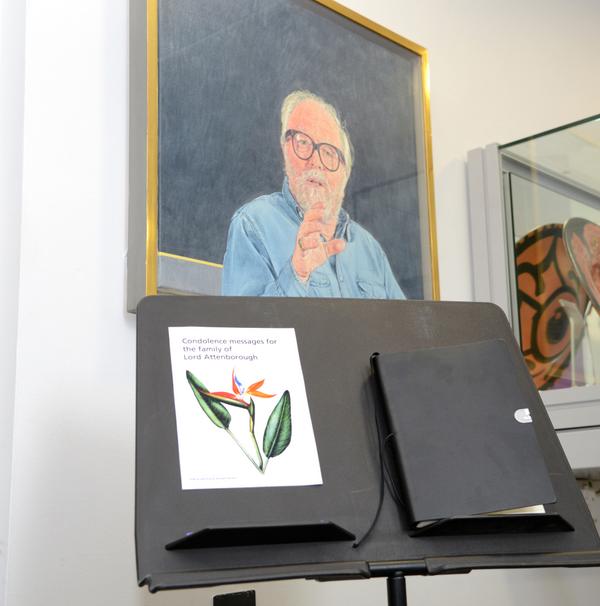 A book of condolences for Richard Attenborough has been opened at the University of Leicester.
The actor, film director and producer was raised on the university's campus, where his father - Frederick Attenborough - was the Principal of the University College – the forerunner to the University.
Mr Attenborough - who died on Sunday at the age of 90 - helped found the inclusive arts centre at the University of Leicester to which he gave his name.
Load more updates