ITV News travelled on a bus in the multicultural city to find out what people voted and why and discovered some concerns about the future.
Read the full story ›
Sorry, this content isn't available on your device.
Advertisement
Around 30 Young Labour activists have arrived at Westminster this lunchtime in support of Jeremy Corbyn's leadership.
Alastair Curtis from Northampton tells our political correspondent Alison Mackenzie why he thinks the Labour leader should not step down:
Sorry, this content isn't available on your device.
This is the moment Dennis Skinner shook Jeremy Corbyn's hand before appearing to flick the V-sign at the former shadow cabinet following their resignations.
Sorry, this content isn't available on your device.
The MP for Stoke-on-Trent North, Ruth Smeeth, has also resigned from the Shadow Cabinet as Parliamentary Private Secretary for the Shadow Northern Ireland & Scotland teams.
It's with a heavy heart that I have just resigned as PPS to the Shadow Northern Ireland & Scotland teams.
Two more West Midlands MP's have resigned from the Shadow Cabinet in protest over Jeremy Corbyn's leadership.
Jack Dromey MP for Birmingham Erdington has resigned as Shadow Policing Minister as he believes the Labour party 'cannot fight back and win' with Jeremy Corbyn as leader.
Meanwhile, Richard Burden MP for Birmingham Northfield has resigned as Shadow Transport Minister.
Mr Burden said in his resignation letter: "I honestly believe that for you to respond by digging yourself deeper into your trench is just going to make a bad situation worse, regardless of how many troops in the broader Party you believe will go over the top for you."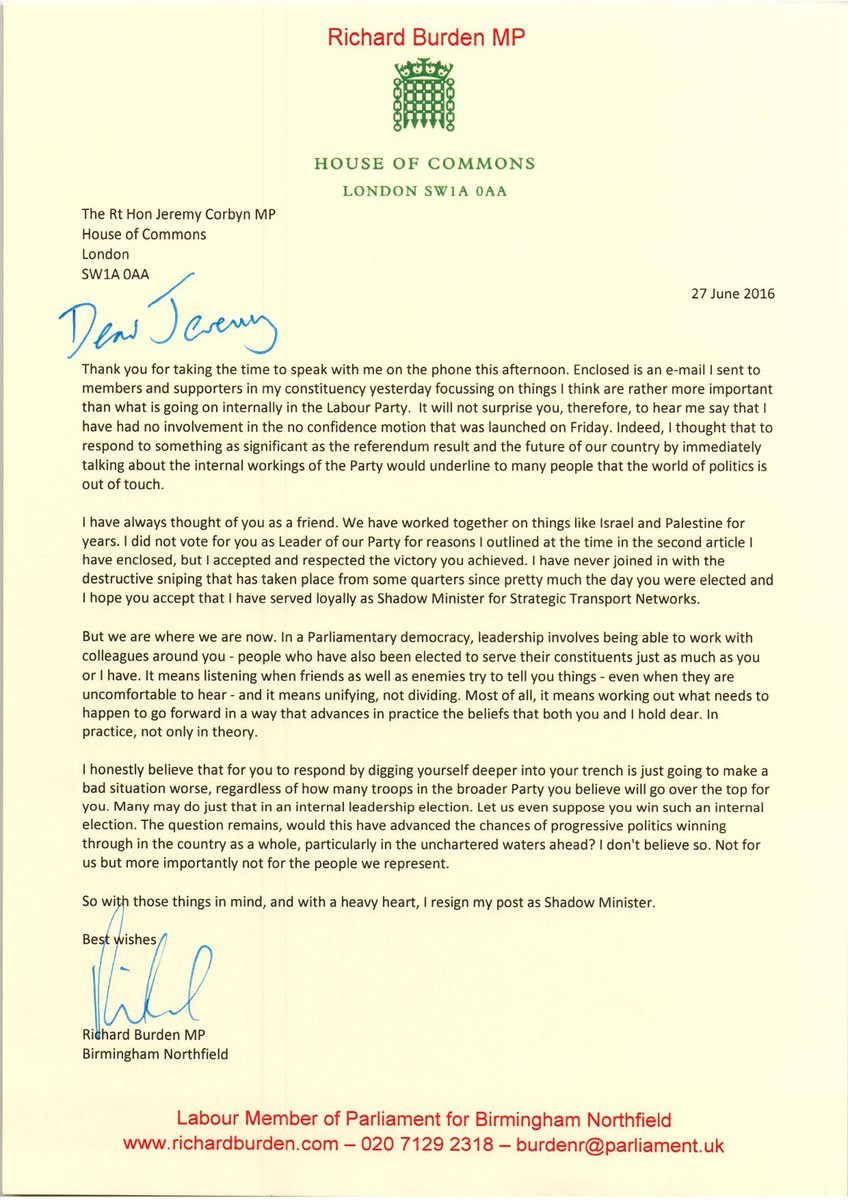 Advertisement
Following the historic Brexit Vote the Labour MP for Birmingham Yardley Jess Phillips says it's a time for diverse communities to come together.
She herself favoured remaining in the EU but says the priority now is to look to the future. She's also been explaining why she resigned from her junior post in Labour leader Jeremy Corbyn's shadow cabinet today.
She spoke to our political correspondent Alison Mackenzie:
Labour leader Jeremy Corbyn has been told by deputy leader Tom Watson during crisis talks that he is likely to face a leadership challenge, a senior party source said.
The meeting between Mr Corbyn and the West Bromwich MP was described as "civil" by a spokesman for the leader.
The spokesman said there was "categorically not" any call from Mr Watson for Mr Corbyn to quit.
Toby Perkins, the MP for Chesterfield, has resigned as shadow armed forces minister saying the Labour Party "needs a change at the top".
Read the full story ›
The Chancellor George Osborne has said the UK economy is "about as strong as it could be", as he looked to calm market fears following Brexit.
Speaking as financial trading started on Monday, Mr Osborne said the Leave vote in last week's EU referendum was "not the outcome I wanted" but said he "will do everything" he can to "make it work for Britain".
He added that "there will be an adjustment in our economy because of the decision that the British people have taken" but made no indication that there would be an emergency budget.
No sign of the emergency budget that the Chancellor said would be immediately necessary in the event of a Leave vote.
"I respect that decision and we're going to get on and deliver on that decision. But the impact on the economy will have an article on our public finances," he said.
His comments came after the pound suffered fresh losses during early trading on Asian markets on Monday morning.
Addressing the question of the free movement of labour following withdrawal from the EU, the chancellor said Britain is an "open and tolerant country" and he "will fight to keep it so".
Load more updates