Businesses could boost their income by millions of pounds by becoming more accessible to people with disabilities according to the government. It says that homes in the West Midlands that have someone classified as disabled have £19 billion of disposable income, while the figure in the East Midlands is £15 billion.
The Minister for Disabled People, Mark Harper MP, says businesses are turning away customers if their business is not accessible.
The government is urging businesses across the region to be more accessible to disabled people. It comes after a warning that shops could be excluding millions of customers.
Research among 1,200 disabled people showed that shopping was the most difficult experience for accessibility. The cinema, theatres or concerts, and pubs and restaurants, were also on the list for accessibility concerns.
We want businesses up and down our high streets to realise they're excluding more than 12 million customers and their families if they fail to cater for disabled people.

That's the equivalent to the populations of London, Birmingham, Leeds, Sheffield, Cardiff and Manchester combined.

It's not just about fairness, it makes good business sense to be accessible.
– Minister for Disabled People Mark Harper
The minister has written to more than 200 of Britain's biggest businesses and more than 80 trade organisations as part of a call to communities to be more accessible to disabled people and their families.
Advertisement
When it came to light two years ago that councils in London were moving tenants to the Midlands because of a social housing shortage, critics claimed it amounted to social cleansing.
In April 2012 it emerged local authorities in the capital were telling social housing tenants who couldn't afford London rents, they'd have to move to cities like Stoke-on-Trent and Wolverhampton.
Now mother-of-three Cecilia Bruce-Annan says because of Government benefit caps, she's in rent arrears and is being forced to move away from her family in Harrow, 150 miles to Stoke-on-Trent in Staffordshire
Her local council says that with rising rents, and shrinking benefits, her housing allowance is unsustainable unless she moves a place where rent is more affordable.
Chris Halpin reports.
The 17-year-old education activist made her remarks in a newspaper interview about her life since moving to Britain.
Read the full story ›
The new Police and Crime Commissioner for the West Midlands, David Jamieson, has met police officers and PCC staff.
It follows the announcement earlier of his election, after a low turnout to the polls.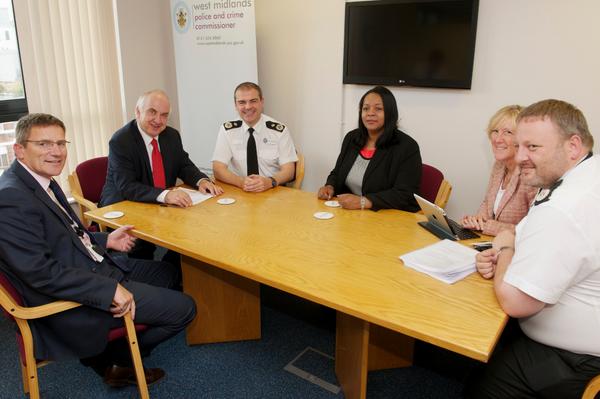 Advertisement
The results of the new Police and Crime Commissioner for the West Midlands are due to be announced today with the voter turnout expected to have been at a record low.
Yesterday's poll was triggered by the death of Bob Jones seven weeks ago.
Voting is underway to find the new Police and Crime Commissioner for the West Midlands.
The election was triggered by the death of Bob Jones seven weeks ago.
The turnout at the original election was the second lowest in the country and it is feared even fewer people may vote this time around.
Load more updates