The East Midlands has seen more earthquakes in the last decade than any other English region.
Read the full story ›
Scientists have discovered the oldest known earth-size planets discovered which they say raises the prospect of 'ancient life'.
Read the full story ›
Advertisement
For 12 years Beagle 2 was feared lost but today it has been hailed after images showed the probe successfully landed on Mars in 2003.
Read the full story ›
Artist Damien Hirst has shared his delight at hearing the Beagle 2 has been found and said he "can't believe" that the painting he had on board the missing spacecraft is now residing on Mars.
Hirst tweeted: "I have a painting on Mars! It's amazing!"
@hirst_official: "This is fantastic news! I can't believe Beagle 2 has been out there all this time and I have a painting on Mars!"
@hirst_official "It's amazing! It makes me think that Colin must be looking down on us smiling and still have a hand in it." #Beagle2
Many people have been taking to Twitter to express their sadness that Professor Colin Pillinger didn't live to see that the Beagle 2 spacecraft did successfully land on Mars after all.
The mission was led by the Professor, and he died assuming that the craft had been destroyed after it went missing in 2003.
However, the UK Space Agency today confirmed that high resolution pictures taken by Nasa's Mars Reconnaissance Orbiter spacecraft showed it actually successfully landed 12 years ago.
Utterly incredible to see that the #Beagle2 has finally been found on Mars. Sad that Prof Colin Pillinger isn't alive to see this.
Amazing news that they've found #Beagle2 intact on Mars! So sad Colin Pillinger isn't here to learn his spacecraft wasn't lost after all.
I only wish Colin Pillinger had survived to hear the news #beagle2
Advertisement
The Beagle 2 - which has been missing for more than a decade - has been found partially deployed on the surface of Mars.
Read the full story ›
The British Beagle 2 spacecraft landed successfully on Mars' surface, David Parker, the chief executive of the UK Space Agency has confirmed.
The probe vanished while attempting a Christmas Day landing on the planet in 2003.
ITV News Science Correspondent Alok Jha tweeted an image showing where the spacecraft is believed to have landed: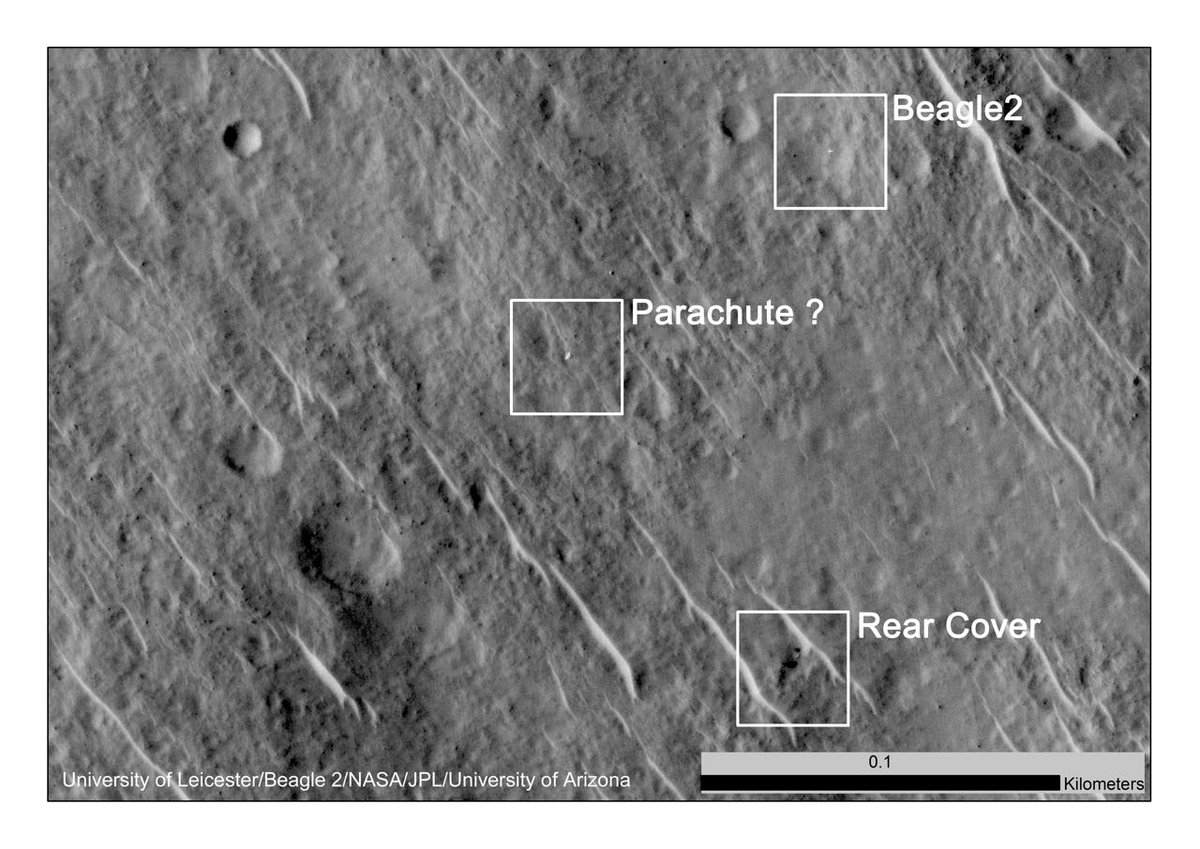 New research by scientists at the University of Wolverhampton could be used to prevent breast cancer from spreading to the brain.
Read the full story ›
A 250,000 year old Woolly Rhino skull has been found in Cambrdigeshire.
It was discovered on a building site near March but the exact location is being kept secret.
It is currently sat in a lab at Fossils Galore in March waiting to be cleaned and preserved.
The animals lived in the Fens a quarter of a million years ago.
Load more updates