For 12 years Beagle 2 was feared lost but today it has been hailed after images showed the probe successfully landed on Mars in 2003.
Read the full story ›
Artist Damien Hirst has shared his delight at hearing the Beagle 2 has been found and said he "can't believe" that the painting he had on board the missing spacecraft is now residing on Mars.
Hirst tweeted: "I have a painting on Mars! It's amazing!"
@hirst_official: "This is fantastic news! I can't believe Beagle 2 has been out there all this time and I have a painting on Mars!"
@hirst_official "It's amazing! It makes me think that Colin must be looking down on us smiling and still have a hand in it." #Beagle2
Advertisement
Many people have been taking to Twitter to express their sadness that Professor Colin Pillinger didn't live to see that the Beagle 2 spacecraft did successfully land on Mars after all.
The mission was led by the Professor, and he died assuming that the craft had been destroyed after it went missing in 2003.
However, the UK Space Agency today confirmed that high resolution pictures taken by Nasa's Mars Reconnaissance Orbiter spacecraft showed it actually successfully landed 12 years ago.
Utterly incredible to see that the #Beagle2 has finally been found on Mars. Sad that Prof Colin Pillinger isn't alive to see this.
Amazing news that they've found #Beagle2 intact on Mars! So sad Colin Pillinger isn't here to learn his spacecraft wasn't lost after all.
I only wish Colin Pillinger had survived to hear the news #beagle2
The Beagle 2 - which has been missing for more than a decade - has been found partially deployed on the surface of Mars.
Read the full story ›
The British Beagle 2 spacecraft landed successfully on Mars' surface, David Parker, the chief executive of the UK Space Agency has confirmed.
The probe vanished while attempting a Christmas Day landing on the planet in 2003.
ITV News Science Correspondent Alok Jha tweeted an image showing where the spacecraft is believed to have landed: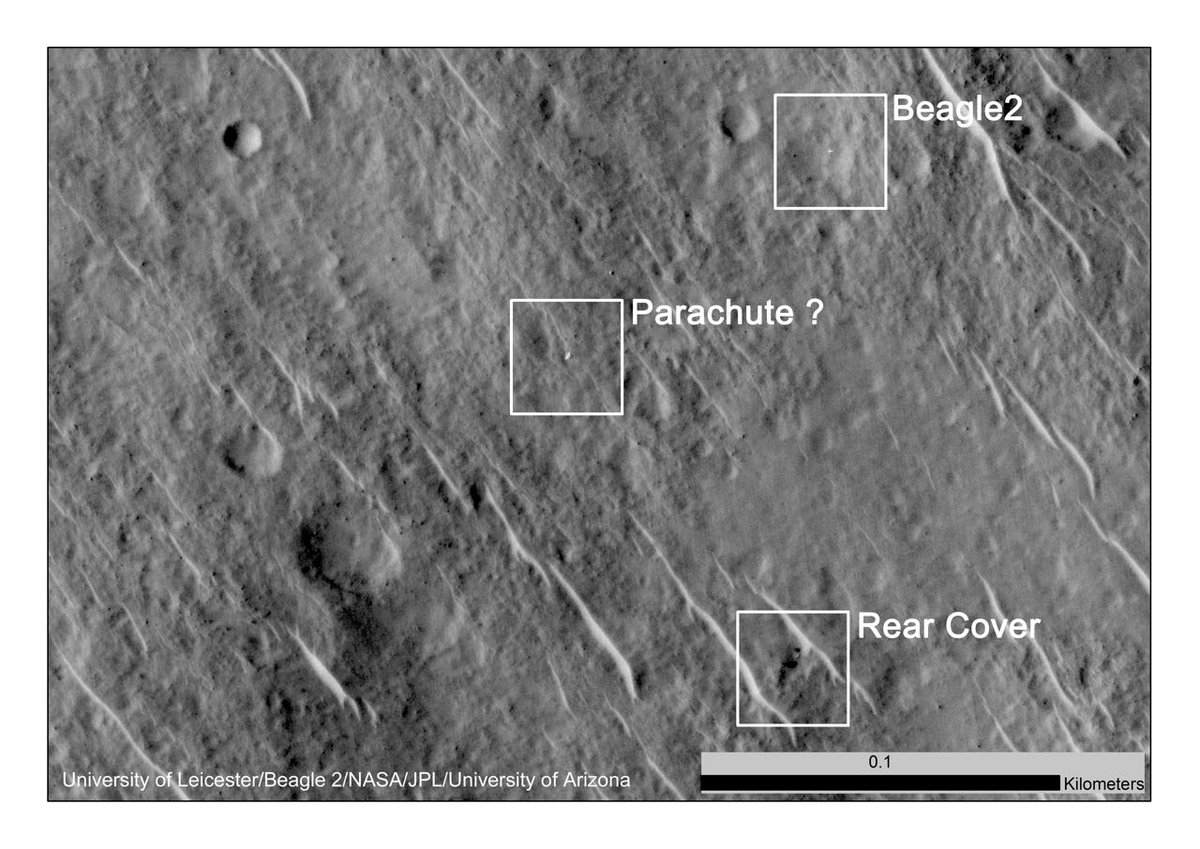 Advertisement
New research by scientists at the University of Wolverhampton could be used to prevent breast cancer from spreading to the brain.
Read the full story ›
A 250,000 year old Woolly Rhino skull has been found in Cambrdigeshire.
It was discovered on a building site near March but the exact location is being kept secret.
It is currently sat in a lab at Fossils Galore in March waiting to be cleaned and preserved.
The animals lived in the Fens a quarter of a million years ago.
Scientists at the University of Leicester hope a major breakthrough in the fight against Alzheimer's and cancer may also lead to the development of a new painkiller, using a toxin produced by a sea snail.
We are very proud of this research. It has taken several years of hard work to master the chemistry techniques to create these new building blocks but now that we have conquered it we have access to new building blocks that people have only ever dreamed of before!

Amino acids are Mother Nature's building blocks. They are used to make all proteins and so are essential for life, however Mother Nature only uses twenty of these building blocks. The Leicester research involves the chemical synthesis of unnatural amino acids that can be used to make unnatural mini-proteins with new 3D structures and importantly new functions.

We are actively using these building blocks to develop new treatments for cancer and Alzheimer's disease. We have also had a summer student use the building blocks to synthesise a toxin produced by a sea snail, and hope to develop this as a new painkiller.
– Dr Andrew Jamieson, lead scientist
Scientists at the University of Leicester have made a "breakthrough" in the fight against Alzheimer's and cancer, which they have described as "the stuff of dreams."
Researchers have developed a new way to make "designer proteins" that can be used to make more effective drugs with fewer side effects.
The advance is announced by the Jamieson Research Group in the Department of Chemistry at the University of Leicester.
Their work, funded by the Engineering and Physical Sciences Research Council (EPSRC), is published in the Royal Society of Chemistry journal Organic and Biomolecular Chemistry.
Load more updates