M5 bus driver found guilty
M5 has been closed because of an accident involving a lorry and a coach. It happened between junction 3 and junction 4.
A lorry driver who was seriously injured when his vehicle crashed into a bus on the M5 near Birmingham yesterday has died in hospital. A passenger on the bus was killed and more than 20 other people injured in the accident.
West Midlands received 11 calls on the emergency hotline number that was set up after the crash on the M5 Southbound near Birmingham yesterday. The hotline is now closed.
Advertisement
One man has died and more than thirty people have been injured after a bus and a lorry crashed in fog.
Two people, including the lorry-driver, are critically ill after the accident between junctions 3 and 4 of the M5.
The motorway has now re-opened, but crash investigators are still trying to piece together what happened.
Wesley Smith reports.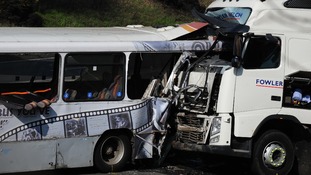 A 49-year-old bus driver from Birmingham has been arrested on suspicion of causing death by dangerous driving following a crash on the M5.
Read the full story
Driver of the bus in the collision on the M5 has been arrested on suspicion of death by dangerous driving #M5rtc http://t.co/2otgwmcM
Advertisement
The 49-year-old driver of the bus involved in this morning's crash has been arrested on suspicion of causing death by dangerous driving.
He has been released on Police bail.
More to follow.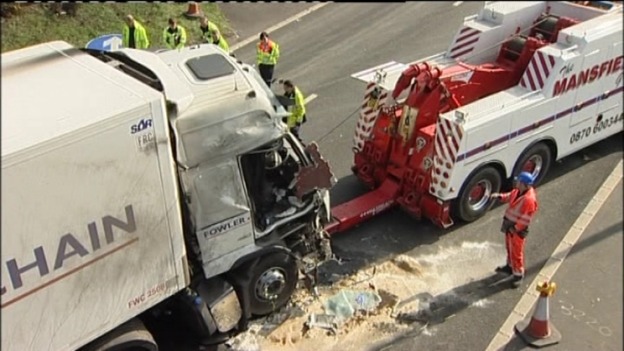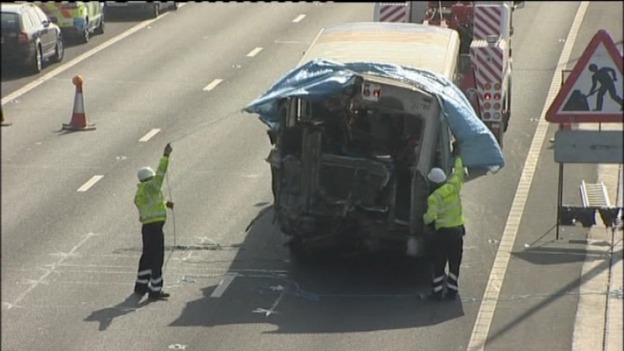 The M5 Southbound at junction 3 has now reopened after the crash between a lorry and a bus this morning.
Load more updates
Back to top