M5 bus driver found guilty
M5 has been closed because of an accident involving a lorry and a coach. It happened between junction 3 and junction 4.
Further pictures of M5 crash recovery work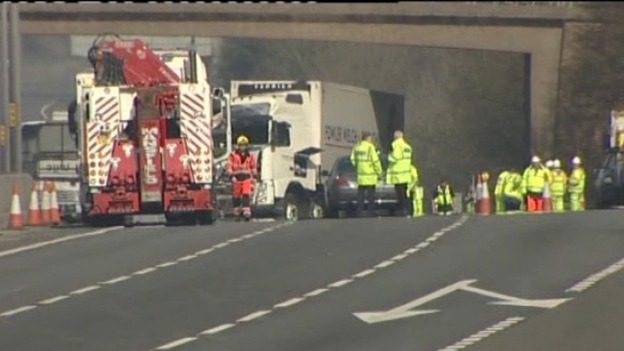 Traffic coping well with M5 closure after crash between lorry and bus
Highways Agency say traffic is coping well on the southbound approach to Junction 3 of the M5 which was closed after this morning's accident between a lorry and a bus.
Motorists are being advised to follow the diversions in place which are currently adding 20 minutes onto journey times.
Advertisement
Bus broken down in live lane of motorway for 15 minutes before it was hit in M5 crash
West Midlands Police have confirmed the bus carrying 34 passengers had been stationary for around 15 minutes before it was hit from behind by a lorry in thick fog this morning.
A member of the public dialled 999 and the Highways Agency were notified.
West Midlands Police confirm one fatality with two more critically ill in hospital after M5 crash
Speaking after a press conference this lunchtime, Chief inspector Carl Flynn from West Midlands Police confirms a 35 year old man travelling on the bus lost his life, the lorry driver is critically ill in hospital, along with another male passenger on the bus.
They are being treated at the major trauma unit at Queen Elizabeth Hospital in Birmingham.
Driver of the lorry in a critical condition in hospital
Police have confirmed that the lorry involved in the M5 crash with a bus load of workers this morning was travelling from Manchester to Devon.
Helpline for worried relatives of victims in M5 crash
If you're worried that you may have a friend/relative involved in the crash call 0800 092 0410.
Advertisement
Latest tweets from West Midlands Police advising about M5 crash
There is an advice line to ring if you are worried you may have a relative who was involved in this morning's crash.
Likely that southbound carriageway of M5 junction 3-4 will remain closed for the rest of the day while investigation and repairs take place
From
@WMPolice
on Twitter:
Tweets confirm the motorway will remain closed for the rest of the afternoon while repairs take place.
Interview with passenger on the bus involved in the M5 Crash
Mandip Singh was a worker that was travelling on the bus that was hit by the lorry on the southbound carriageway of the M5 this morning.
He says the bus was on its way to Evesham and describes the moment of the collision and how he tried to help his injured friend.
Ambulance service describe difficult conditions at M5 crash site
Nathan Hudson from the West Midlands Ambulance service explains how fog made the rescue of passengers difficult.
Pictures from the scene of the M5 crash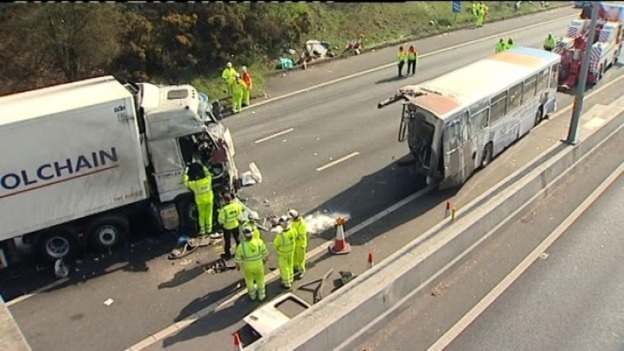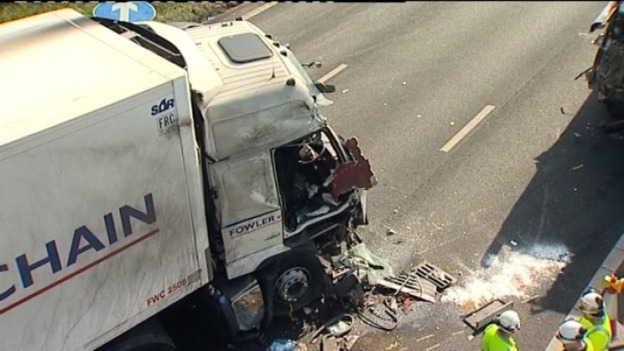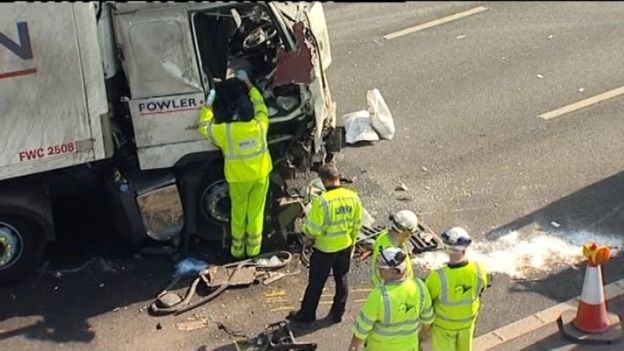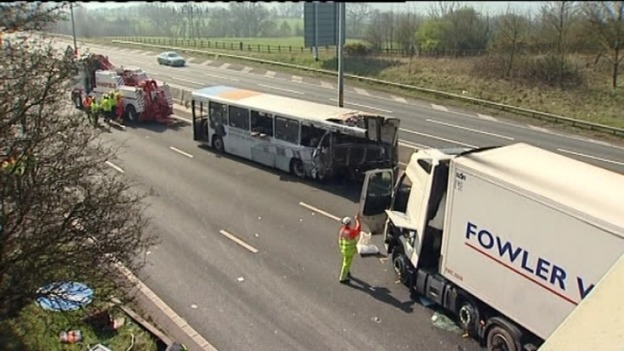 Load more updates
Back to top