In Other News...
A round-up of news items from around the Central region.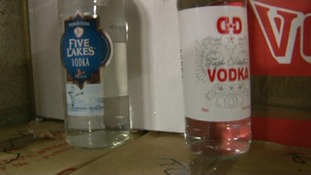 Hundreds of bottles of illegal alcohol have been seized by Trading Standards officers in Derby.
Read the full story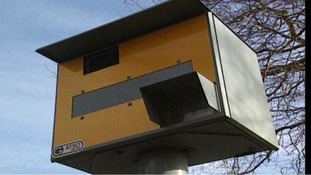 Two men have been arrested and charged in connection to an arson attack on a speed camera in Lincolnshire.
Read the full story
Advertisement
Three men charged with the murder of a 19-year-old in Nottingham have appeared at the city's crown court today.
Cameron Cashin, aged 20, Ijah Lavelle-Moore, 20, and Malcolm Vaughan Francis, 18, are all accused of the murder of Malakai McKenzie, who was shot outside The Hubb in Sherwood on April 21st.
The defendants were told they would be remanded in custody to appear again on Friday 7 September for a plea and case management hearing.
A provisional trial date has been set for November 26th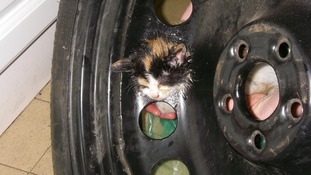 RSPCA staff in Birmingham have freed a kitten who's head was stuck in a car wheel.
Read the full story
Police in Birmingham have launched a murder investigation after the body of a man was found at a house in Lozells Road around 9am yesterday morning after emergency services were called to a report of a disorder at the address.
The man, who has not yet been identified but who is believed to be a Lithuanian national, was found dead at the scene.
Six people have been arrested on suspicion of murder and continue to be questioned by police.
"This investigation is continuing and officers have been at the scene this morning to speak to people who may have been in the vicinity of Lozells road at the same time yesterday, who may have seen something."
– Detective Inspector Justin Spanner, Force CID

The cause of his death is unknown at this stage and a post mortem examination is due to take place later today.

Anyone with information should call Force CID on 101 or the independent charity Crimestoppers anonymously on 0800 555 111.
Police investigating the murder of a former soldier in Yardley, have bailed three people who were arrested in connection with the death.
A 39 year old man, 39 year old woman and a 17 year old have been bailed while officers continue to investigate the murder of 64 year old Brian Farmer.
Mr Farmer's body was found by police at 6.10pm Saturday 19 May. It is believed his body may have been there for some days.
A post mortem has proved inconclusive and police are awaiting the results of further tests.
I want to reassure the local community that investigations are ongoing into Brian's death. This is a complex inquiry, where we need to ascertain what the circumstances are leading up to his death, his lifestyle and the people he associated with."

"We are appealing for people who may have known Brian and his movements in the days leading up to his death to come forward."
– DI Warren Hines, West Midlands Police Force CID

Anyone with information should contact Force CID on 101 or call Crimestoppers 0800 555 111.
Advertisement
A woman has been taken to hospital after she was found in the River Severn this afternoon.
West Midlands Ambulance Service was called to the scene near Worcestershire County Cricket Club's New Road Ground.
"We understand two passers-by spotted the woman in the river and went into the water beyond their own depth to get her out. It appeared she had stopped breathing, but life-support treatment given at the scene by the ambulance and fire service led to her breathing again and, in a poorly condition, she was taken to Worcestershire Royal Hospital."
– West Midlands Ambulance Service
Police have today named a man who was found dead in Yardley at the weekend as former soldier Brian Farmer.
The 61 year old was found dead at his flat in Bakeman House on Coventry Road by police at 6.10pm on Saturday.
Police say they are treating his death as murder, a 39 year old man and woman, as well as a 17 year old youth have been arrested in connection with the death.
This follows the inconclusive post mortem. Forensic enquiries are ongoing at the scene and police are awaiting the results of further tests.
Born in Birmingham, he was the youngest son of five children and until1993 had spent 22 years in the army, in the Queens Own Royal IrishHussars in Northern Ireland and The Gulf, before retiring as a MessSergeant.
"Investigations are ongoing andwe are appealing for people who may have known Brian and his movementsto come forward.

"We believe his body may have been in the flat for

some days before it was discovered and we are appealing for anyone whomay have seen him in the days leading up to this."We believe Brian was well-known in the local community andwas both distinctive and personable.

We are trying to piece togetherBrian's movements and lifestyle and who he associated with. If anyonesaw anything suspicious or heard anything they should contact us assoon as possible."
– DI Warren Hines from Force CID
Jewellery worth thousands of pounds has been stolen in a house burglary in Wolverhampton.
The burglary took place between 2pm and 3.30pm on Thursday in a house off of Mount Road in Tettenhall, Wolverhampton whilst the elderly homeowners were out.
Police are appealing for witnesses:
"The burglars broke into the house through patio doors having got into the back garden from a nearby alleyway.

"The jewellery that was taken has great sentimental value, having being passed down through the family and a lot of it is quite distinctive.

"There are several gold items such as cufflinks, rings, shirts studs, earrings and also a quantity of gold half-sovereigns.

"Amongst silver items that were stolen are pillboxes, a drinks tray and three engraved pieces, namely a letter tray, a paper knife and a cigarette box. The cigarette box also bears a Royal Engineers crest."
– Detective Sergeant Andrew Padmore of Wolverhampton CID
A furniture warehouse has caught fire in Montgomery Street in Sparkbrook.
There are fifteen fire engines currently at the scene.
More updates to follow.
Load more updates
Back to top