Sonic Boom
A loud bang heard across parts of the Midlands last night has now been identified as a sonic boom caused by two Typhoon aircraft.
A huge bang was heard over thousands of homes across the Midlands last night. It sparked calls to police and fire brigades and radio and tv stations.
The Ministry of Defence says it was caused by two typhoon jets responding to an emergency signal
Adrian Wynes was driving towards Bristol, when he saw the RAF Typhoon, responsible for the sonic boom heard by people living in Warwickshire. It flew directly over his car.
Advertisement
The Ministry of Defence have released footage of how they are preparing for the Olympics.
It involves RAF Typhoons taking to the skies - this footage was released by the MOD following the release of two RAF Typhoons yesterday which caused a sonic boom heard by the public. More here MOD.
Were you in an area where you could hear the sonic boom yesterday? There's more information on what happened here: http://t.co/WfCbvPcQ
This video was taken by Paul Harvey from Northamptonshire.
Advertisement
MICHAELA: "I was in my work cigarette shelter on my own and I thought somebody was shooting at me because it was so loud and everything shook. I jumped and then dove for cover."
PRESENTER: "Oh really?! Bless you! Once you got yourself off the floor, what did you think after you realised you weren't getting shot at?"
MICHAELA: "I immediately ran back into the call centre and told everyone but then it was all over the news by then and I felt a bit of an idiot to be honest."
PRESENTER: "Did the whole ground move?"
MICHAELA: "Yes. It's like a plastic bus shelter thing and the whole thing shook. It made me pretty scared."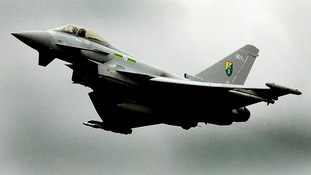 A loud bang heard across parts of the Midlands yesterday evening left a radio station's phone lines "rammed", says presenter.
Read the full story
An amateur video reportedly taken yesterday appears to feature the "big bang" of the sonic boom, which was heard across parts of the Midland.:
The MoD confirmed earlier the noise was caused by Typhoon aircraft.
A sonic boom is the sound heard as a result of shockwaves created when an aircraft travels through the air and breaks the sound barrier. It is a very loud noise, which is why sonic booms are often mistaken for explosions.
NASA says it is currently studying and testing devices that could be used on aircraft to lesson noise (such as that made by a sonic boom) created by different types of flight: http://www.nasa.gov/audience/forstudents/5-8/features/what-is-supersonic-flight-58.html
Load more updates
Back to top