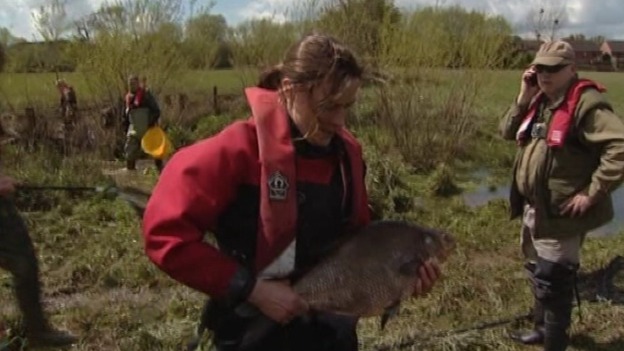 The Environment Agency say 230 large fish with a combined weight of over half a ton have been safely returned to the River Severn in a major rescue operation.
Rededing flood waters left hundreds of fish, including large bream and carp, stranded at Upton-on-Severn in Worcestershire.
Up to 1,000 fish became trapped in pools, ditches and behind mesh fences, leaving them at risk of dying unless they were moved quickly.
Last Tuesday 8 May, the Environment Agency removed 125 stranded fish that where in shallow water and returned them to the river.
About 80-100 bream, weighing up to 7lb and 20-30 carp, weighing about 5-15lb each, were among the fish rescued.
By the end of the day there were still hundreds of fish left but they were in deeper water and not in immediate danger.
It was hoped that the remaining fish would be able to return to the river naturally.
When that didn't happen The Environment Agency went back to the site to move the remaining stranded fish to the River.
About 100 fish, including individual carp weighing up to 28lb each, were rescued.