Derby House Fire
Six children have died after a house fire in Derby. Jade Philpott, 10, and brothers John, nine, Jack, eight, Jessie, six, and Jayden, five and Duwayne Philpott, 13, all died in the blaze at their home in Allenton, Derby, on May 11th.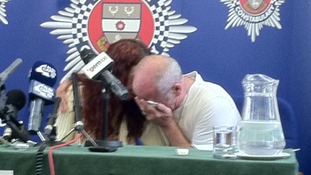 Mick and Mairead Philpott addressed the media today following a house fire that killed six of their children.
Read the full story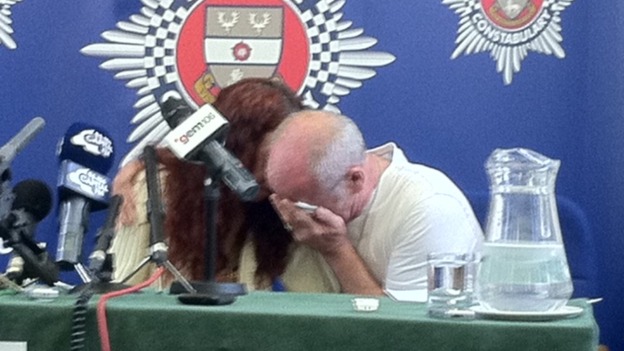 Advertisement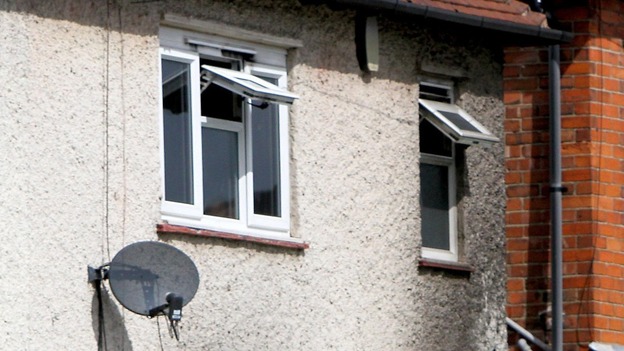 More details are expected to be released in a news conference by the father of six children who died after a house fire in Derby in the early hours of Friday morning (May 11).
Jade Philpott, 10, and brothers John, nine, Jack, seven, Jessie, six, and five-year-old Jayden breathed in smoke when fire ripped through their home in Allenton in the early hours of Friday.
The fire also claimed the life of their 13-year-old brother Duwayne, who died several days later in the Birmingham Children's Hospital with his parents at his bedside.
A trust fund has also been set up by the community to help pay for the funerals and to provide additional support to the Philpott family.
A five thousand pound reward is also being offered for information leading to a conviction.
ITV Central's Phil Brewster reports on the latest developments in Derby where six children from the same family died in a house fire that police say was started deliberately.
Community safety officers are visiting homes in the streets near to the house where six children died in a fire at their family home.
Residents will be offered a home fire safety check, which includes checking and fitting smoke alarms and advice on fire safety.
They say they won't be going to Victory Road, where the children died.
Two local points of contact have been set up for residents wanting to speak to the Fire Service:
Sainsbury's (Peak Drive) – from 10:00 am until 4:00 pm, Tuesday 15 May until Wednesday 16 May.
Lister House Doctors Surgery, St. Thomas Road – from 10:00am until 4:00 pm, Tuesday 15 May until Wednesday 16 May.
Firefighters and Community Safety Officers are giving safety advice to people in the Allenton area of Derby after the deaths of six children in a house fire four days ago.
Officers and Firefighters have been joined by staff from Derby Homes and other agencies on house to house visits in the following roads:
o Ash Tree Avenue
o Elm Tree Avenue
o Oak Tree Avenue
o Abingdon Street
o Arkwright Street
o Mortimer Street
o Crowshaw Street
o Witney Close
o Walnut Street
o Marlborough Road
o Nightingale Road
Advertisement
Anthony Slater, chair of Oscar (Osmaston Community Association for Residents), speaking about the launch of the DJ Trust which is the official Trust for the Philpott family.
The trust is named after Jade, John, Jack, Jessie and Jayden Philpott who died in a fire at the family home, in Allenton, Derby in the early hours of Friday morning, and their brother Duwayne who later died in Birmingham Children's Hospital.
The headteacher of the children who died in a fire says they were full of fun and only wanted cuddles.
Five boys and their sister died when fire ripped through the house in Derby.
The eldest boy died overnight - his parents were at his bedside when his life support machine was switched off.
Today police said they've received a lot of information about how the fire might have started - but they're scouring internet sites for clues as to how this tragedy happened.
Derbyshire police say after forensic examination they believe the Derby house fire was not accidental.
"After further forensic examination we believe the fire was not accidental.

"Initial indications are that it was deliberately set and as a result six children have been unlawfully killed.

"The forensic examination is still continuing. A number of specialists, including fingerprints officers have been examining the scene and this is likely to continue for some time."

"We have yet to speak in detail with Mr and Mrs Philpott and that will happen sometime this week as understandably the couple are distraught at the loss of their six children."
– Assistant Chief Constable Steve Cotterill

The Victory Road fire occurred in the early hours of Friday morning killing six children.
A Facebook advert launched by Derbyshire police has been viewed more than 400,000 times.
The site appeals for more information about a house fire in Derby in which six children died.
670 people have also clicked through to the Derbyshire Constabulary website for more information.
Load more updates
Back to top