Forced Marriage Made Illegal
Birmingham has the worst rate of forced marriage outside of London. Today the Home Secretary has announced that the law has changed making the practice illegal in the UK.
The Prime Minister has said victims' lives were ruined by being taken away from the UK and coerced into marriage.
He warned that parents who force their children into an unwanted marriage will face "very tough punishments" under a new law.
The Government is making forced marriage a criminal offence, with Mr Cameron claiming the practice was "little short of slavery".
The Prime Minister added that the issue had been tolerated as a "cultural practice" for too long and the time was right to take action.
Click here for more on this story
Equalities minister Lynne Featherstone has told Daybreak that forced marriage is "totally unacceptable", as plans are announced to make it a criminal offence.
Meanwhile, the Home Secretary Theresa May has said the Government's concern "will always be for victims".
Advertisement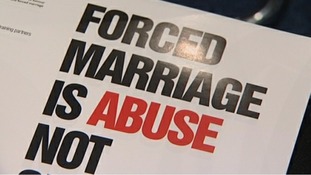 Forced marriage is to be made illegal in England and Wales. Birmingham has the worst rate of forced marriages outside of London.
Read the full story
Back to top