M6 Toll Incident
The M6 toll motorway was shut today following a "police-led incident".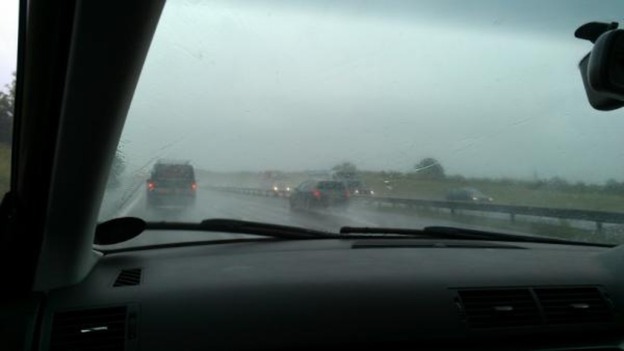 The Highways Agency is advising drivers to check the weather forecast and road conditions before travelling, as heavy rain is expected throughout the region today.
Simon Sheldon-Wilson at the Highways Agency said:
"I advise drivers to plan their journeys before setting out, check the weather and traffic conditions, leave extra time for their journeys if travel conditions are poor, and delay their journey if the weather becomes severe.
"Rain and spray can reduce visibility and when the road is wet it can take up to twice as long to stop so it makes sense to slow down when it's raining.
"It's also important to remember that surface water may affect motorways and major A roads where heavy rainfall occurs."
Coach passengers who found themselves embroiled in a terror alert caused by an electronic cigarette have spoken to ITV's Daybreak about their ordeal.
Lindsey Parker and Vermilion Von Kangur were travelling on the Megabus when armed officers, troops, firefighters and bomb disposal experts surrounded the coach at the M6 Toll near Litchfield.
To watch the interview click here
Advertisement
Police today said they were right to send armed units to a coach on a motorway, after a passenger saw what turned out to be smoke from an electronic cigarette in someone's bag.
The coach was stopped on the M6 Toll road.
Passengers were taken off by armed police, decontamination units were set up and the motorway was closed for more than five hours.
Mark Gough reports now on today's huge police operation.
A megabus.com spokesman has thanked passengers for their patience and understanding following the incident that resulted in customers being evacuated off of a coach and the M6 Toll to be closed earlier today:
"Police have now given clearance for passengers to continue their journeys and we have made arrangements for them to travel to their chosen location. We would like to thank our customers for their patience and understanding during today's police operation,
– Megabus spokesperson
Police say the security alert they received this morning which resulted in the closure of the M6 Toll was because of an electronic cigarette.
Police received a report of vapour escaping from a bag on a Mega Bus on the M6 Toll road, on investigation it turned out to be a device to assist smokers to quit, also known as an electronic cigarette.
"Given the credibility of the information we received, we responded swiftly and proportionately.

"We can now confirm that, whilst this was a genuine security alert, the significant concerns reported to us were unfounded.

"It's important to state that no criminal offence has been committed and no passenger or any other member of the public is being treated as a suspect.

"We would like to take this opportunity to thank passengers for their patience, cooperation and support."
– Staffordshire Police

The M6 Toll was closed by Police following a report from a concerned member of the public, in both directions causing hours of delays for motorists.

Police have apologised for any inconvenience caused by the delays.

The coach has now been moved and the Toll road re-opened.
Police have released a statement saying they closed the M6 following a report from a 'genuinely concerned' member of the public about suspicious activity on a coach traveling on the M6 toll.
The report from a member of the public was received by police today at 8.20am today.
"Following an initial assessment, we can confirm that no-one has been injured and that there is no danger to passengers at the scene or any other travellers who were on the motorway at that time.

"We are also not treating anyone as a suspect.

"Whilst the incident is ongoing and further examination and investigation is taking place at the scene, passengers have been put on another bus for their comfort and safety.

"Importantly, we are not treating this as a counter terrorism incident."
– Staffordshire Police
Advertisement
Megabus and other coach carrying passengers has left the scene and is heading north up the M6 toll in the direction it originally came from
Police have confirmed today's M6 toll incident is not terror-related. They also say there was no chemical spillage and have made no arrests.
The coach involved in today's alert and a second coach believed to be carrying the passengers have left the scene.
Our correspondent Mark Gough, who is at the scene of today's M6 toll incident, says emergency vehicles are starting to leave the site.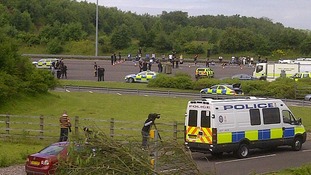 The M6 toll motorway was closed today as police investigated a security alert which police found to be an electronic cigarette.
Read the full story
Load more updates
Back to top