Police and Crime Commissioners
The latest on the newly elected Police and Crime Commissioners in the Midlands.
Police and Crime Commissioner stops controversial plans
The first Police and Crime Commissioner for the West Midlands has stopped controversial plans to allow private firms to run parts of the force's core services.
Half a million pounds has already been spent looking at how this would have worked. It was hoped that privatising parts of the police would help plug a £126 million funding gap.
But Bob Jones, the Commissioner who starts in his new role today, says the force should be accountable to the public, not shareholders.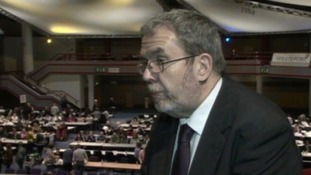 Bob Jones, PCC for the West Midlands, will today officially begin his duty and hold his first press conference.
Read the full story
Advertisement
Andy Charles will ask people in Derby what they want from their Police force
Andy Charles has been appointed as the Police Crime Commissioner for Derbyshire.
Paddy Tipping is 'on the case' as the new Police Commissioner for Nottinghamshire
Paddy Tipping is the new and first Police Crime Commissioner for Nottinghamshire.
He says he knows what he has to do.
Nottingham Police Chief Constable congratulates county's new PCC
The Chief Constable of Nottinghamshire Police has congratulated Paddy Tipping on his appointment as Nottinghamshire's Police Crime Commissioner.
"I want to congratulate Paddy Tipping on his appointment as Nottinghamshire's first Police and Crime Commissioner and wish him all the very best in this new role."

"I look forward to developing a strong relationship with the Commissioner and working together in partnership to build upon the successes the force has had in recent years in making our communities safer."
– Chris Eyre, Chief Constable, Nottinghamshire Police
Derbyshire PCC says role is a "great honour and privilege"
"It's been a great honour and privilege to be elected to this position and I hope I can fulfill the expectations of the Derbyshire people. There is a lot of work to be done, and I will start that work immediately."
– Alan Charles - Derbyshire PCC
Advertisement
What are the PCCs signing today?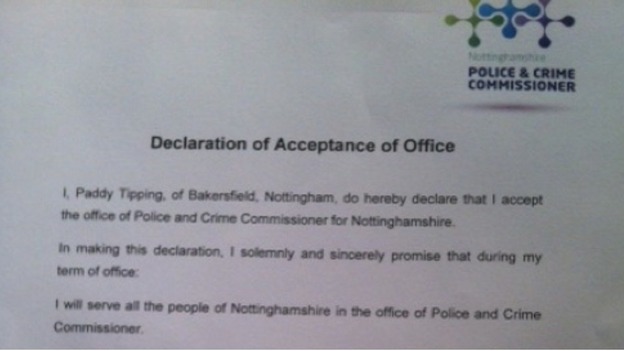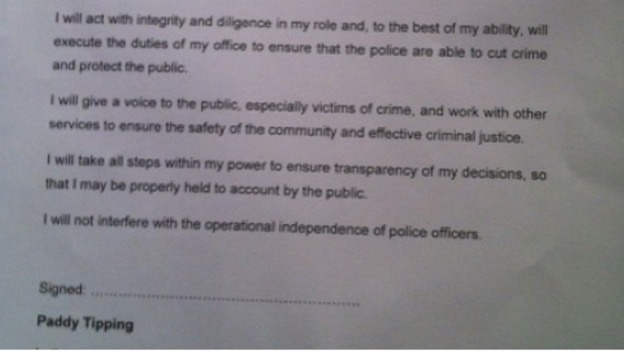 Nottinghamshire's Police and Crime Commissioner sworn in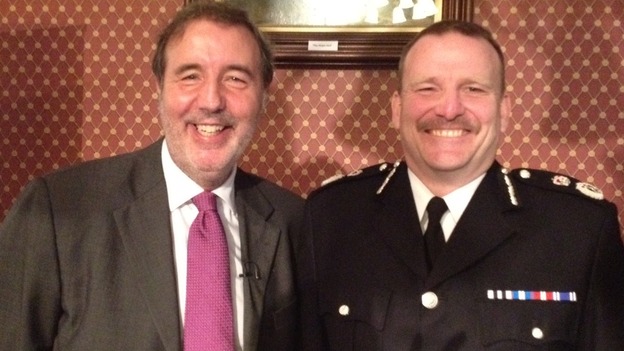 Paddy Tipping has been sworn in as the Police and Crime Commissioner for Nottinghamshire this morning.
To find out more about what a PCC is and what they will be doing read here.
Alan Charles sworn in as PCC of Derbyshire Police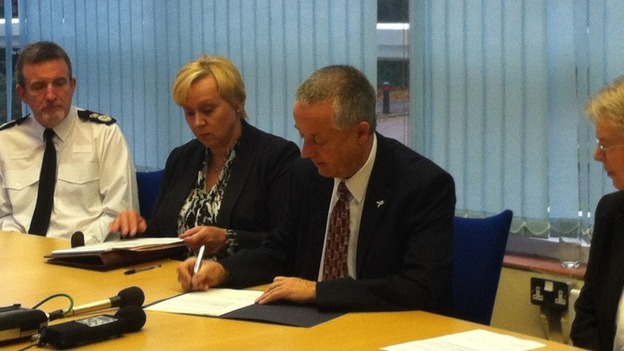 Newly-elected Police and Crime Commissioners for Derbyshire, Leicestershire and Nottinghamshire are making their Declaration of Acceptance of Office at separate venues ahead of starting work on Thursday.
Pictured here is Alan Charles being sworn in as PCC for Derbyshire.
To learn what a PCC actually is click here.
New PCCs officially accept new roles
Newly elected Police and Crime Commissioners from across the East Midlands will take oaths today to accept their new roles. They were voted into power on Friday.
Their responsibilities include overseeing policing and controlling force budgets. Alan Charles is the new PCC for Derbyshire, Paddy Tipping is the new PCC for Nottinghamshire, and Sir Clive Loader is the new PCC for Leicestershire
Load more updates
Back to top