Airport Reopens After Spitfire Incident
East Midlands Airport is closed following an incident on the runway involving a Spitfire.
East Midlands Airport say they have completed their final runway inspection and the airport has now re-opened.
The wreckage of the Rolls Royce Spitfire involved in an incident at East Midlands Airport has now been towed away.
The airport, which has been closed for the last couple of hours, is due to re-open shortly.
Advertisement
We are aware of an incident at East Midlands Airport. There are no serious injuries. We will assist relevant authorities with their enquiries.
– Rolls Royce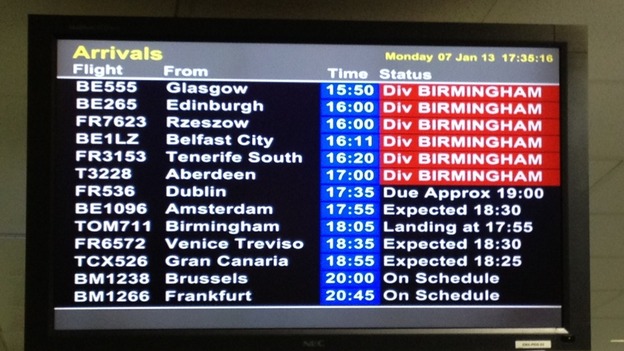 East Midlands Airport have confirmed flights have been diverted to Birmingham.
The airport is expected to open at around 18.30.
East Midlands Airport have confirmed that the Spitfire involved in an incident which has closed the airport is a Rolls Royce Spitfire.
The runway is shut and flights are suspended because of where the plane has come to rest,

All inbound flights have been diverted and outbound flights have been suspended, but we are expecting to be operational within two hours.

Any passengers booked on flights are advised to check in as usual.
– East Midlands Airport spokesperson
Advertisement
Leicestershire Fire and Rescue and Leicestershire Police have confirmed to ITV Central News they were notified about the spitfire landing at East Midlands Airport but were then told they did not need to attend as it was dealt with by the airport.
A spokesperson for the airport has confirmed the undercarriage of the aircraft gave way on landing, which they say should not be described as a crash.
East Midlands Airport says there are delays of up to two hours to scheduled flights. Delays and diversions are expected to be over by 6.30pm.
The airport has also confirmed there are no injuries.
East Midlands Airport claim the Spitfire did not crash.
They say on landing the undercarriage collapsed and they are waiting to remove the plane from the runway before normal operations resume.
They say this will take two hours.
There are reports that East Midlands Airport has closed following a Spitfire crash on the runway.
Unconfirmed reports say there are no injuries but the runway is currently closed.
Back to top