Stafford Hospital: The latest
The very latest on the inquiry into standards of care at Stafford Hospital, where hundreds of patients died needlessly between 2005 and 2009.
Chairman of Stafford inquiry calls for criminal sanctions against those who cause serious harm to patients
The man who refused to hold one person accountable for the deaths at Stafford Hospital has said today that individuals who cause serious harm to patients should face criminal sanctions.
Robert Francis QC, the Chairman of the public inquiry into the serious failings at Mid Staffordshire NHS Trust now says that public confidence in the health service would 'evaporate' unless the change is made.
But speaking when the Stafford Report came out, he defended the decision not to name names saying his was an inquiry not a court of law.
Church service for Stafford Hospital community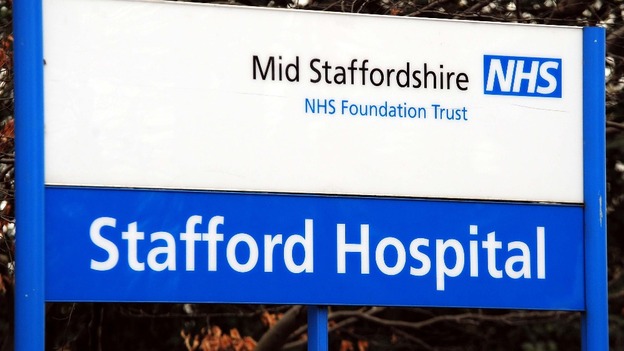 A church service for the hospital and local community is being held today at St. Mary's Church in Stafford at 3:00.
Advertisement
Health experts called in to Black Country hospital
A team of health experts has been called in to a Black Country hospital following a higher number of patient deaths than expected. It is part of what's known as The Keogh Review - aimed at preventing future scandals like the one at Stafford Hospital.
A further 13 hospital trusts across the UK are to get similar inspections - followed up by unannounced visits. Watch Keith Wilkinson's report.
Russells Hall Hospital in Dudley "absolutely" not closing down
Ruth May, Regional Chief Nurse, has told ITV News Central that Russells Hall Hospital in Dudley is "absolutely" not going to close down.
Health experts begin review of services at Dudley Group NHS Trust
A team of health experts has started a review of services at a Midlands hospital trust with higher than expected patient deaths.
The team began its work this morning at the Dudley Group NHS Trust.
They have been called in by the medical director of the health service, Sir Bruce Keogh. A number of hospitals are to have visits in the wake of the scandal at Stafford, where hundreds of people were said to have died needlessly.
Ruth May, Regional Chief Nurse, has told ITV News Central that 14 hospitals have been identified as having excess deaths over the last two years.
NHS team to visit Dudley as part of Keogh review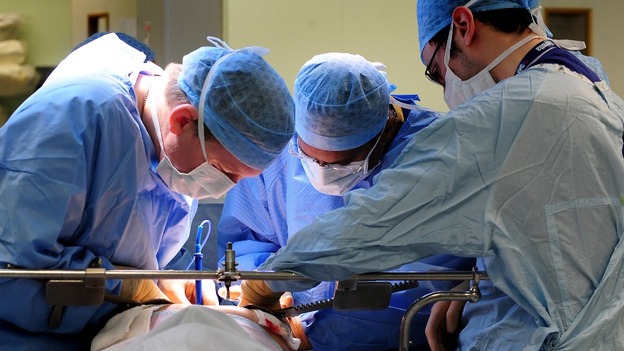 A team of doctors, nurses and patient representatives will visit the Dudley Group NHS Foundation Trust today as part of a review into higher-than expected death rates.
The review, led by NHS England's medical director Professor Sir Bruce Keogh, will look at the 14 NHS trusts found to have higher mortality rates over the last two years.
It comes in the wake of the scandal at Stafford Hospital where hundreds of people were said to have died needlessly.
Advertisement
Second public meeting about Stafford Hospital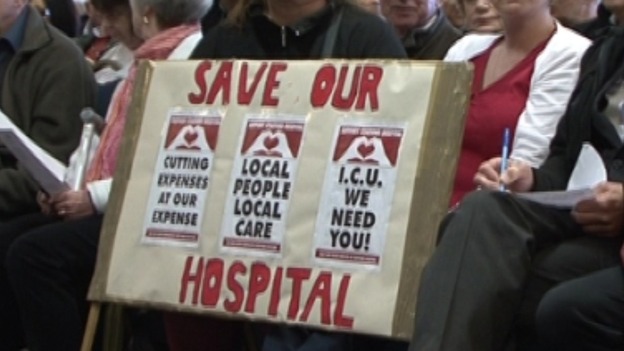 Another public meeting is being held tonight to discuss the future of the trust which runs Stafford Hospital. Hundreds attended one last night at the Staffordshire County Showground over concerns about changes and cuts to services at Stafford and Cannock hospitals.
First public meeting held with Stafford Hospital adminstrators
Callum Watkinson reports from the first public meeting to be held between the administrators of the Mid Staffordshire NHS Trust and members of the public.
Hundreds of people turned out to listen and ask questions about the fate of Stafford and Cannock Hospitals.
Another meeting will be held tomorrow at Staffordshire County Showground.
Hundreds turn out for Stafford Hospital meeting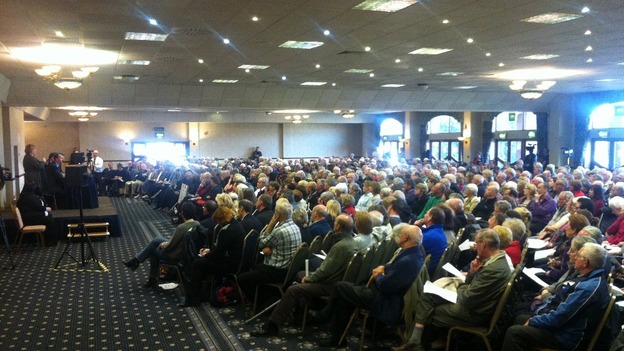 No redundancies expected at Stafford Hospital
Administrators in charge of Stafford Hospital told a public meeting tonight they will not be "wedded" to an earlier report that recommended acute services at the hospital should close.
Administrators also said that there would be no redundancies at the hospital during the administration process.
There was applause when administrators were asked how much the administration system would cost. Alan Bloom, the accountant in charge, said that it would be in excess of £2 million but would not be paid out of the trust's budget.
Load more updates
Back to top