Philpott house cleared
The former Philpott family home on Victory Road in Derby is being cleared, ahead of it being demolished. Its former tenants, Mick and Mairead Philpott, were jailed for the manslaughter of their six children in a fire there, last year.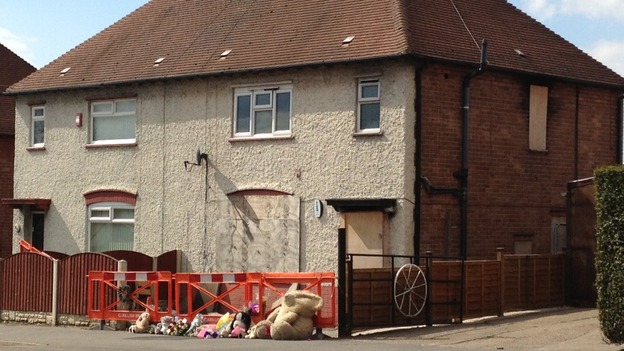 Tributes have been left at the home where six children died in a house fire planned by their father, mother and family friend.
The children – Jade, Duwayne, John, Jack, Jesse and Jayden Philpott, died from smoke inhalation in May 2012.
On Thursday (April 4), Mick Philpott, Mairead Philpott and Paul Mosley were sentenced at Nottingham Crown Court for six counts of manslaughter.
Mick Philpott was sentenced to life, serving at least 15 years in prison. Mairead Philpott and Paul Mosley were both sentences to 17 years, with at least half the sentence being served.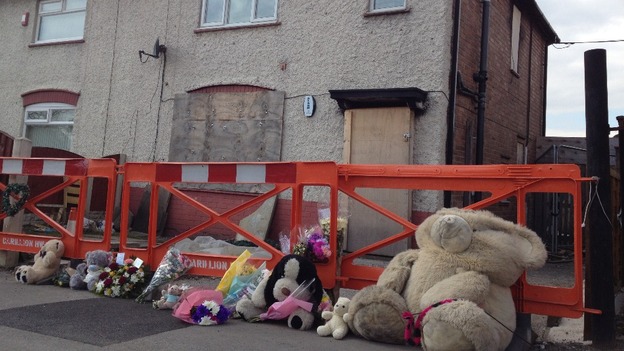 National
Chief Secretary to the Treasury Danny Alexander said he did not want to connect the Philpott case to the need for welfare reform.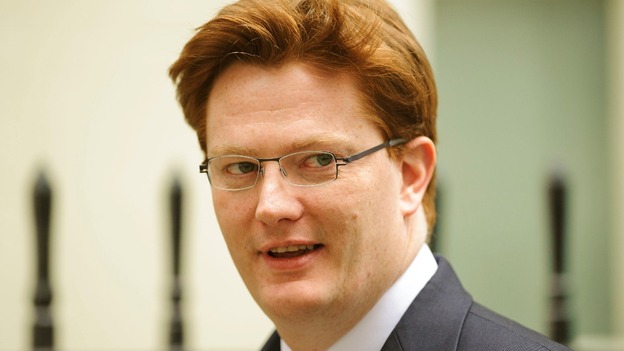 Senior Liberal Democrats have not entered the row which has seen David Cameron back Chancellor George Osborne's comments that the case prompted "wider questions about our welfare system."
Mr Alexander said: "The Philpott case is an individual tragedy. Children have died in that case.
"I think that is where we should let that case lie. I would not want to connect that to the much wider need to reform our welfare system."
Exclusive: Mick Philpott's sister 'he deserves to die'.
Watch: Ed Balls - Chancellor's 'cyncial. nasty, divisive' Philpott link.
Advertisement
National
The Prime Minister agreed with the Chancellor that the Philpott case prompted "wider questions about our welfare system".
National
The Prime Minister said the Chancellor's remarks about the Philpott case "were absolutely right".
Watch: Osborne: Why are we subsidising lifestyles like Philpott's?
He said: "I think what George Osborne said was absolutely right.
"He said that Mr Philpott was the one to blame for his crimes and he should be held responsible but what the Chancellor went on to say is we should ask some wider questions about our welfare system - how much it costs and the signals that it sends.
"We do want to make clear that welfare is there to help people who work hard, it shouldn't be there as a lifestyle choice and I think that's entirely legitimate."
Father Alan Burbidge will try and help Mick Philpott reach acceptance of what he has done by visiting him and talking to him.
He has known Mick and his family for a number of years.
Advertisement
Father Alan Burbidge met Mick Philpott in the hospital when Dwayne was being treated and conducted the funeral of the six children.
He visited Mick Philpott in prison and says he always stuck to his story saying "I would do nothing to harm my children".
Following the deaths of the six Philpott children in a house fire, Derbyshire Fire and Rescue Service are reinforcing the importance of fitting sprinklers in houses.
Six children died in Victory Road, Derby in May 2011

Four children died in Hulland Ward in 2011

Two children died in Buxton in 2010
In addition to 14 other deaths in fires across the county since April 2010.
226 people have died in house fires across the UK in the last year.
Sean Frayne, the Chief Fire Officer at the service says,
"'I am extremely proud of the work of all of the emergency Services at the time of the fire and in particular that of the firefighters who battled to save the lives of the young children....
...."I am convinced that the benefit of domestic sprinkler systems is still not fully realised. When it is, similar incidents in the future, irrespective of how a fire is started, will have a far different outcome."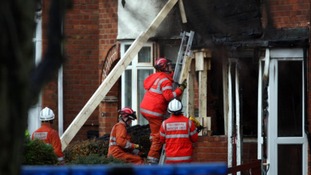 Following Derbyshire Fire Service's recommendations over having sprinklers in homes, here are the best ways to improve fire safety at home.
Read the full story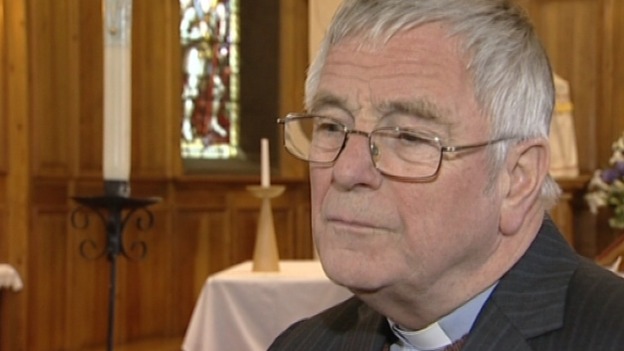 The priest who conducted the funerals of the six Philpott children says he is willing to visit their father in prison - if he is asked to do so.
Mick Philpott was jailed for life yesterday for manslaughter.
Father Alan Burbidge says Mick Philpott is unable to accept his role in their deaths.
Load more updates
Back to top