Terrorist plotters sentenced
Eleven Birmingham gang members who plotted terrorist attacks potentially bigger than the July 7 attacks have been sentenced at Woolwich Crown Court.
The Chair of Birmingham's Central Mosque says a different approach is needed to tackling radicalisation.
Mohammed Naseem wants better access to people with known extremist views, to gain a better understanding of their mindset.
"We can prevent this kind of thinking by collecting the people talking to them, putting peer pressure on them, making it clear to them that instead of going to heaven they might be going to hell.

If we know what kind of person or kind of ideology they have then we can look for it in our society or in the congregation."
– MOHAMMED NASEEM - Chair of Birmingham Central Mosque

Although relatives of the four men known as "the travellers" intervened when they found out they had flown to Pakistan for terrorist training, no one alerted the police.
Local volunteer community workers in Birmingham say issues such as drugs, alcohol and unemployment are bigger problems among young muslims than radicalisation.
However they say high profile terrorism cases such as this can have a damaging impact on the community.
Community worker Yousfuf Hussain says:
"When people look at my beard they think oh he's a terrorist. People judge on how they look."
Harun Raza who also volunteers as a community worker in Birmingham agrees:
"It does have a massive impact when these fanatics and these terrorists do something. These people need to be stopped because they're giving Islam a bad name, they're giving the community a bad name."
Advertisement
National
West Midlands Police have said the public is a "whole lot safer", after three men were found guilty of leading a terrorist bomb plot that could have been bigger than the July 7 bombings.
Assistant Chief Constable Marcus Beale, from West Midlands Police Counter Terrorism Unit said that Irfan Naseer, 31, Irfan Khalid, 27, and Ashik Ali, 27, all from Birmingham, were "critical" of the 7/7 bombers, because "they didn't kill enough people". Mr Beale added:
They wanted to create their own 9/11. As a group, had they been able to achieve their objective, we think they would have killed numerous people and caused a whole lot of misery and injury on others.

We don't have any specific information that says that they knew that this was what these guys planned to do.

Our interpretation of the evidence was that they hadn't settled on any specific target.

They aspired to make and detonate bombs in crowded places, places where we go shopping, for our entertainment, to travel, they wanted to attack these places with a mixture of bombs and suicide bombs.
– Assistant Chief Constable Marcus Beale, West Midlands Police Counter Terrorism Unit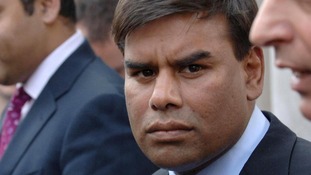 MIllions of pounds is spent trying to stop the radicalisation of young people in the West Midlands, but critics say it isn't working.
Read the full story
A woman who lives next to the flat in Sparkhill where the three convicted men were experimenting with making bombs has described the case as "unbelievable".
"I was very shocked that something like that was next door to us. It's unbelievable. They just kept themselves to themselves."
ALLISON ARMSTRONG - Neighbour
Another worshipper at the Jamia Mosque Amir-e-Millat in Sparkhill, Birmingham, said that killing innocent people in the name of Islam was totally wrong:
"The word Islam comes from the Arabic word salam which means peace. So a religion which has the meaning peace and respect, how can that religion teach you to kill someone? Terrorism, specially killing ourselves in the name of Islam is totally wrong and that person is not a Muslim."
Advertisement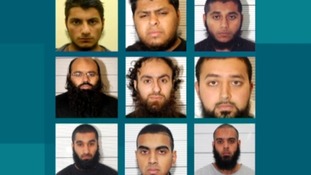 Before today's convictions, six men had already pleaded guilty to the terror plot - read profiles of the nine men here.
Read the full story
Muslim worshippers in Sparkhill have been giving their reaction to the conviction of Irfan Naseer, Irfan Khalid and Ashik Ali.
They were planning a suicide bombing campaign which could have been more deadly that the July 7th attacks in London.
Worshippers at the Jamia Mosque Amir-e-Millat, near where the men lived, say their actions spoil the relationship in the community, and in no way represents the teachings of Islam.
One worshipper at the Jamia Mosque Amir-e-Millat told ITV News:
"Everybody's disappointed. Everybody's horrified. Nobody wants this sort of plotting going on in this area. Somebody's producing these terrorists not for the good gain of Muslims. It spoils the relationship in the community and overall in the world, for that matter."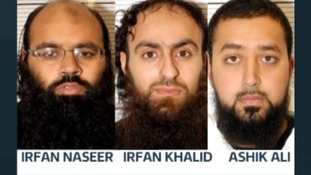 As part of the police surveillance operation, hours of recorded phone conversations between the terrorists
Read the full story
Load more updates
Back to top