McCanns to make new appeal
Gerry McCann says he is "encouraged" by new evidence relating to the disappearance of his daughter Madeleine.
Scotland Yard, who have taken over the investigation into the disappearance of Madeleine McCann, say the version of what happened the night she went missing has changed significantly.
A reconstruction of the events in Portugal leading up to Madeleine's disappearance will be broadcast tomorrow, on BBCs Crimewatch.
Mark Gough reports.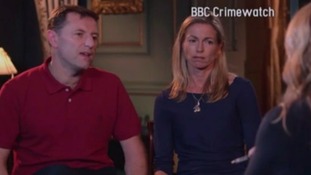 Latest appeal is the parents' best - and most likely their last - hope to find out through police work what happened to their daughter.
Read the full story
Advertisement
The Metropolitan Police will release a new e-fit of a suspect in the disappearance of Madeleine McCann, reports claimed today.
It comes ahead of a fresh appeal on BBC's Crimewatch, due to be aired on Monday.
Full story here.
National
Met Police assistant commissioner Mark Rowley said:
Just to be clear, we are focused on the appeal on Crimewatch next week which we hope will produce new witnesses. It is clearly too early to speculate about where this will lead.

It remains vital for us, and the success of the appeal, that the public are focused on new facts that can be released by the investigative team rather than speculation.

I am impressed by what Detective Chief Inspector Redwood and his team have achieved but a conclusion is not imminent, there is much ground to cover and we still need assistance - hence the appeal next week.
National
Gerry McCann says he is "encouraged" by new evidence relating to the disappearance of his daughter Madeleine.
"As parents, we won't accept Madeleine is dead until we see clear evidence that that is the case," he told ITV News.
"Clearly we're encouraged. There is new evidence, and the appeals will hopefully lead to further new evidence."
He said he and his wife were "optimistic that new pieces will be uncovered that will fill in parts of the jigsaw."
Dai Davies, a former commander at Scotland Yard, and now a security expert, says he welcomes the latest efforts to find missing Leicestershire schoolgirl Madeleine McCann.
For the first time, Scotland Yard is trawling through a vast log of mobile phone traffic identified in Portugal, at the time of her disappearance.
Advertisement
National
The information and purpose of this broader appeal is based on phone traffic analysis we have examined, which determines the footfall of people in the resort at that time. Our investigation in the UK remains ongoing.
– Detective Chief Inspector Andy Redwood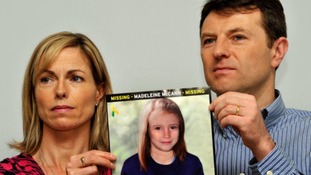 Kate and Gerry McCann will make an appeal on the BBC's Crimewatch programme after "fresh, substantive" material has been found.
Read the full story
Back to top