Scoring goalie Asmir Begovic has joked that he is happy to share advice with his teammates after being the only Stoke player to hit the net in yesterday's match against Southampton.
Begovic became the fifth ever Premier League goalkeeper to score in the game, following in the footsteps of Peter Schmeichel, Paul Robinson, Brad Friedel and Tim Howard with his long-shot kick just 13 seconds into the match.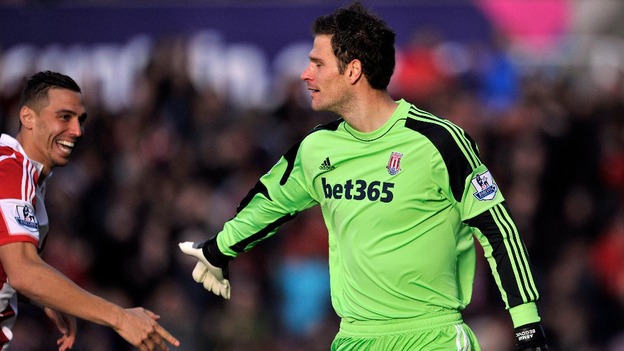 Speaking after the match, he said he was delighted - and not a little surprised - when he saw the ball had actually gone in.
It was nice. I've never scored a goal so I'll take it. I've never come close as I've never been allowed up for corners but it happened to go in.

I didn't think it was going in at all and when it went in I thought 'What?'.
It was a little bit surreal but the ball got caught in the wind and carried a distance.

I'm joint top-scorer now so it's working pretty well in my favour at the moment. If they want any pointers they know where I am and I'll pass it on to them.
Speaking to BBC Radio 5Live, he also said he was disappointed the team had not managed to capitalise on the early advantage and only came away with one point.