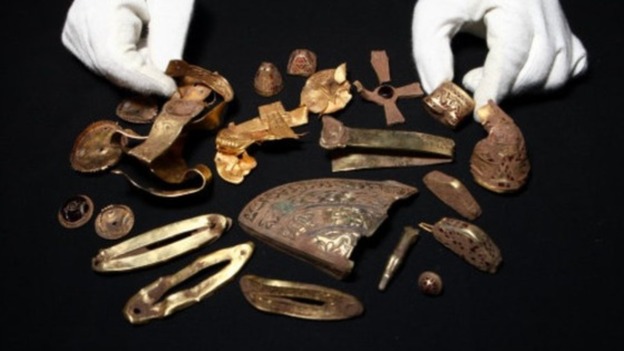 The Staffordshire Hoard was discovered in a field near the village of Hammerwich, near Lichfield, in Staffordshire, on 5th July 2009.
The Hoard is the largest collection of Anglo-Saxon gold and silver metalwork ever found, consisting of more than 4000 items.
It includes:
5,094 kilos of gold
1,442 of silver 3,500 cloisonné garnets.
The artefacts have been dated to the 6th or 7th centuries, placing the origin of the items in the time of the Kingdom of Mercia.
At least one helmet, composed of over 1,500 pieces, is contained in the treasure
For more information visit the Staffordshire Hoard website.