There has been an accident involving four cars on the M6 this morning, southbound, between Junction 2 and 3.
There are no further details known, however, traffic is now moving very slowly between those areas.
British Transport Police want to identify a driver of a Reliant Robin, who risked their life and endangered the safety of a train when getting stuck at Pinxton Level Crossing near Kirkby in Ashfield in Nottinghamshire.
Officers have today released CCTV footage of the incident which took place shortly before 12.30am on Sunday, 21 June.
The car drove across the crossing then for some reason reversed back onto the tracks striking the crossing barrier as it was coming down. "The car then reverses into the opposite barrier before coming to standstill on the tracks.

"A member of the public then lifts the barrier to allow the car to drive out.

"However more importantly this was extremely dangerous behaviour that put the driver and the passengers in the vehicle lives at risk. They were very lucky that a train was not coming through at the time or the consequences would be unthinkable".
– Inspector Anton Menzies
Anyone with information should contact British Transport Police on 0800 40 50 40 or text 61016 quoting background reference MSUB/B14 of 23/7/2015.
Advertisement
Four people were taken to hospital on Monday evening after their car ended up in a river near Walsall Football Club.
The accident happened near Bescot Crescent shortly before 7.40pm and involved one woman in her 30s and three girls aged five, eleven and twelve.
Crews arrived to find a car that had come to rest in a river. All four patients were out of the vehicle and on the embankment, having been helped to safety by passers-by."
– West Midlands Ambulance spokesperson
The 11-year old girl suffered a suspected fractured leg while the 12-year old girl was treated for back pain, with a neck collar and spinal board being used to treat her.
A mother and baby have been taken to hospital after they were involved in a two-car collision in Shropshire.
Read the full story ›
A woman has had a lucky escape after a crash which leaft her car flipped over onto its roof.
The incident happened on Thursday evening on Fairfax Road in the Longbridge area of Birmingham.
An ambulance and a paramedic area support officer were sent to the scene.
On arrival crews found the silver car on its roof with damage around the front left wheel. A parked car was damaged nearby.

"The 22 year old woman driving had managed to get out herself. Although disorientated, thankfully she had only suffered a minor injury to her elbow.

"After assessment by ambulance staff she was discharged at the scene."
– A West Midlands Ambulance Service spokesman
Warwickshire Police found this car on the B4432 in Lower Quinton.
They want to reiterate that drivers should not get behind the wheel if they are feeling tired.
OPU dealing with RTC on B4432 Lower Quinton. Tiredness and driving don't mix. Take a break. DH. http://t.co/Hj7SHUbVp6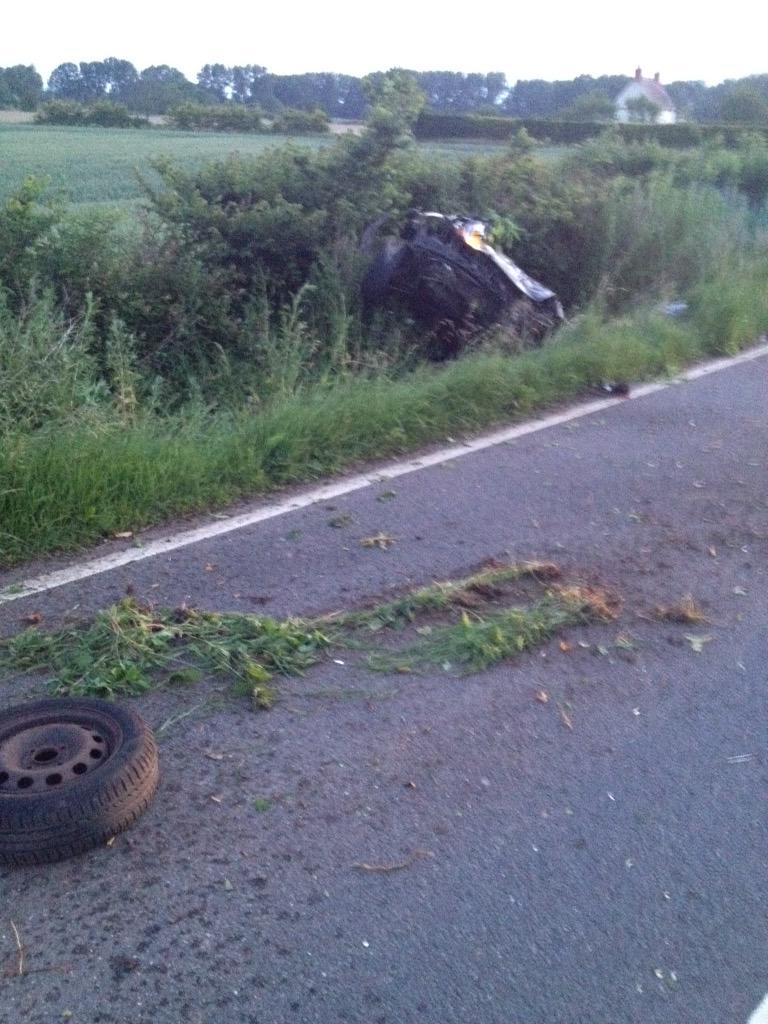 Advertisement
A woman and a child have survived an unusual crash this morning which left their car wedged in an underpass.
Read the full story ›
A lorry driver died at the wheel yesterday after his vehicle swerved off the carriageway.
The West Midlands Ambulance Service received a call with reports of a lorry having crashed into the trees on the A5 between Wilnecote and Tamworth, shortly before 5.00pm on Sunday.
The Midlands Air Ambulance from Cosford was accompanied to the scene by two ambulances and a paramedic area support officer.
When ambulance crews arrived they found a HGV which had collided with trees at the side of the road. The lorry driver was in cardiac arrest and was being given CPR by bystanders. Ambulance crews took over resuscitation attempts administering advanced life support. Sadly, nothing could be done to save the man and he was confirmed dead on scene."
– A West Midlands Ambulance Service spokeswoman
The M40 in Warwickshire is closed northbound between J11 (Banbury) and J12 (Gaydon), due to a fatal accident.
A signed diversion is in place. Traffic should leave the M40 at J11 and follow the hollow circle diversion symbol.
Drivers are advised to expect delays and to consider alternative routes or delaying their journeys.
The driver of a car which crashed on the M40 yesterday afternoon, has been dragged out of the boot of his overturned car.
It happened on the southbound carriageway between junctions 12 and 11 shortly after 1.50pm.
The driver, a man in his 40s, was left trapped in the overturned car and had to wait for firefighters and paramedics to free him via the boot.
"Considering how his car came to rest, the man is extremely lucky not to have suffered more significant injuries in the incident."
– West Midlands Ambulance Service spokesman
He has been treated at Horton General Hospital in Oxfordshire for minor injuries to his neck and back.
Load more updates