Live updates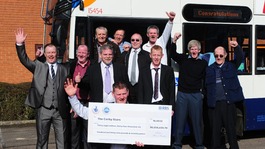 A syndicate of 12 bus drivers from Corby collect their £38 million Euromillions jackpot.
Read the full story
Advertisement
EuroMillions Jackpot Winner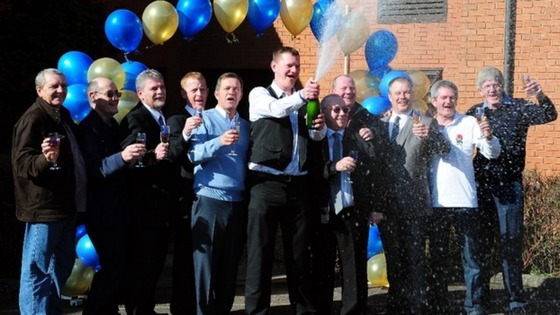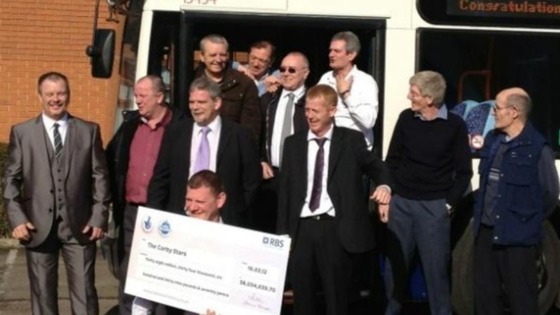 12 bus drivers have won the £38 million EuroMillions jackpot.
They received their cheque today.
Charles Gillion is one of the lucky men. His wife Penelope described how a fellow syndicate member called to their home with the good news at 2am on Saturday morning.
She said: "All I know is that it's the perfect retirement present. They all deserve it and all work long shifts."
EuroMillions Jackpot Winner
A syndicate of bus drivers who won a £38 million pound lottery jackpot will be receiving their cheques from Camelot later.
The bus drivers, who worked at a depot in Corby, will each walk away with 3.1 million pounds.
EuroMillions Jackpot Winner
EuroMillions Jackpot Winner
The wife of one of 12 Northamptonshire bus drivers whose syndicate won a £38 million EuroMillions jackpot has said the win is the perfect retirement present for her husband.
Penelope Gillion said her husband Charles, 64, who is originally from Corby and had worked for Stagecoach as a driver for five years, had planned to retire later this year.
"Today is a normal day. It won't faze us. The family comes first and there lots of things to do."
– Penelope Gillion, lottery winner's wife

She said the 12 winners had been taken away somewhere on Monday morning but would not disclose any further details.

Each syndicate member will walk away with about £3.1 million.

Mrs Gillion said reports that some of the winners had stopped work mid-shift were "rubbish".
Advertisement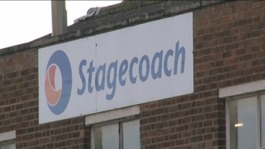 A bus driver from Corby has vowed never to set foot on a bus again after his syndicate won in the EuroMillions jackpot.
Read the full story
Back to top