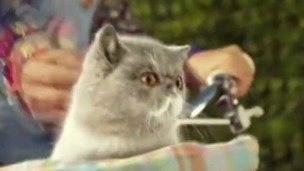 Lift-cadging cat from Rugby sings along as it gets a ride in a bicycle basket.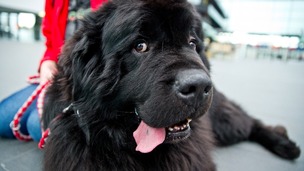 New research shows it costs more than £13k to keep a dog over its lifetime with Midlands' dogs' dinners coming in at £4000.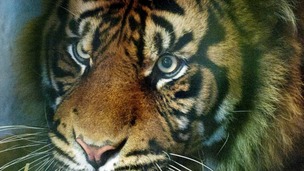 Staff at Dudley Zoo have today taken delivery of their latest arrival, a 20-month-old tiger from Germany.
Live updates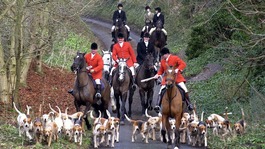 Staffordshire Police have released this footage of Emma, an 11-month-old Labrador Retriever. Next week she will begin a six week passive drugs search course with PC John Maunders from the Dog Support Unit.
At the end of the course Emma will get to work in pubs, clubs and at sporting events to detect illegal substances.
Advertisement
An underwater search and rescue company is today training dogs to detect bodies in the water.
The dogs are able to detect the scent of a drowning victim even at great depths.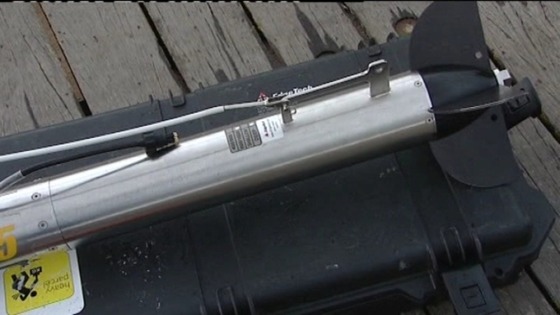 Sarbot has traditionally used sonar equipment and robots to rescue drowning victims or recover bodies, as in the case of Dylan Cecil from Northamptonshire, who was blown off a pier while on holiday.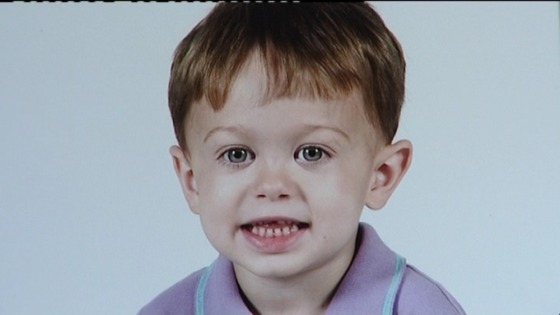 If a body can be brought to the surface within 90 minutes, they can generally survive with no lasting injuries.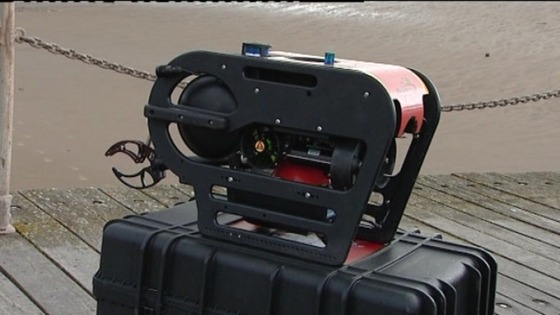 The company hope to have a dog permanently based in the East Midlands.
Rare animal reared in Wolves
A 21-year-old biology student has brought a rare mammal from Suffolk to Wolverhampton where it is being hand reared.
Baloo – a palawan binturong, is settling in amongst other endangered animals at Zac Hollinshead's Wild Encounters.
Rare animal reared in Wolves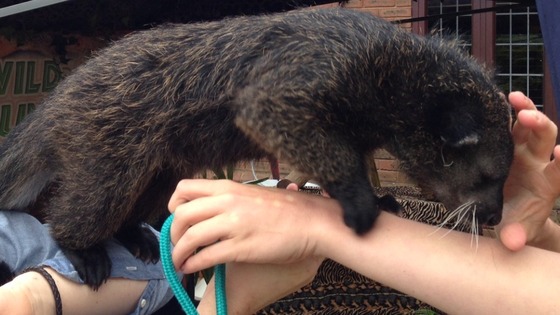 A biology student from Wolverhampton is looking after the only hand reared palawan binturong in the UK.
The mammal, an endangered species from South-East Asia, is being cared for by 21-year-old Zac Hollinshead, who has moved in to a new home near Wolverhampton and brought dozens of animals with him. These include snakes, reptiles, birds of prey and small animals such as a mercat.
Baloo – named after the character from the Jungle Book, is one of only 10 palawan binturongs in the country.
The Binturong is a large, heavy animal that can grow to more than a meter long, with females being up to 20% bigger and heavier than their male counterparts.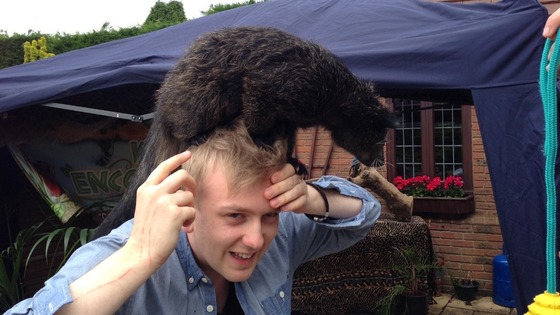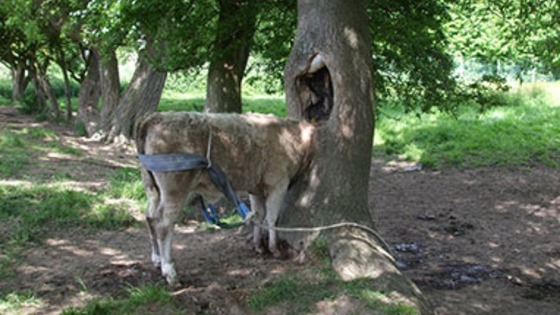 This afternoon crews from Shropshire Fire and Rescue were called out to reports of a cow with his head stuck in a hole in a tree.
The fire fighters had to use a special large animal harness and a crane.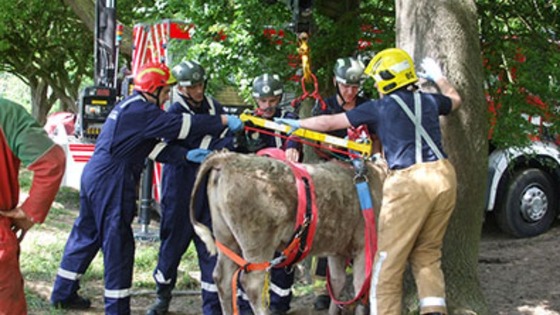 Advertisement
Goat adopts two rejected lambs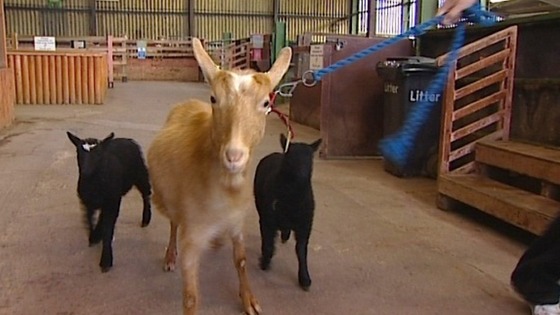 A goat at a farm in Nottinghamshire has adopted two lambs who were rejected by their mother three weeks ago.
The lambs, who really were the black sheep of the family, were born nearly three weeks ago at White Post Farm in Farnsfield. They've now been taken into the care of Geraldine the Golden Guernsey goat.
The farm has launched a Facebook page inviting visitors to suggest names for the lambs.
Anthony Moore, one of the managers at the farm, said: "We were worried because the first few days are critical as the lambs need nutrients from their mother's milk. Luckily Geraldine was more than happy to adopt and feed them.
"She had a male kid earlier this year so is no stranger to motherhood," added Anthony Moore.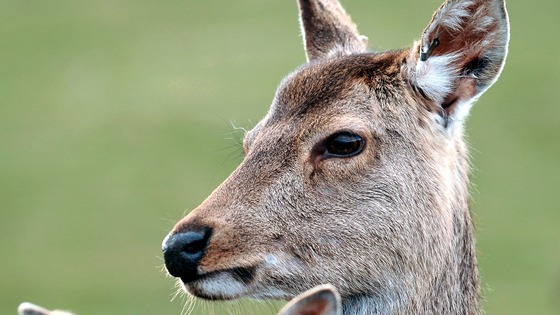 A man has been arrested on suspicion of poaching deer from a nature reserve in Solihull.
The 46-year-old was arrested on suspicion of killing a deer without the consent of the owner or occupier of the land in Meriden.
The arrest comes after a report that a man had been seen carrying a suspected firearm and a Muntjac deer over his shoulder in the nature reserve last month.
Members of the public passed his car registration details to the police.
The car was traced to an address in Coventry where officers found a freezer full of butchered deer.
The man admitted taking the deer and received a police caution.
Swooping starlings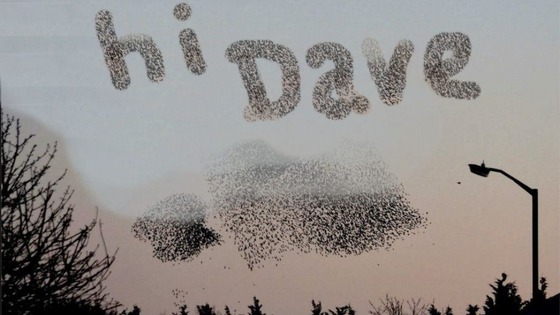 On ITV News Central we've recently broadcast a couple of pieces of viewer footage showing starlings gathering in formation at dusk in Leamington Spa.
One of the viewers was Dave Atkinson, and his friend has sent us this photograph today.
It looks like perhaps Dave's friend has been busy on his computer.
Dinosaurs in the Midlands
Mary-Lorraine Hughes from Twycross Zoo explains how animated the Dinosaurs will be.
Load more updates
Back to top