Aston Villa manager,Tim Sherwood, has announced that Ray Wilkins MBE will be joining the club as assistant manager with an immediate start.
During his career on the pitch, Wilkins was a key player for the England international team and player for a host of leading clubs including Chelsea, Manchester United, AC Milan and Rangers.
Since retiring as a player, Wilkins has occupied various management positions during two spells at Fulham, two separate periods at Chelsea, as well as at Watford, Millwall, England U21s and most recently the Jordan national team.
I'm really pleased to bring Ray on board.

"He has a fantastic knowledge of the game and I'm looking forward to working with him."
– Tim Sherwood
Kevin MacDonald will continue to be part of the coaching set-up with a greater responsibility for developing homegrown talent.
Ray Wilkins has been appointed as assistant manager to Tim Sherwood at Aston Villa.
Read the full story ›
Advertisement
Aston Villa have announced the signing of defender Micah Richards, who will join on a four-year deal from Manchester City on July 1.
Aston Villa says it will speak with Jack Grealish after Twitter pictures appear to show him lying drunkenly in the street on holiday.
Read the full story ›
Despite Aston Villa suffering a 4-0 defeat to Arsenal in the FA Cup Final yesterday, they did play a part in the biggest FA Cup Final bet ever.
One William Hill client from the West Midlands netted just over three quarters of a million pounds after betting on Arsenal to win.
Villa played their part in the biggest FA Cup Final bet ever - a West Midlands online client of ours had £500,000 on Arsenal to win at 8/15 and collected £766,666.67 as a result.
– WILLIAM HILL'S SPOKESMAN GRAHAM SHARPE
Alan Hutton insists Villa cannot be too downhearted at their Wembley thrashing by Arsenal
Read the full story ›
Advertisement
Tim Sherwood, manager of Aston Villa, has apologised to fans on behalf of the team 'for not giving them anything to cheer about today.'
Sherwood's side suffered a crushing 4-0 defeat to Arsenal at Wembley in the FA Cup Final.
He told a press conference that the team need to 'change some of their mentalities' because they're quite used to losing and it's not a good habit.
Read more: Aston Villa lose out on FA Cup glory
One family was left speechless today when 25,000 fans joined in an applause for Graham Hassall, who lost his life to cancer this year.
Read the full story ›
Despite suffering a disappointing defeat at the hands of Arsenal, Villa fans had mixed reactions to the final FA Cup result.
Many felt that Villa 'didn't turn up' and it was 'disappointing' that the team didn't even have a shot on goal.
But others were resolute that they will return in the near future.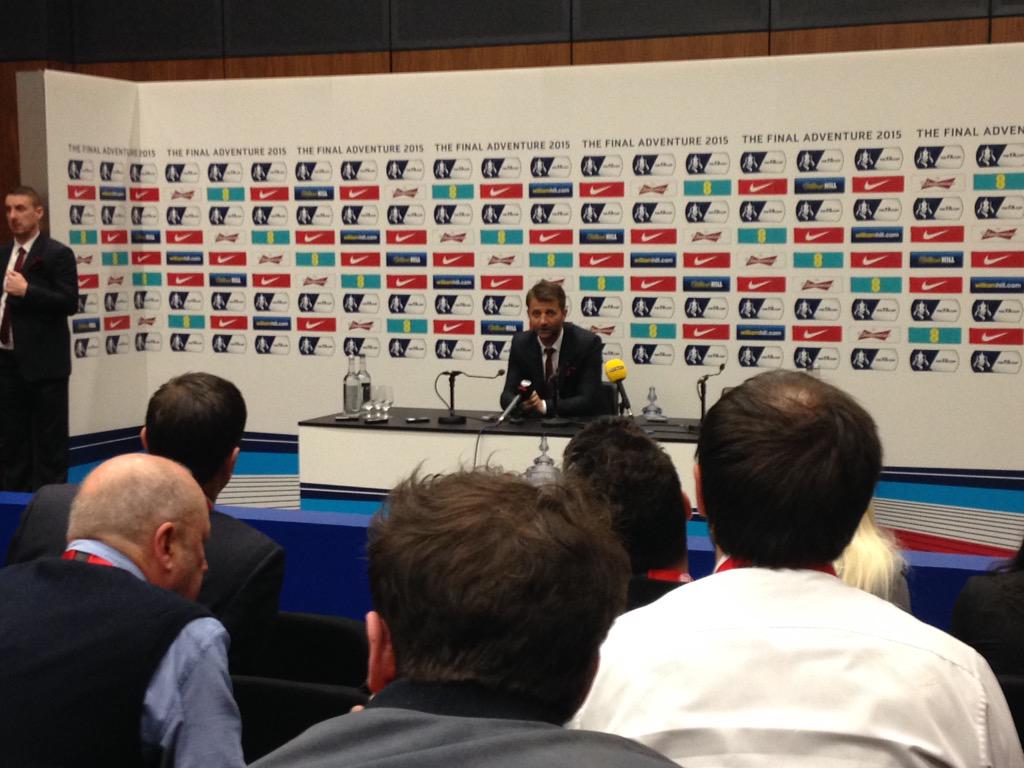 Load more updates