The airline involved in an emergency alert this lunchtime at Birmingham Airport says it was caused a passenger having a 'diabetic episode'.
The Monarch Airlines flight from Faro was due to land at Birmingham, but the alert was called in shortly after 13:00. The plane landed safely and paramedics were waiting on the runway for the passenger to be given treatment.
BREAKING EMERGENCY Monarch A321 declaring an emergency. Flight #ZB403 landed safely on Birmingham.
AirLiveNet has tweeted that Monarch Flight ZB403 has landed safely at Birmingham Airport. It's not yet clear why the plane made the emergency call.
Advertisement
BREAKING EMERGENCY Monarch A321 declaring an emergency. Flight #ZB403 starting approach to Birmingham.
A Monarch flight has declared an emergency as is starting its approach to Birmingham Airport.
It's not yet clear what the emergency is - more to follow.
A man is in a critical condition in hospital after falling from the first floor inside Birmingham Airport.
It happened at around 1:30pm. Police are currently at the scene trying to establish what happened.
The incident is not thought to be suspicious.
Flybe has announced eight new routes for the winter from Birmingham Airport.
They include two new routes to Oslo and Hamburg.
Six existing summer routes will be extended to year-round flying. These are Cologne, Toulouse, Bordeaux, Florence, Oporto and Reykjavik.
The airline provider will now operate up to 350 flights a week from Birmingham Airport as part of its 2014-15 winter schedule.
Many congrats to Craig & Jodie after your airport proposal here at BHX. We hope you liked the special PA broadcast! http://t.co/TzO7xyiWDG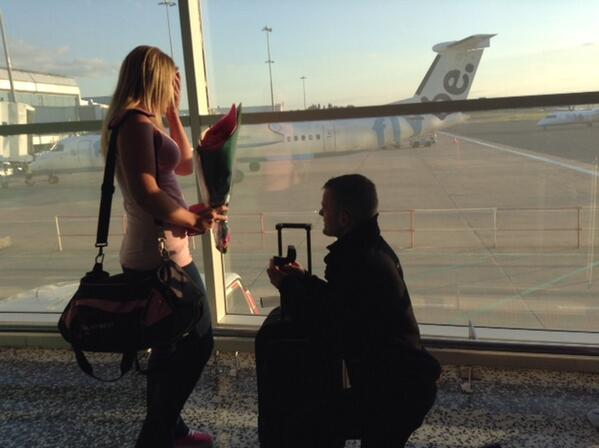 Advertisement
More than 750,000 passengers passed through Birmingham Airport last month - making it the busiest April in the airport's history.
This equates to a 16.7 per cent increase on the same period last year, and beats its previous record for the month - set in 2009 - by 5.7 per cent.
The airport has also reported a boom in the number of passengers using the Midland terminal for long-haul services, which increased by more than 20 per cent compared to last year.
Services to Jersey, Fuerteventura, Malta and Portugal saw the biggest rise.
A Birmingham Airport spokesman said:
We are aware (of the glitch) and the impact it is having at the moment.

It appears to be getting progressively worse but we are hoping it will be sorted out soon.
Airline passengers are tonight facing disruption after an IT glitch resulted in extended queues at immigration desks.
Lengthy queues have already started forming at airport terminals across the country after a fault on UK Border Force computers this afternoon.
Extra staff have been drafted in to try and reduce the queues.
A Government spokesman said:
We are currently experiencing temporary IT problems which may add to the time taken to conduct passport checks.

We are working to rectify this issue and are providing extra staff to get passengers through the controls as quickly as possible. Our priority remains security of the border.

We apologise for any additional time this adds to passengers' journeys.
David Cameron is hopeful that the new runway extension at Birmingham Airport will provide a major boost to the economy of the West Midlands.
The runway will provide 4,000 jobs in Birmingham along with another 4,000 in the supply chain.
Load more updates