A pensioner who complained to the council about leaves outside her home will now have to deal with them planting a second.
Read the full story ›
More than 110 cab drivers with criminal records have been granted licences by Birmingham City Council.
Read the full story ›
Advertisement
Birmingham City Council is commemorating the 20th anniversary of the Srebrenica massacre by hosting a memorial event in collaboration with the UK charity, Remembering Srebrenica.
In 1995 8,372 Bosnians were killed in the worst massacre in Europe since the end of the Second World War. The genocide took place during the war in Yugoslavia which saw the country break up into independent states.
At the event messages will be shared from delegates who were given the opportunity to visit both Sarajevo and Srebrenica where they were able to meet survivors of the genocide and understand about the ongoing procedure of identifying the dead.
A new council-wide whistleblowing and serious misconduct policy comes into force in Birmingham today, which aims to improve the process for anyone with concerns or issues surrounding the City Council.
Staff and members of the public will be able to contact a central whistleblowing email and postal address or a telephone number, with anonymised monthly summary reports set to be sent to heads of services and the council's Deputy Leader, Cllr Ian Ward, for monitoring.
The revised whistleblowing and serious misconduct policy follows the review by Sir Bob Kerslake into the council's governance and organisational capabilities and the investigations into issues arising from the Trojan Horse allegations by both Ian Kershaw and Peter Clarke.
We have welcomed the advice and recommendations put forward by Sir Bob Kerslake, Ian Kershaw and Peter Clarke and have developed a thorough and robust policy on whistleblowing.

This will help to ensure that we comply with the highest standards of openness, honesty and accountability.

Staff, citizens and any other concerned parties or individuals can now be assured that if they have worries about potential serious wrongdoing, they will be listened to and their concerns dealt with quickly and confidentially.
– Cllr Ian Ward, Deputy Leader of Birmingham City Council
Plans to build 2,000 new homes across Birmingham over the next five years are expected to be approved by the city council.
1,500 of those will be rented council homes.
The plans include major housing and regeneration schemes in Kings Norton, Meadway, Bromford and Yardley Brook.
Birmingham needs around 80,000 new homes by 2026 and the city council, through the Birmingham Municipal Housing Trust (BMHT), has become the leading developer of new homes within the city, building more new homes than any other single provider.

House-building also makes a valuable contribution to the economy, with every £1m of construction spend supporting 12 jobs in the building and supply chain sector.

Additionally, the programme has created 200 training and apprenticeship places so far, with a further 250 expected over the period 2015-20.
– Councillor Tahir Ali, cabinet member for development, transport and the economy, Birmingham City Council
The newly-appointed executive director of Birmingham City Council's children's services has today resigned from the post - before she even officially began.
Bernie McNally was appointed in August and was due to begin the job next month, but a statement from the council tonight said during her induction she had decided she was no longer interested in the post.
The services have been labelled "inadequate" by inspectors for the last six years.
A spokeswoman said the decision had been made by "mutual agreement", but said it was "disappointing".
This news is disappointing as we thought we had secured an excellent candidate from the first class group of people who applied for the post.

Our priority however is to ensure that children are made safe through what we are doing and this is a big collective challenge.

It's important to remind ourselves that our most serious staffing challenge is to get the right number of social workers doing great social work with the best team management around them.
– Birmingham City Council spokeswoman
The statement added that the temporary management team which had been running the department during Ms McNally's induction would continue while the hunt for a new candidate began.
The children's services admitted last year that 1,400 children in Birmingham were deemed at risk.
The revelation came after a serious case review into the death of 2 year-old Keanu Reeves who was beaten to death by his mother.
Advertisement
The second phase of work on the St Chad's and Queensway tunnels in Birmingham gets underway from tonight. They'll be closed from 10pm to 6am every night for two weeks and will then close completely until September.
A similar programme of closures was carried out last summer. Drivers are being urged to find alternative routes.
The chief executive of Birmingham City Council is due to given evidence to a Home Affairs Committee into radicalisation in schools.
Read the full story ›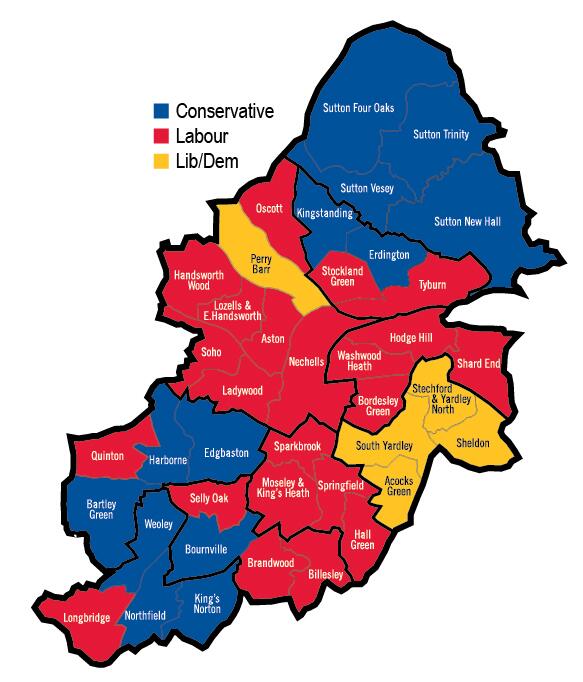 Birmingham City Council has tweeted a map showing the colour of the political picture across the city, after Labour retained control of the city council.
Birmingham City Council says it expected the 'inadequate' rating it received from Ofsted over how its children's services operate.
Councillor Brigid Jones, Birmingham City Council's cabinet member for children and family services, says:
"We must never forget that the welfare of children is at the heart of everything we do and here in Birmingham we have a group of people who are absolutely committed to ensuring we do our best for all our children and young people.
When we talk about change and improvement it is important that we always remember this.
We have been very open about the state of children's services in Birmingham and this inadequate rating is what we expected.
The report's details build on the issues we had recognised ourselves as inadequate practice and which we shared with Ofsted on their arrival.
This is welcome but we will not let the focus on current performance distract us from the tailor-made approach to improvement put in place by the Department for Education; an approach set out by the DfE during this latest Ofsted inspection."
Load more updates