The newly-appointed executive director of Birmingham City Council's children's services has today resigned from the post - before she even officially began.
Bernie McNally was appointed in August and was due to begin the job next month, but a statement from the council tonight said during her induction she had decided she was no longer interested in the post.
The services have been labelled "inadequate" by inspectors for the last six years.
A spokeswoman said the decision had been made by "mutual agreement", but said it was "disappointing".
This news is disappointing as we thought we had secured an excellent candidate from the first class group of people who applied for the post.

Our priority however is to ensure that children are made safe through what we are doing and this is a big collective challenge.

It's important to remind ourselves that our most serious staffing challenge is to get the right number of social workers doing great social work with the best team management around them.
– Birmingham City Council spokeswoman
The statement added that the temporary management team which had been running the department during Ms McNally's induction would continue while the hunt for a new candidate began.
The children's services admitted last year that 1,400 children in Birmingham were deemed at risk.
The revelation came after a serious case review into the death of 2 year-old Keanu Reeves who was beaten to death by his mother.
The second phase of work on the St Chad's and Queensway tunnels in Birmingham gets underway from tonight. They'll be closed from 10pm to 6am every night for two weeks and will then close completely until September.
A similar programme of closures was carried out last summer. Drivers are being urged to find alternative routes.
Advertisement
The chief executive of Birmingham City Council is due to given evidence to a Home Affairs Committee into radicalisation in schools.
Read the full story ›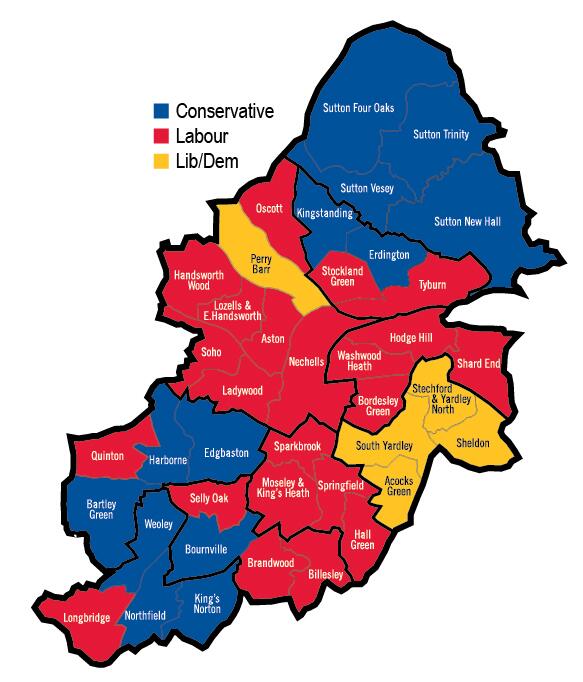 Birmingham City Council has tweeted a map showing the colour of the political picture across the city, after Labour retained control of the city council.
Birmingham City Council says it expected the 'inadequate' rating it received from Ofsted over how its children's services operate.
Councillor Brigid Jones, Birmingham City Council's cabinet member for children and family services, says:
"We must never forget that the welfare of children is at the heart of everything we do and here in Birmingham we have a group of people who are absolutely committed to ensuring we do our best for all our children and young people.
When we talk about change and improvement it is important that we always remember this.
We have been very open about the state of children's services in Birmingham and this inadequate rating is what we expected.
The report's details build on the issues we had recognised ourselves as inadequate practice and which we shared with Ofsted on their arrival.
This is welcome but we will not let the focus on current performance distract us from the tailor-made approach to improvement put in place by the Department for Education; an approach set out by the DfE during this latest Ofsted inspection."
Social work managers took 147 vulnerable children off their books when they should not have done - to reduce workloads on a shrunken staff.
Read the full story ›
Advertisement
Residents in Birmingham suburb have been left confused after a lamp - post was installed hidden in a large conifer.
The lamp-post in Boldmere, Sutton Coldfield does not emit any light on to the street corner as it is covered by the large tree leaving residents walking in the dark.
The lamp was installed by highway contractor Amey who have been brought in by Birmingham City Council to upgrade the cities street lamps. Old fashioned and expensive fluorescent lights have been replaced by energy-efficient LED models.
Amey are now talking to the homeowner to trim the hedge back but local councillor Rob Pocock said the contractor should have removed the foliage first.
Amey will have replaced or upgraded 41,000 of Birmingham's 95,000 street lights by next year. The council will save £3 million a year from the council's electricity bill as the new lamps can be remotely dimmed and do not have to be changed as often.
Birmingham City Council says more children in the city are being abused than they know about.
Officials said that for a city of its size and with its levels of deprivation and poverty, they would expect Birmingham to have more cases of child abuse.
Today a new commissioner has been appointed to help the authority improve. The council has been criticised heavily in the past for failing to protect children.
Birmingham City Council has released detailed maps of the areas in the city which will be the first to become 20mph speed limits.
Read the full story ›
A campaign has been launched to get more parents to adopt in Birmingham, because the City Council say they are struggling to get prospective parents to come forward.
Councillor Brigid Jones says people get put off adopting because the city is so diverse, but she wants to change that perception.
Load more updates