A timelapse video has been released by Network Rail, showing the progress of the £600 million revamp of Birmingham New Street.
Watch it here: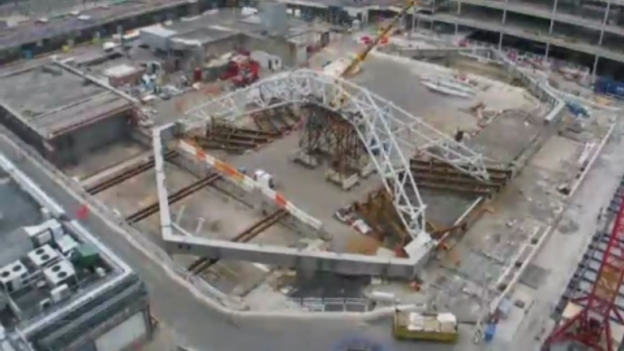 It comes after it was announced the new station will reopen in September next year.
A multi-million pound project to revamp Birmingham New Street Station will be completed by next September.
More than £600million has been invested into improving the station. The new 'Grand Central' shopping centre will also open, including John Lewis' new thirty five million pound Midlands flagship store.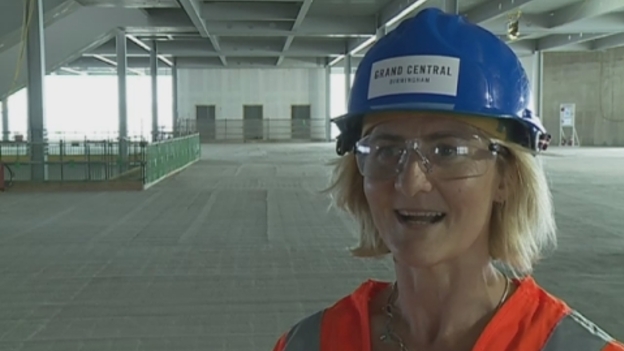 Advertisement
There are delays of up to 40 minutes on London Midland, East Midlands Trains, Virgin Rail and Northern Rail between Liverpool Lime Street and Birmingham New Street due to a signalling problem at Mossley Hill.
The Transport Secretary will inspect the Birmingham New Street station development today.
Patrick McLoughlin will be given a tour of the £600 million project - taking in the new concourse and atrium.
The works are due to be completed in 2015.
All the top 10 busiest stations reported an increase in passengers in the last financial year.
The number of people using stations across Britain in 2012 to 2013 rose 3.3%, the statistics from the Office of Rail Regulation show.
The top 10 busiest stations based on the estimated number of exits and entrances to a station during 2012/13 are:
Waterloo in London - increase of 1.9% - 96 million
Victoria in London - increase of 1.6% - 77.34 million
Liverpool Street London - increase of 2.4% - 58.45 million.
Euston in London - increase of 4.9% - 38.3 million.
Birmingham New Street - increase of 2.7% - 32.09 million
Glasgow Central - increase of 2.2% - 27.18 million.
Leeds - increase of 4.6% - 26.2 million
Manchester Piccadilly - increase of 1.0% - 23.15 million
Brighton - increase of 0.8% - 16.18 million
Liverpool Central and Liverpool Lime Street - decrease - 4.9%
Birmingham's New Street station has been named Britain's worst railway station by a passenger watchdog.
The station is undergoing a £600 million transformation but it still got the lowest satisfaction among commuters in a survey by the group Passenger Focus.
People who used Birmingham's Moor Street station rated it the best in the country after London St Pancras.
Passengers rated stations on services including platform information, cleanliness, and helpfulness of staff.
Advertisement
Network Rail has released a video showing people the potential hazards of travelling on escalators.
The full version of the video, designed to raise awareness of the dangers, features two clips recorded at Birmingham New Street, along with advice for passengers.
People with heavy luggage and wearing high heels are among those to topple over while travelling on Birmingham New Street's escalators.
CCTV footage released by Network Rail as part of a new safety campaign shows people at the busy station taking a tumble.
The first clip shows a man struggling with his luggage fall backwards, and - apparently giving up on the situation - continues to travel upwards with his legs in the air.
A second clip shows another person trip up twice as they struggle to keep their footing.
Network Rail has stressed that neither of the people shown were injured.
A campaign to cut the number of slips and falls on railway station escalators has been launched by Network Rail.
More than 400 people took a tumble on the 17 biggest stations in the country in the last year - and 32 of those were at Birmingham New Street, placing it sixth in the chart for the number of accidents.
Trying to carry heavy luggage, rushing, high heels and alcohol have all contributed to falls.
The full list of falls is as follows:
London Paddington: 54
London Liverpool Street: 44
London Waterloo: 41
Leeds: 41
Manchester Piccadilly: 39
Birmingham New Street: 32
St Pancras International Station: 30
Edinburgh Waverley: 25
St Pancras (Lower Level): 25
King's Cross: 22
London Bridge: 16
Liverpool Lime Street: 12
London Victoria: 11
Euston: 10
Fenchurch Street: 10
Glasgow Central: 5
Charing Cross (London): 1
Passengers travelling from Birmingham New Street station on Friday nights and weekends are being asked to allow extra time for their journeys. It is because of the huge increase in passengers using the station to visit the city over the Christmas period.
Network Rail say they will be implementing crowd control measures at the station over weekends to prevent overcrowding on the platforms. They say it means at busy times, passengers may be asked to wait a short while on the station concourse to allow platforms to clear.
Last Friday nearly 200,000 passengers used the station, a 75,000 increase on a typical day.
Load more updates