A Birmingham fraudster who tricked pensioners out of their savings has been jailed for more than three years.
Jahangir Khan, 23, from Perry Barr was jailed yesterday after West Midlands Police exposed the 'Courier Fraud' that saw him and three accomplices pose as police officers and bank officials to con elderly residents.
The oldest person he tricked into handing over bank cards and PIN numbers was a 92-year-old woman. CCTV shows Khan taking victims' money from a cash point and using a stolen card at a convenience store.
Khan clearly saw himself as a respected kingpin of the criminal world. In his mind he was 'da underground's finest' who drew respect from men and a magnet for adoring women.

The truth is that Khan is a coward who spent his time phoning elderly people and tricking them into parting with bank cards and PIN numbers with scare stories that their accounts had been compromised.
– Detective Constable Dan Chappelow
Short term Road closures will be in place across the city centre in relation to the parade. See the route here: https://t.co/FTZOKVdowB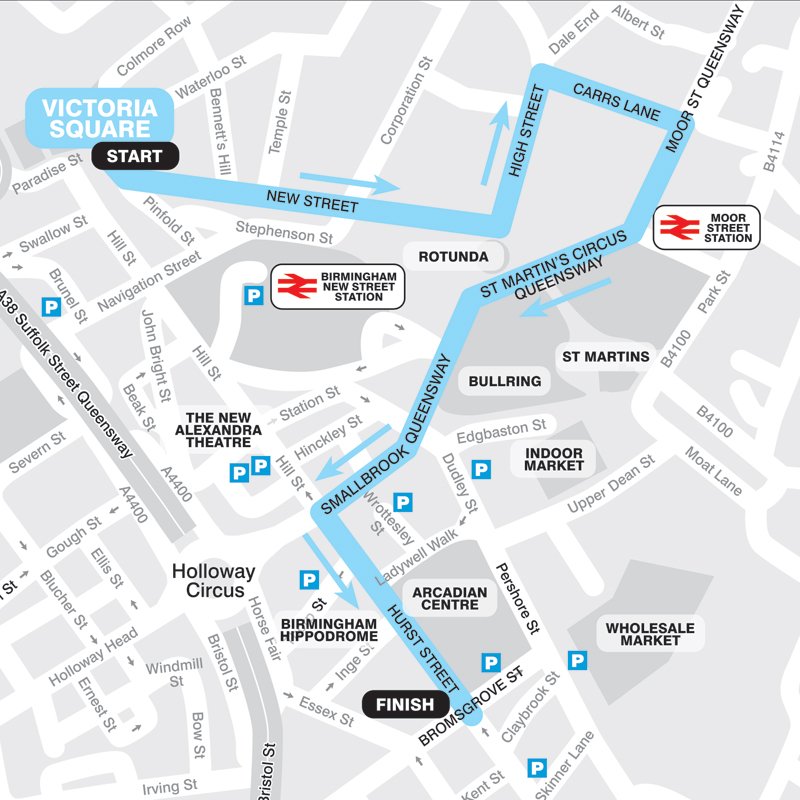 Advertisement
The spring bank holiday weekend is set to be the busiest on the roads in three years.
Read the full story ›
Edgbaston cricket ground gets ready to host the Birmingham Bears taking on the Worcestershire Rapids in the T20 Blast series.
Read the full story ›
Two men have failed to persuade a High Court judge to let them bring up three children who have been taken from the care of their mother.
Read the full story ›
It is one of the UK's biggest LGBT celebrations, so we have a guide to everything that is going on at Birmingham Pride this weekend.
Read the full story ›
Advertisement
Professor of Infectious Diseases, Robin May, has told ITV News Central that the cause of a water bug which has closed a pool in Kings Heath, is likely to have come from a child defecating.
The swimming pool at Cocks Moors Woods Leisure Centre has had to be temporarily closed after a bug which if swallowed can cause diarrhoea, abdominal pain, nausea, vomiting and low-grade fever entered the water.
Fertility Fest: Sat 28th May (Rep Theatre, Birmingham)
In the first UK event of its kind, Fertility Fest brings together twenty of the country's leading writers, visual artists, theatre makers, film directors and composers in one day of performance and debate, to discuss starting a family.
"Fertility Fest will be a unique and uncompromising look at the pursuit of parenthood in the modern world … It's a topic that has to be talked about more because despite affecting so many people it's still a taboo."

I hope Fertility Fest 2016 will begin to change this because I fundamentally believe that great artists tell it like it is and this is a subject that the world needs to hear more about."
– Jessica Hepburn, Festival Director
Paramedics who treated a motorcyclist after a road accident on Thursday 26 May say the full leathers he was wearing saved his life.
The 24-year-old man was involved in a crash on Witton Lodge Road in Erdington at 11.20pm on Thursday.
He was taken to Birmingham Heartlands Hospital.
A spokesperson from the West Midlands Ambulance Service said the value of wearing motorcycling leathers cannot be underestimated:
The 24-year-old was found some distance away from where his badly damaged bike was. A parked car was also damaged nearby.

The man had suffered chest injuries but the full 'leathers' that he was wearing had done their job and protected from many other injuries.
– A West Midlands Ambulance Service spokesman
Birmingham Pride 2016: Sat 28th - Sun 29th May (Birmingham City Centre)
Birmingham's annual pride festival takes place this weekend starting with a carnival parade of floats and costumes from Victoria Square.
Organisers say it's the largest LGBT two day festival in the UK which features a Carnival Parade through the city centre, plus the Main Pride Festival Site featuring the main stage, dance arena, cabaret marquee and funfair.
Birmingham Pride is a celebration of the city's diverse LGBT community and is open to all.
For prices, opening times and more information visit: http://www.birminghampride.com
Load more updates