The woman who designed the dress which has become an internet sensation has told ITV News Central that the last 24 hours have been "absolutely crazy".
The image below was put on twitter last night and a few hours later it had become the centre of a global argument over its colour.
Celebrities like Taylor Swift, Justin Bieber and Kim Kardashian have all joined the debate, as well as Prime Minister David Cameron and Labour Leader Ed Miliband.
Some see white and gold, others see blue and black.
Michele Bastock from fashion company 'Roman' is based in Erdington in Birmingham.
She was wearing the dress and settled the argument once and for all, by stating it was blue and black!
It's royal blue with a black lace, that is what we photographed in the publicity shots.

That's what the lady (who tweeted the image) purchased.

Everyone just sees it differently I guess!"
– Michele Bastock, designer of #thedress at Roman.
The Birmingham-based company behind what has become known as 'the dress' said its viral fame has caused it to sell out.
Ian Johnson, creative manager for Birmingham-based Roman Originals, said the dress sold out from the website within half an hour this morning.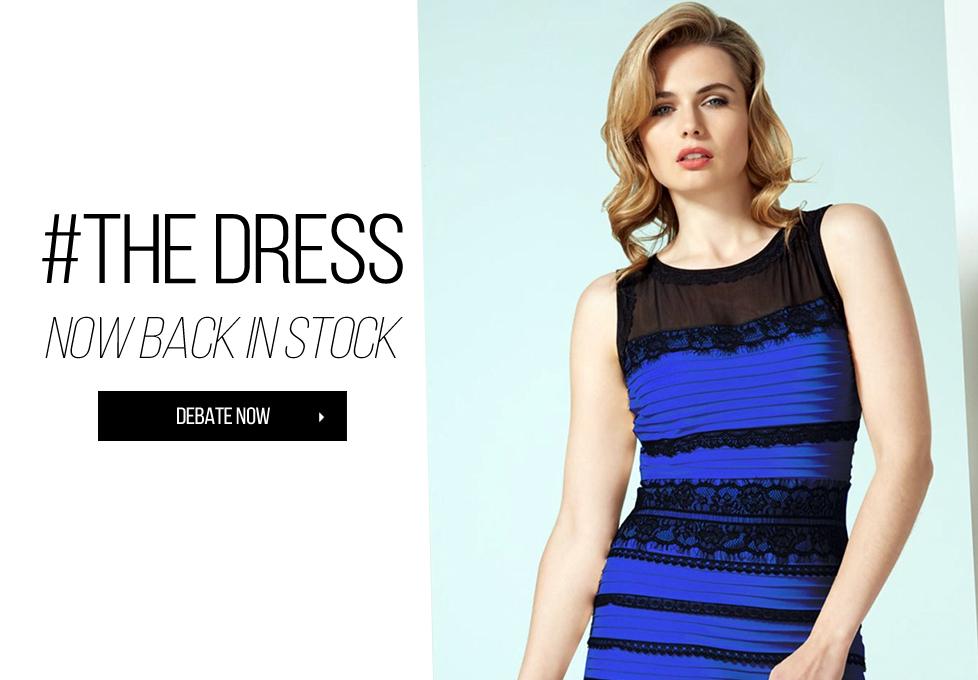 Johnson they have been overwhelmed with demand for the black and blue dress, and have also been inundated with calls from people who want a white and gold version.
We're vastly over where we'd be normally.

Our website's currently at about a million visits to this page alone. It is back in stock now, and we are looking pretty good into the weekend.

Our head designer, Michelle Bastok is discussing the possibility of the white and gold version, and we are hoping to get that made soon.
– Ian Johnson
Advertisement
Two ponies and a foal have died after being savaged in a paddock by pitbull-type dogs in Dudley.
Read the full story ›
A man has been arrested after a woman in her 20s was allegedly pushed from a third floor balcony of a Walsall block of flats this morning.
Read the full story ›
The dress that has got the world on a tailspin shows us how complicated our colour perception is.
Read the full story ›
The argument over the colour of this dress has been an internet sensation in the last 24 hours. Scientists explain why no one can agree.
Read the full story ›
Advertisement
The fashion company behind a dress that has sparked a massive internet colour debate is based in Erdington in Birmingham
Read the full story ›
This weekend has it all, weather-wise anyway, almost all the elements are involved. Sunshine, showers, wind and rain too. Details here
Read the full story ›
The father of a boy who pretended to be dead to survive a Taliban attack on a military school in Pakistan has been speaking to Central News
Muhammad Nawaz lost one son during the attack. He says his family struggling to cope after gunmen shot their 13 year old son Haris through the head.
Mr Nawaz's eldest son, Ahmad, was injured when terrorists climbed the walls of the school and opened fire. The 14 year old suffered serious gunshot wounds and is now being treated at The Queen Elizabeth Hospital.
Doctors in Pakistan told his family his gunshot wounds were so severe, his arm would be amputated. Mr Nawaz said he begged surgeons to save his arm and he was grateful to the Pakistani government for offering to pay for his son to be flown to the UK and be treated here.
Ahmad told his father he witnesses horrific scenes including seeing his friends and teachers being forced to lie on the ground before they were shot. He pretended to be dead so he wouldn't be killed.
However, his father says although Ahmad is upset, he's trying to remain positive and is determined to fulfill his dreams.
In Pakistan, former cricketer turned politician Imran Khan visited Ahmad in hospital.
Here, members of the Pakistani community are supporting the family and have organised an event on Saturday evening to remember all of the victims of the massacre.
A photo of two year old Fenton Hogan, whose mother is on trial for his manslaughter, has been released.
He died in his home in Frankley of a methadone overdose in 2013. His mother, 34 year old Kelly Emery denies giving him the heroin substitute to make him sleep.
Emery has pleaded guilty to causing Fenton's death by gross negligence but denies charges of manslaughter and cruelty.
Christopher Hotten QC, prosecuting, alleged Emery deliberately gave the toddler methadone in order to "knock him out" so she could take crack cocaine in peace.
Load more updates