Education Secretary Nicky Morgan was heckled several times during a speech to the National Association of Head Teachers annual conference.
Read the full story ›
We have another bank holiday weekend where the weather forecast is not as dry and bright as we would like, but there will be some sunshine
Read the full story ›
Advertisement
Organisers Viva! Are bringing their Vegan Festival to Birmingham for the first time this weekend.
The free event is open to all and there'll be a variety of cookery demonstrations, talks, veggie stalls and competitions for visitors to take part in.
Free nutritional advice will be available all day alongside a range of free food tastings from vegan and animal-friendly food stalls.
"We are hugely looking forward to a great day of fun that all the family can enjoy. For the increasing numbers of people who want to find out more about improving their health, saving animals and protecting the environment, this is an upbeat event which will entertain and help." - Justin Kerswell, Viva! Campaigns Director
For prices, opening times and more information visit:
Harborne High Street is still closed due to a severe fire that has now spread to three terraced houses.
Fire crews are trying to strip roofs and make the area safe.
Aston Villa caretaker manager Eric Black admits he has not enjoyed being in charge of the sinking club.
The 52-year-old has lost his four games since taking over from Remi Garde last month and Villa were relegated from the Barclays Premier League on his watch two weeks ago.
I've got to be honest - I don't think there's been a lot of enjoyment.

I don't want it to sound like I'm looking for sympathy because I'm not but there's a lot of negativity around, especially over the last seven or eight weeks and that has made it hard.

This is not a normal job in football, you're not working with normal football elements here.

But the elements are what they are and I'm caretaker manager so I will do what I can to make sure it remains professional and hopefully get a result Saturday.
– Eric Black
Advertisement
House fire, Harbourne High Street closed. 4 appliances & HP & 6 breathing apparatus in use to prevent fire spread https://t.co/sRZnLJD9uJ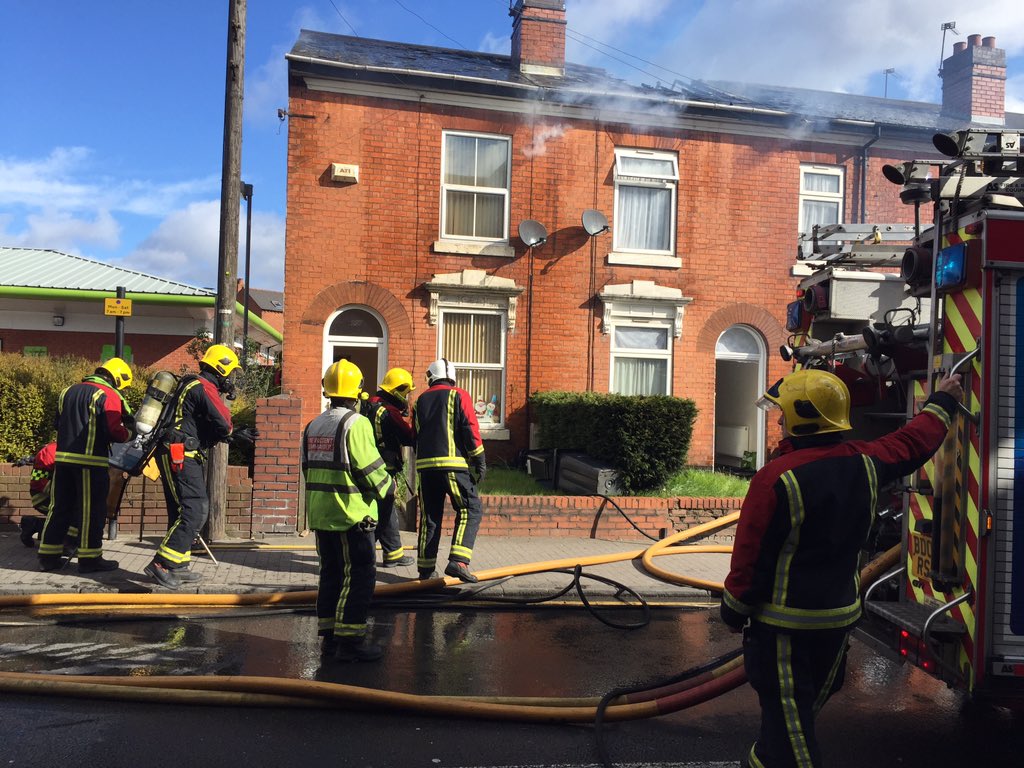 A busy high street in Birmingham is closed this morning due to a fire at a house in the area.
The flames have now spread to the house next-door and there are 25 firefighters at the scene near Harborne High Street.
It is not known at this stage if anyone is in the house.
More to follow...
A woman has died in a house fire in Birmingham.
More than a dozen firefighters tackled the blaze on Mears Drive in Stechford on Thursday evening, West Midlands Fire Service said.
The 55-year-old woman, who was found in an upstairs bedroom, was pronounced dead at the scene. No one else was in the house at the time, the fire service added.
The cause of the fire, which has since been put out, is not yet known.
Two men and a woman from Birmingham are due to appear in court today charged with terrorism offences.
Read the full story ›
Aston Villa have confirmed their investigation into Gabriel Agbonlahor has resulted in him receiving a "substantial" fine, with the striker "reminded of his responsibilities as a professional footballer".
His suspension has been lifted and Agbonlahor will be available for selection from Monday.
Load more updates